In San Antonio, Bike Share and Transit Are Now Integrated
July 6, 2022
Residents can now purchase BCycle and VIA Metropolitan Transit passes using Transit app, making multimodal trips easier than ever before.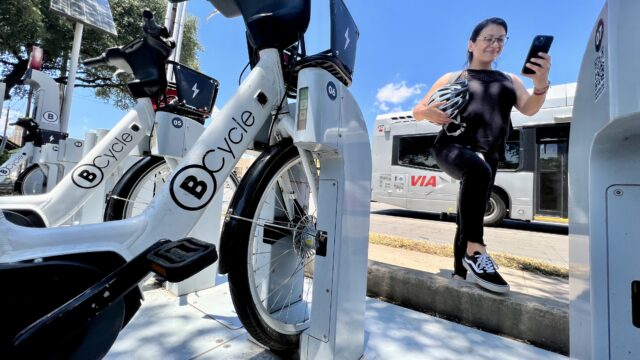 In summer 2021, VIA Metropolitan Transit, the transit provider in San Antonio, Texas, announced a new integration with Transit, a mobile app that provides real-time public transit data in more than 175 metropolitan areas around the world. With the change, riders gained the ability to purchase mobile fares anytime, anywhere, using the Transit app. 
"We were revamping our payment system at VIA and looking for an open-ended system to take payments," says Steve Young, vice president of Technology and Innovation at VIA Metropolitan Transit. "That became our opportunity to work with Transit. We really wanted the chance to be able to partner with others."
The first partner VIA had in mind was San Antonio BCycle, the city's bike share system. Young had been in talks with JD Simpson, the system's general manager, for almost five years about how it would make sense for buses and bike share to live in the same kind of app. At the time, there wasn't a means to an end, just a desire to reduce the hassle of having to download and use multiple apps for multimodal trips.
"There were just a lot of obstacles back then," says Simpson. "As technology has grown and changed, though, and BCycle has grown and changed, this integration makes the most sense."
Since VIA Metropolitan Transit had already successfully integrated with the Transit app, the next step was bringing San Antonio BCycle on board. Riders are already able to use the Transit app to unlock BCycle bikes in Broward County, Florida, Milwaukee and Madison, Wisconsin, Greenville, South Carolina, Santa Barbara, California, and Las Vegas, Nevada, which is the only other U.S. location where bike share and transit are fully integrated within the Transit app. On Transit's side, the integration required BCycle to provide its General Bikeshare Feed Specification (GBFS) showing in real-time where bikes are available, as well as the application programming interface (API) that enables unlocking and payments.
"Fortunately, San Antonio wasn't the first BCycle rodeo for Transit so things went much more quickly," says Stephen Miller, communications lead at Transit. "It's a technical hurdle but with every integration, that hurdle gets lower. Sorry to make a pun out of this, but we really don't want to reinvent the wheel every time."
Masabi is the company powering mobile ticketing on the platform for VIA, although Transit also works with other mobile ticketing partners. While the backend lift has gotten easier for Transit to execute, Miller says that widespread integration is only possible when bike share and transit systems are committed to working together and creating a better user experience. 
"On the tech side, we're seeing a trend towards more and more integrations that knit all of these services together in the way we're seeing in San Antonio," says Miller. "Transit agencies, cities, and bike share systems have really important and strong roles to play in demanding that and saying, 'Technologically it's possible and this is a priority for us.'"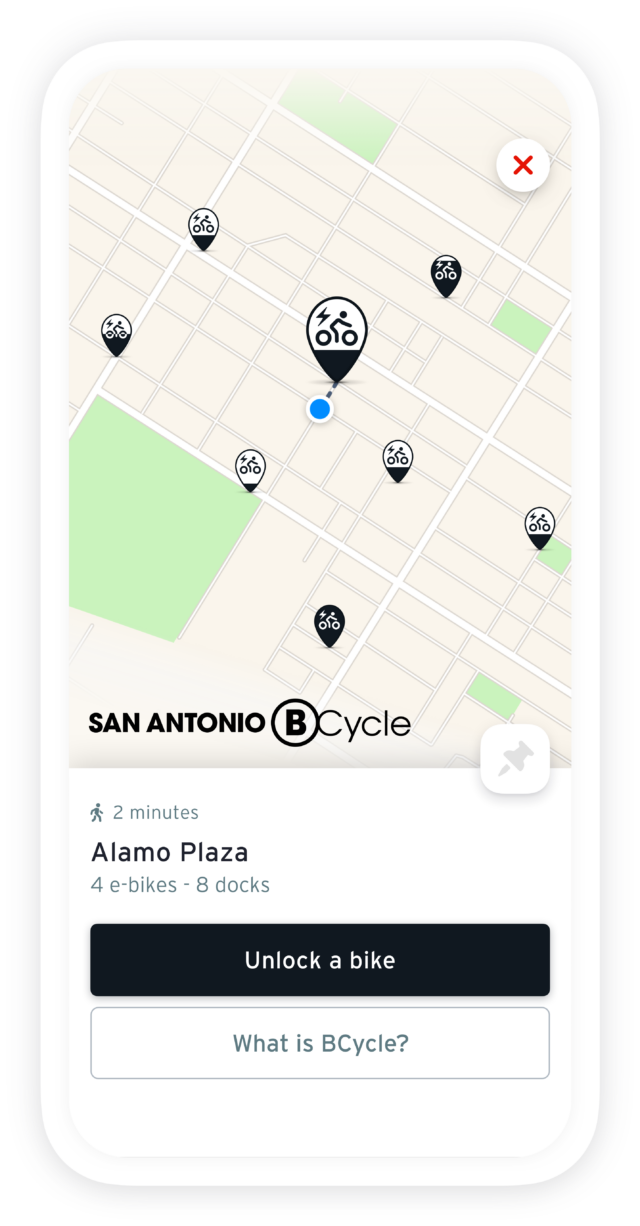 Transit integration with bike share has become a focus in Pittsburgh, Pennsylvania, where the Move PGH pilot is bringing together multiple transportation options through the Transit app and at new Mobility Hubs. Likewise, as part of its BBSP Living Lab in Detroit, Michigan, MoGo — the nonprofit that operates bike share in the city — is looking to better merge bike share with transit in a more permanent way. Although neither of these projects has yet to achieve payment integration the way San Antonio or Las Vegas has, that remains the ultimate goal.
In Cleveland, Ohio, the Greater Cleveland Regional Transit Authority recently became one of the largest transit networks to integrate payment into a single platform (EZfare) that integrates with the Transit app, Uber, and Moovit, allowing riders to pay for their trips on these familiar and ubiquitous platforms. Like in cities the world over, Transit was already widely used by Cleveland residents and tourists, making it the natural choice for integration. 
As cities enact climate goals and attempt to get more people to forgo their cars, it makes sense to consolidate payment for all modes of transportation in the same place that you look up routes and schedules. To achieve widespread mode shift, we have to make multimodal transportation as seamless as possible. Making integration a priority is also an equity issue, considering that most transit users are lower-income and/or people of color.
In San Antonio, Miller says that the bulk of users taking advantage of the new payment system are those that were already riding the bus every day. "We survey Via users every quarter and you know, almost 70% earn less than $38,000 a year," says Miller, adding that 49% are Hispanic, 14% are Black and only 8% earn more than 75,000 a year. "It's about connecting all of these different options for getting around together to remove those barriers of entry for folks without access to a car."
---
The Better Bike Share Partnership is funded by The JPB Foundation as a collaboration between the City of Philadelphia, the National Association of City Transportation Officials (NACTO) and the PeopleForBikes Foundation to build equitable and replicable bike share systems. Follow us on Facebook, Twitter and Instagram or sign up for our weekly newsletter. Got a question or a story idea? Email kiran@peopleforbikes.org.