A Public-Private Partnership Puts People First
March 9, 2022
In Nashville, the public transit agency WeGo is working with Bird, Lime and Spin to share data, fill in mobility gaps and collaborate on station siting.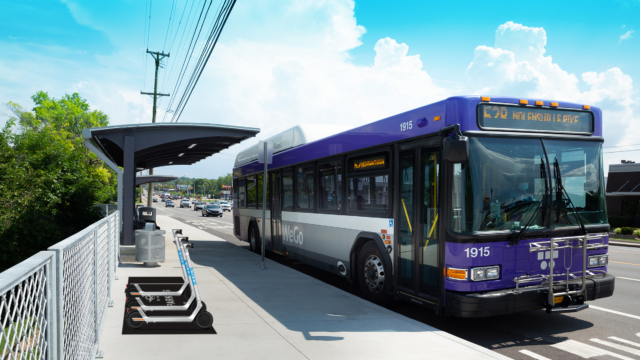 Before the pandemic, the city of Nashville, Tennessee, was an early adopter of electric scooters, which were mostly concentrated in its downtown tourist areas. Like many places, the response was mixed — there were lots of complaints, with senior citizens tripping over abandoned vehicles, but also a general understanding that when done right, the scooters might serve as a mobility tool for residents. 
In June 2019, the Nashville's Department of Transportation (NDOT) put a pause on the program, deciding to limit the number of companies operating in the city and impose strict oversight when it came to numbers, safety, and accessibility. NDOT officials hoped that by being more intentional in the process, it might also achieve some of its broader mobility objections around Vision Zero and equity goals. High on the list was prioritizing a relationship with WeGo Public Transit, which serves the Nashville metro area, so that more people might be able to access shared micromobility.
Three companies — Bird, Lime, and Spin — were enthusiastic about such a partnership, agreeing to collaborate with WeGo and NDOT on things like ridership data and station siting. Together, the public officials worked with the private operators to set criteria for the pilot stations, which included:
Data sharing


What did most riders congregate? Where are scooter riders going once they get off of a bus?

Safety of the riding environment


Was the surrounding infrastructure conducive to riding a scooter safely?

Equity considerations


Were the pilot stations in areas where households had low automobile ownership?

Significant trip attractor


Were these locations near places of interest—within a quarter of a mile to a half a mile—where a scooter would be helpful?

Levels of ridership


Were the stations along routes that were well-used?
In Nashville, about 36 bus routes carry roughly 75% of the city's ridership, so a large part of WeGo's involvement was highlighting stops in the system with the highest boarding counts along busy transit corridors. For a company like Bird, which could theoretically make money only serving tourists in the downtown area, the partnership speaks to a mission-based desire to connect more people in more parts of the city. 
"We see ourselves as a complement to buses and trains, as that first- and last-mile connector," says Sam Cooper, Bird's director of government partnerships, noting that the company works with cities from Los Angeles to Rome to place scooters in a way that complements public transit. "We truly believe in micro electric vehicles being a transportation solution in cities."
That means showcasing different use cases and reaching populations that have historically been underserved when it comes to mobility options. According to Steve Bland, WeGo's chief executive officer, the agency is set to build a transit system that creates a web across the city, primarily using bus routes. Knowing that all webs have some holes, WeGo is keen on partnering with companies in the shared micromobility space to fill in those gaps and ensure widespread coverage. 
Like in many U.S. cities, gentrification is pushing low-income communities out of downtown neighborhoods, which is where the best concentration of transit tends to be. As those who are most reliant on public transportation are pushed outward, they're forced to walk long distances to access services. Buying a car, the typical solution favored by suburbanites of years passed, is both prohibitively expensive for many and terrible for our planet. It's more important than ever that we rethink how different mobility options might work together. 
"Mobility isn't important, it's essential," says Bland. "The companies that were successful [in working with Nashville] were the ones that embraced that vision of a more equitable system." 
Importantly, Bird does offer community pricing, with a 50% discount for low-income riders, and provides a cash option for users. Bland sees creating more equitable payment systems as the next "nut to crack" — for those using transit in conjunction with shared micromobility, that would mean an integrated payment system that not only serves the unbanked but also offers fare capping. That will only become more important as Nashville leans in to creating mobility hubs, or super stops served by frequent transit network routes, various forms of shared micromobility, and transportation network companies like Uber and Lyft. 
"There are gaps still for folks that are unbanked or lack cell phone access," says Bland, noting that these transit centers — such as one in North Nashville — will primarily cater to traditionally underserved populations. "So one of the things that we're working on incorporating into the transit centers are digital kiosks that essentially can serve as your smartphone in that location."
Having private partners that have bought into a city's vision for equity, sustainability, and safety is crucial if we want to alleviate decades of planning and transportation decisions that have negatively affected low-income communities and people of color. By filling in gaps in a transit network and distributing technology widely, shared micromobility can help get people to jobs, doctor's appointments, and other essential services. A company like Bird sharing its ridership data is a relatively simple thing but it's nonetheless significant, allowing for a public agency like WeGo to better understand things like where people are going, how they're connecting different modes of transportation, or where infrastructure might need upgrading.
Nashville is a very auto-centric city and due to a lack of good pedestrian infrastructure, most people are reluctant to walk even short distances (especially is it's in the heat of summer). "People will walk to good public transportation as long as you can walk there safely," says Bland. Knowing that, WeGo has been strategically working with NDOT in a similar way to how the agency has been working with Bird and the other scooter companies. "We're identifying the top locations where we need to jointly partner on projects to improve pedestrian access and safety." In line with that, NDOT recently released a five-year plan to improve the city's bikeways and sidewalks.
Bird has developed technology that can tell when people ride on sidewalks — an indicator of unsafe on-street infrastructure — and there's no reason that data couldn't help identify location sitting for bike lanes and routes. Cooper notes how Bird is already helping cities do the later based on heat maps and other visualizations around where people are frequently connecting to transit, as well as supporting legislation and local initiatives geared toward increasing mobility and making our streets safer. For the company, partnerships are a relationship-building opportunity, a smart business move, and an investment in the future of our cities. 
"We're absolutely very encouraged by the initial partnership and initial results in Nashville," says Cooper. "Wherever we can help cities meet their transportation and sustainability goals, is a win-win. Any time we can reach customers and service them, that's also a win."
There's a growing consensus amongst private and public operators that promoting any sort of mobility option that isn't a private vehicle helps lift the whole mobility ecosystem, ultimately benefiting the most people (and especially lower-income individuals). All cities should strive to provide people with an array of mobility options, so that they can easily trip chain and meet their own unique transportation needs. 
"The goal is to get more people riding mass transit or using some of the less invasive mobility options for local trips," says Bland. "If we expand in a smart way, it's good for Bird and it's good for us."
---
The Better Bike Share Partnership is funded by The JPB Foundation as a collaboration between the City of Philadelphia, the National Association of City Transportation Officials (NACTO) and the PeopleForBikes Foundation to build equitable and replicable bike share systems. Follow us on Facebook, Twitter and Instagram or sign up for our weekly newsletter. Got a question or a story idea? Email kiran@peopleforbikes.org.