A Roadmap for Helping Transit and E-Scooters Work Together
May 6, 2022
A new report identifies the ways cities can drive sustainability and equity goals through the integration of multimodal trips.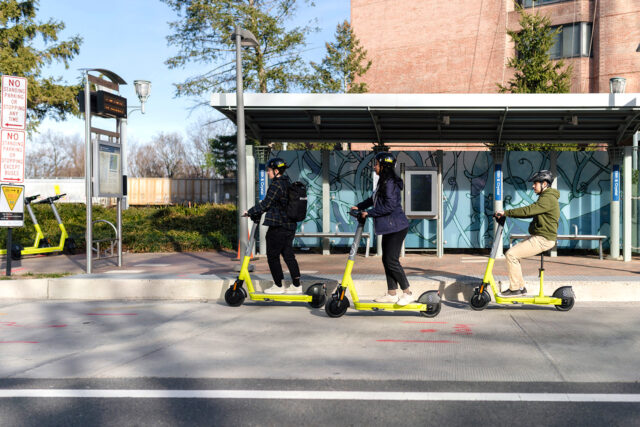 Superpedestrian, a shared micromobility company based in Cambridge, Massachusetts, has issued a new report on transit integration in partnership with the Cities Today Institute, a peer-to-peer network for urban mobility and innovation leaders. The report — titled "How E-Scooters Are Aligning with Public Transit" — brings together government, system operator, and NGO experts to identify new and existing solutions to increasing multimodal trips.
E-scooter trends have shifted in the last five years, moving from niche to mainstream. At Superpedestrian alone, two-thirds of trips are not related to tourism or recreational use but rather to commuting for work and other essential services. The authors focused on Pittsburgh, Seattle, and Milwaukee in the U.S, as well as Madrid, Spain, due to each city's unique perspective when it comes to better aligning scooters and public transit. 
Based on real-world examples in these places, the report urges cities to consider the following:

In the report, Karina Ricks — the former director of Pittsburgh's Department of Mobility and Infrastructure and one of the brains behind Move PGH — notes how too often, the burden is on the transit user to figure out how to combine and work out a seamless trip. This doesn't serve the people who rely on transit the most nor our collective climate goals. Integrating shared micromobility into our transit systems can not only reduce greenhouse gas emissions but can bring mobility to more people, the positive effects of which are limitless. 
---
The Better Bike Share Partnership is funded by The JPB Foundation as a collaboration between the City of Philadelphia, the National Association of City Transportation Officials (NACTO) and the PeopleForBikes Foundation to build equitable and replicable bike share systems. Follow us on Facebook, Twitter and Instagram or sign up for our weekly newsletter. Got a question or a story idea? Email kiran@peopleforbikes.org.