Ride for Free on Earth Day
April 20, 2022
These bike share systems are getting rid of fees to raise awareness about climate change and encourage widespread adoption.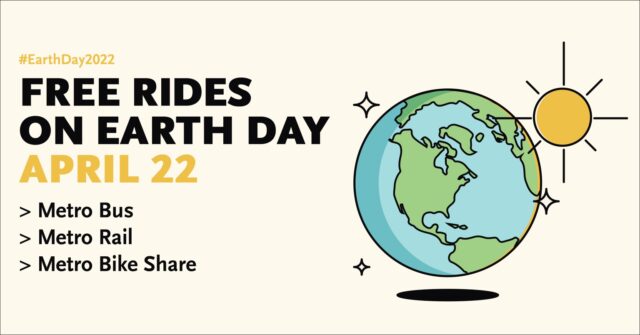 Friday, April 22, 2022, will mark the 52nd annual Earth Day, a time to pause and give gratitude for our one and only home. The latest Intergovernmental Panel on Climate Change (IPCC) report says that we might still stave off the worst effects of climate change but that the time to act is "now or never" — greenhouse gas emissions must peak by 2025 and be halved this decade to give us a chance of limiting future heating to 1.5°C. In response to the report, U.N. Secretary-General António Guterres stated that we are "firmly on track to an unlivable world."
While undeniably bleak, the forecast still offers some hope. The new report underscores the large role the transportation sector plays in emissions, highlighting the importance of building mixed-use communities that support bicyclists, walkers, and people riding electric scooters. We might be on track toward unprecedented disaster but the silver lining is that we know what needs to be done to avoid it. Reducing our reliance on vehicle transportation is a big part of the solution and an area where individual actions can truly spur larger change.
Bicycling, walking, public transit, and carpooling are all great options for helping reduce our collective vehicle miles traveled. Replacing car trips with shared micromobility is another great option, albeit one only available to those living in urban areas where it's on offer. In honor of Earth Day, several systems around the country are inviting folks to try out bike share free of charge, the hope being that one ride might be enough to encourage a lifestyle shift. 
In an ideal world, public transit would include shared micromobility and it would be free all the time. In this imperfect reality, however, we have to take wins where we can and hope that they might spark lasting change. 
Earth Day Bike Share Promotions:
🌎 Bay Wheels in the San Francisco Bay Area, CA
New riders get a free unlock with the promo code "EARTHBAY2022" on Friday, April 22.
🌎 BCycle in Eight U.S. Cities
In partnership with Bosch eBike Systems, BCycle is offering free pedal-assist bike share rides April 22-24 in:
🌎 Biketown in Portland, OR
Portland is hosting a free ride weekend, April 22-24, sponsored by Nike's community impact and sustainability teams to support its Move To Zero work. Since this is funded by Nike, all ride fees for trips 60 minutes or less will be turned off — no code is required. Rides are also free on Adaptive Biketown for those not able to ride a conventional two-wheeled bike.
🌎 Citi Bike in New York City, NY
Citi Bike will support the NYC Department of Transportation's Car Free Earth Day with a free passcode ("CAREFREE22" in the Citi Bike app) for new riders on April 23. The code provides unlimited 30-minute rides on a classic Citi Bike for 24 hours.
🌎 CoGo in Columbus, OH
On Saturday, April 23, CoGo is supporting a guided ride for the community in partnership with Green Columbus — 500 annual memberships will be given to volunteers.
🌎 Metro in Los Angeles, CA
Metro will be offering free bus, rail and bike share rides in recognition of public transit's role in helping improve the environment.
🌎 MoGo in Detroit, MI
MoGo has timed the resurgence of its free Thursday bike share rides to coincide with Earth Day. Sponsored by Henry Ford Health and HAP, starting on April 21 anyone can ride for free on the third Thursday of the month through October 2022.

---
The Better Bike Share Partnership is funded by The JPB Foundation as a collaboration between the City of Philadelphia, the National Association of City Transportation Officials (NACTO) and the PeopleForBikes Foundation to build equitable and replicable bike share systems. Follow us on Facebook, Twitter and Instagram or sign up for our weekly newsletter. Got a question or a story idea? Email kiran@peopleforbikes.org