Break Up With Your Car For Earth Day
April 12, 2022
A month-long campaign from the shared micromobility company Lime is incentivizing people to ditch their cars.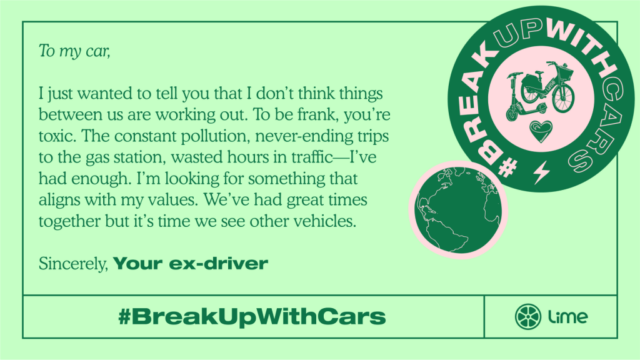 In honor of Earth Day, which falls on April 22, the shared micromobility operator Lime has launched a month-long campaign encouraging people to #BreakUpWithCars. By offering a variety of incentives, Lime, which operates electric scooters and bikes in more than 150 cities globally, hopes to encourage the adoption of more sustainable forms of transportation. 
Throughout April, commuters that make a pledge to give up on cars for a period of time — ranging from a single day to the entire month — will be automatically entered to win the following prizes:
Three winners will receive $3,500 worth of rides

Three winners will receive $450 worth of rides

A Bern helmet

A branded #BreakUpWithCars t-shirt

A branded #BreakUpWithCars sticker sheet 

Free rides
With gas prices so high and 80% of motorists saying they plan on driving less, the time seems ripe for reevaluating our relationships with cars. The Environmental Protection Agency estimates that at 29%, the transportation sector is the biggest source of pollution in the U.S. — passenger cars make up roughly 58% of those emissions. Various forms of active travel, including walking, bicycling, and scooting, are considered the most sustainable form of personal transport. According to one European study, replacing one car trip with one bike trip per day decreases a person's overall transportation emissions by 67%. 
Active transportation is also a favored solution by many urban planners when it comes to helping to reduce traffic and congestion in our cities (something electric cars only contribute to). In a first-of-its-kind study published in August 2021, researchers at Colorado State University (CSU) found that bike share trips in the U.S. provide health benefits for bicyclists that far surpass the risks, such as air pollution. In a nutshell: Breaking up with our cars is better for public health, the livability of our cities, and the environment.
"With transportation a leading source of global carbon emissions and more than 1.3 million people killed in car crashes annually worldwide, it's past time to end our toxic relationship with cars," Lime CEO Wayne Ting told Electrek. "[This campaign is] a reminder that freeing oneself from the costly and time-consuming headaches of car ownership is not only a healthy step for drivers but good for cities and the planet as well."
Of course, it's easier to ditch your car in more densely populated areas where shared micromobility and reliable transit are present. We acknowledge that it's a privilege to be able to break up with your car and are proud to be working to make shared micromobility more equitable and accessible to low-income populations and people of color. Programs specifically geared towards low-income riders, such as Lime Access, are key to helping people from all backgrounds say goodbye to their toxic relationships with cars and start seeing other vehicles.
---
The Better Bike Share Partnership is funded by The JPB Foundation as a collaboration between the City of Philadelphia, the National Association of City Transportation Officials (NACTO) and the PeopleForBikes Foundation to build equitable and replicable bike share systems. Follow us on Facebook, Twitter and Instagram or sign up for our weekly newsletter. Got a question or a story idea? Email kiran@peopleforbikes.org.