Have a Library Card? Check Out a Bike
April 8, 2022
In Wisconsin, a collaboration between BCycle and the Madison Public Library Foundation gives residents temporary access to a bike share membership.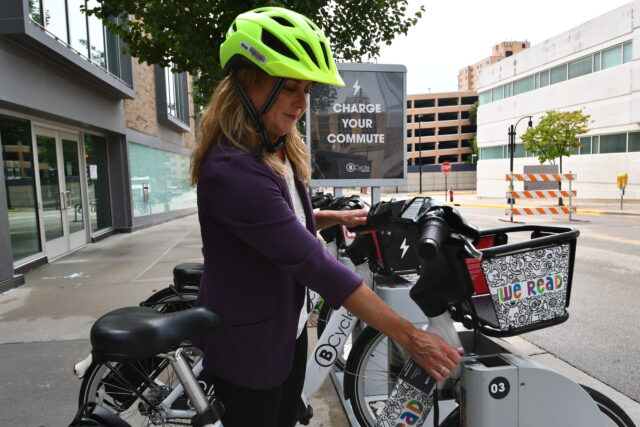 Helen Bradley was a Madison BCycle member for almost six years before she came on board as the bike share system's general manager in June 2020. The position, which combined her marketing background with a desire to be of service to her community, was a perfect fit. The Madison bike share system has been around for more than a decade now, however, and Bradley saw room for improvement when it came to equity.
Madison is a city divided by two lakes with very structured neighborhoods – its bike share system started in its downtown neighborhood and to this day, primarily serves the University of Wisconsin and its students. BCycle operates in cities across the country and although some systems that utilize its technology, such as Bublr Bikes in Milwaukee, offer low-income pass options, the system as a whole doesn't yet (nor does it have the infrastructure in place to accept cash-based payments). Although BCycle hopes to offer both a low-income and a senior pass in the next year, Bradley found herself wondering what she could do to expand access now.
"We wanted to make sure we weren't missing the boat on equitable bike share programs," says Bradley. "The goal now is to expand to people that rely on bikes for their main transportation every day."
That desire was the impetus behind a new Community Pass Program, designed in partnership with the Madison Public Library Foundation. The program, which was first piloted last fall, allows library cardholders to check out a Madison BCycle pass and a helmet from any Madison Public Library location. Each library location has two passes on offer (18 total), which like a book or a computer, can be checked out for up to a week at a time. The passes — which are essentially a key fob identical to those available to traditional BCycle members —  provide access to more than 350 electric-assist bikes at more than 50 BCycle stations throughout the city. 
Whereas the Madison BCycle system typically requires a credit card or smartphone to unlock a bike, the Community Pass Program offers an alternative checkout method for riders who might have previously been unable to access bike share. Despite the fact that BCycle's stations aren't evenly distributed across Madison like libraries are, residents in all parts of town can still check out a pass and use it to access a station in a different part of town, whether for an appointment or recreation. During the initial 2021 pilot, which lasted three months, more than 300 trips were taken using passes from all over the library system.
"We haven't seen a single library not have a pass checked out so far," says Bradley, noting that the community response to the program has been overwhelmingly positive.
The Community Pass Program is based on a similar library checkout scheme that Heartland BCycle launched in Omaha, Nebraska, in 2019. However, that program utilized grant funding — some of it from BBSP — to get it off the ground and offer four passes per library branch, while Madison BCycle has been able to make it work by eating the cost of the passes.
"We were mimicking what Omaha did but without funding and we weren't sure if we should continue," says Bradley. "I'm so glad we didn't wait, the pay-off has been more than we could have imagined. If you can manage to pull off something internally, then go for it — you can always fine-tune it and find partners to financially support it in the future if you need it."
Madison BCycle was also able to lean on its already-established relationship with Madison Public Library Foundation, a natural fit thanks to both organizations' emphasis on serving the community at large and emphasizing the importance of accessible transportation. Last year, the foundation sponsored one of the bikes in the system's art bike program, and in October, just after the Community Pass Program debuted, a new station was put in at the Pinney Library. Every person that checks out a bike share pass from any library branch signs a user agreement and if a bike ever were to go missing (none have so far), the Madison Public Library Foundation has offered to help recover the bike and even recoup any incurred costs so that they don't fall on the user. 
Eventually, Madison BCycle hopes to grow its system footprint to add more stations near the city's public libraries.
"We've got four locations spotted that would be within a block of a Madison public library, so that would add to the access for this program," says Bradley, adding that it will also contribute to more multi-modal trips (as will Madison BCycle's new Transit app integration, which went live on April 6). "We really want to fill in where the greatest need is."
In Madison, that would primarily be its north, south, and east sides, where there's a lot of low-income housing and underserved neighborhoods. There are currently plans to add around 11 new stations in the parts of Madison that rely the most on public transportation. The City of Madison and the City of Fitchburg applied for a federal Transportation Alternatives Program (TAP) grant on behalf of Madison BCycle, which was recently approved and will help fund a total of 200 docks and 110 e-bikes across Madison and the suburb of Fitchburg.
In the meantime, Madison BCycle will continue to grow to try and engage more people around the system and its programs that are already in place. Madison BCycle is currently working with the public libraries to develop educational workshops around its Community Pass Program and that programming is set to start this summer. Those classes will tackle things like how to ride a bike, how to use the bike share system, or the rules of the road for bicyclists.
"These aren't your traditional bikes," says Bradley, referring to BCycle's electric-assist capability, which despite a short learning curve, opens up riding to more people. "If there are adults who maybe haven't ridden in a long time and they're uncomfortable with it, we want to make sure that we're there to support them, get them back on a bike, and show them that it can be fun and easy."
---
The Better Bike Share Partnership is funded by The JPB Foundation as a collaboration between the City of Philadelphia, the National Association of City Transportation Officials (NACTO) and the PeopleForBikes Foundation to build equitable and replicable bike share systems. Follow us on Facebook, Twitter and Instagram or sign up for our weekly newsletter. Got a question or a story idea? Email kiran@peopleforbikes.org.