The Young Men's Educational Network and Chicago's New Bike Library
November 30, 2020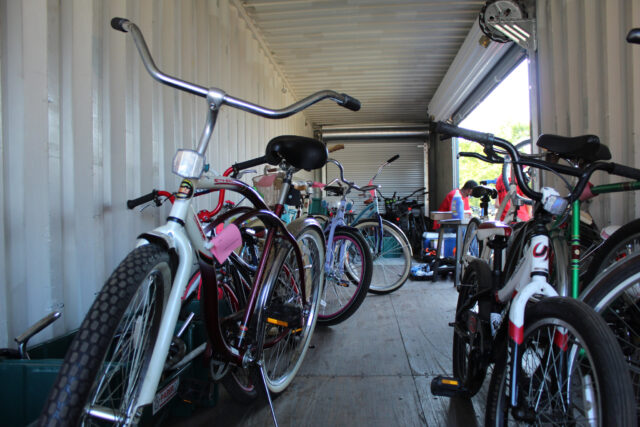 Courtesy of Pascal Sabino of Blok Club Chicago
Thanks to the Young Men's Educational Network (YMEN) in the Chicago neighborhood of North Lawndale, citizens can now access bikes at their convenience through the community group's bike library!
Block Club Chicago reported recently that YMEN bike library is — quite creatively — being operated out of a repurposed shipping container. In addition to the 20 bicycles available to be borrowed for free by anyone in the community, the bike library will also have a repair shop to offer simple repairs such as handlebar adjustments, brake issues, flat tires and more.
Marcus Throne, executive director of operations for YMEN, is incredibly proud of the bike library and its impact on the community. Block Club Chicago states that YMEN puts an emphasis on entrepreneurship and job training for youth, and this new venture will encourage teens to learn the mechanical skills needed to fix bikes and foster an interest in engineering.
To make something like this possible, the bike library has partnered with local organizations like Working Bikes, Equiticity, Utility Consumers' Action Network, the Chicago West Side Christian School, plus Boxing Out Negativity.
Throughout the fall, the program launched as a pilot to generate interest as well as provide relief to residents throughout COVID-19. During the winter, YMEN plans to collaborate with its partners to solidify its hours of operation and the logistics of the bike repair program to officially present itself to the community as an established bike library and shop.
Equiticity and Boxing Out Negativity regularly host community bike rides, and it's the hope of YMEN that these types of events will become more commonplace thanks to their efforts.
👉 If you're in Chicago or have friends or family there, let them know about this bike library! Neighborhood groups and community members are always welcome to visit the library and pick up a rental for free. The folks at YMEN also work with groups for rentals, but anyone can call and set up a solo trip, too. Visit the website to learn more about YMEN's missions, values and more.
The Better Bike Share Partnership is a JPB Foundation-funded collaboration between the City of Philadelphia, the Bicycle Coalition of Greater Philadelphia, the National Association of City Transportation Officials (NACTO) and the PeopleForBikes Foundation to build equitable and replicable bike share systems. Follow us on Facebook, Twitter and Instagram or sign up for our weekly newsletter. Story tip? Write farrah@peopleforbikes.org