NACTO's 2019 Shared Micromobility Snapshot Shows 136 Million Trips Taken
August 28, 2020
In the latest Shared Micromobility Snapshot created by the National Association of City Transportation Officials (NACTO), it shows that in 2019, people in the United States took 136 million trips on shared bikes, e-bikes, and scooters, which is 60% more than what was reported in 2018.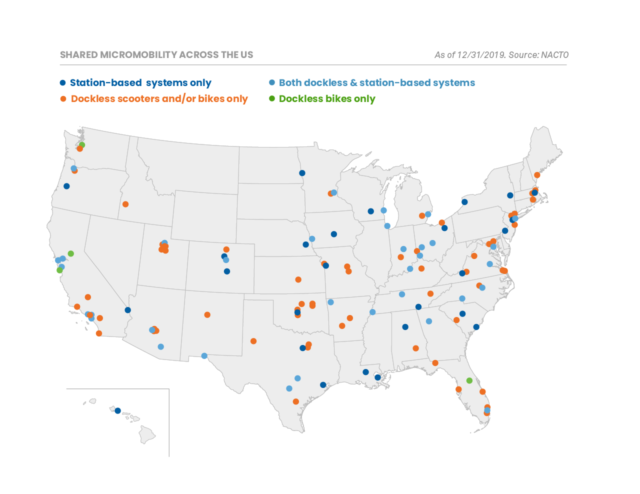 Source: National Association of City Transportation Officials
Dockless micromobility companies are the name of the game and have made significant growth within the last few years. Ridership certainly skyrocketed in 2019: NACTO reported that 96 million trips were taken in total, with scooters bearing most of the share at 86 million trips compared to 10 million tips on dockless e-bikes.
On the other hand, people took 40 million station-based bike share trips, which was majorly concentrated in a small number of cities.
NACTO's report breaks down 2019 bike share trips by length, trips replacing vehicles, safety conditions for riding, demographics of ridership and much more. Additionally, it provides insights for how cities can reshape themselves safely, equitably and sustainably as they slowly re-open.
Here are some important 2019 takeaways to note:
Total station-based bike share ridership increased 10% even as the number of systems decreased by 4% to 72.
Ridership increases for bike share systems largely driven by established systems: Riders took 17% more trips on the 6 largest bike share systems than in 2018.
87% of docked-bike share system trips nationwide took place in the top 6 ridership cities/regions — the Bay Area, Boston, MA, Chicago, IL, Honolulu, HI, New York, NY, and Washington, D.C.
On average, the typical scooter user or bike share annual/monthly pass-holder rides for11-12 minutes and 1-1.5 miles.
Throughout 2019, users went from paying $0.15 per minute to a range of $0.15 to $0.39 per minute, in addition to the standard $1.00 unlocking fee, depending on the company. For station-based bike share, prices have remained more constant.
To learn more:
👉 View NACTO's statement about their analysis.
👉 Download the 2019 Shared Mobility Snapshot here.
The Better Bike Share Partnership is a JPB Foundation-funded collaboration between the City of Philadelphia, the Bicycle Coalition of Greater Philadelphia, the National Association of City Transportation Officials (NACTO) and the PeopleForBikes Foundation to build equitable and replicable bike share systems. Follow us on Facebook, Twitter and Instagram or sign up for our weekly newsletter. Story tip? Write farrah@peopleforbikes.org