Better Bike Share grantee partners with dockless system in Ithaca
May 21, 2018
Welcome to our new series to introduce the 2018-9 Challenge and Research Grantees! We kick off today with work from Bike Walk Tompkins in Ithaca, NY. See below for full list of posts.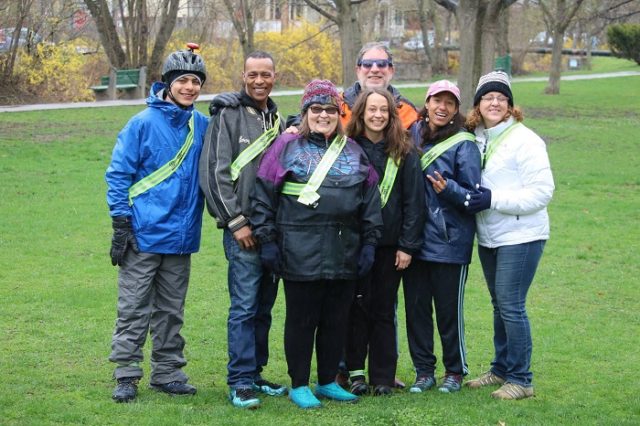 Source: Hector Chang.
Bike share ambassadors are nothing new, but it's certainly different to put them to work in promoting a dockless system. That's exactly what Ithaca nonprofit Bike Walk Tompkins is up to with its Better Bike Share funding.
The bike share system in Ithaca is managed directly by Lime Bike. The system launched in late April, and an official ribbon-cutting event happened at a Streets Alive! Ithaca event during the same month.
Bike Walk Tompkins, in partnership with other community organizations, has selected five community ambassadors to do bike share research and education within target Ithaca communities.
"I was hired in August to do bike share research as well as plan to double bicycling in Ithaca over the next five years," said Hector Chang, Active Transportation and Bikeshare Coordinator for Bike Walk Tompkins (housed under Ithaca Carshare). "I also work on the blueprint for better bicycling and on community engagement. That's why we applied for the grant. This is our first big foray [into engagement]."
Champions lead the way
There's a lot of enthusiasm in Ithaca around the new bike share endeavor.
"The reason why we're very excited about it is because education and outreach was something that was definitely missing in Ithaca," said Chang. "Especially education for people beyond how to ride to school."
Ithaca looked to existing programs, such as Atlanta's bike champions, to develop their own program. Champion ages span from 15 to 70, and they come from a variety of different backgrounds. Even before the champions had officially started their work, they began to get requests to do rides.
One of the Ithaca champions, Devra Thana Rivkin, explains the potential that she sees in the program.
"It's not only riding, but just being out there," said Rivkin. "I'm a big health advocate, and I believe in a holistic approach to health and healing. I'm excited about getting to folks who haven't been on a bike for a long time or ever. I'm a practical person, so really showing that it doesn't take that much more time to get somewhere on a bike is important to me. With the environmental impact, every little bit helps. And you can actually have a lot of fun doing it."
Rivkin is involved with a multitude of local organizations, from education, youth initiatives, and sports. This community involvement makes her a great candidate to solicit local neighborhood bike share participation.
"I work with some of the high schoolers and middle schoolers teaching them the road. They're going to be driving soon, and if they start with the awareness of bicycles, everyone is safer. Also, if I'm riding a bike it makes me more aware if 'Hey this sidewalk needs to be fixed' or 'Look at that park, nobody uses it.'"
The champions program will run into September.
Collaborating with a dockless system
Choosing Lime Bike as the operator for Ithaca's dockless system was a thoughtful process.
"There were so many choices it was really hard to pick one," said Chang. "We put out a request for information about which companies would be interested in coming to Ithaca, and we received 10 applications for our little city. We did not expect that many."
In the end, part of the reason Ithaca chose Lime Bike was the view that the company offered a higher quality bike than some competitors, which would be able to handle the city's hilly terrain. Other factors were the low pricing of rides and a willingness to provide a cash option and a smartphone-free option.
Geographic availability was also a plus of the dockless model for Ithaca. "Stations would have been really hard in Ithaca given our really narrow streets," said Chang.
Bike Walk Tompkins plans to handle cash payments, access with regular cellphones, and to provide a discounted rate for people receiving government assistance by registering people for Lime Access, LimeBike's equity program, at their downtown offices. The nonprofit's central location helps make these options accessible to local residents.
"We're learning as we go," said Chang. "We want to make sure the bikes are in every neighborhood, and having champions out there is the best way."
Ithaca has already seen over 7,700 rides on Lime Bike in just the first few weeks of the system's local launch.
Stay tuned in the coming weeks to meet more of our 2018-19 grantees! Missed one? Here's the full list of additional posts:

>Pittsburgh's bike share approach emphasizes outreach, expansion, and low cost
>AWAKENING: MOTION and ambassadors partner with Charleston's bike share
>Drexel to examine Seattle's distribution of dockless bikes
>Detroit provides adaptive bikes, will expand system
>Portland university to catalogue bike share equity programs
>Chicago organization combines bike share and youth development
>New Orleans wants to increase job access through bike share
The Better Bike Share Partnership is funded by The JPB Foundation as a collaborative between the City of Philadelphia, the Bicycle Coalition of Greater Philadelphia, the National Association of City Transportation Officials (NACTO) and the PeopleForBikes Foundation to build equitable and replicable bike share systems. Follow us on Facebook, Twitter and Instagram or sign up for our weekly newsletter.