AWAKENING: MOTION and ambassadors partner with Charleston's bike share
June 6, 2018
We're running a series to introduce the 2018-19 Better Bike Share Challenge and Research grantees! Today, we're hopping over to Charleston, South Carolina's Holy Spokes system. You can see the original post and links to all articles in the series here.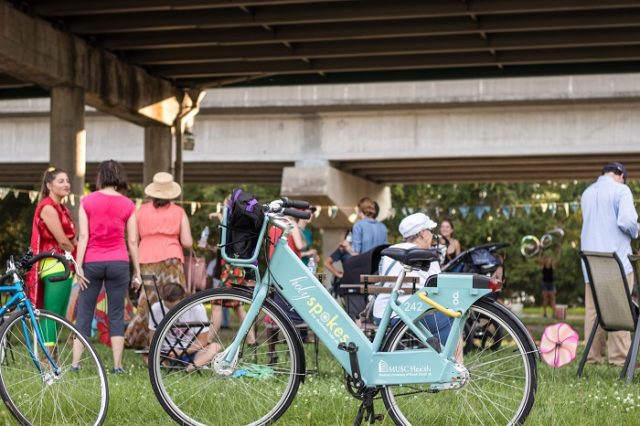 Courtesy of Enough Pie.
In Charleston, South Carolina, bike share can turn into an event for the entire community.
The Holy Spokes bike share system has had quite a successful year since launching in May of 2017. Riders have taken almost 50,000 trips cumulatively, with an estimated carbon emissions reduction of 92,590 pounds.
With support of Better Bike Share funding, a local partnership is expanding the system into the Upper Peninsula of the city, home to many low- and moderate-income Charleston residents. Additionally, the partnership is deploying an ambassadors program and worked with the AWAKENING: MOTION series of public art projects for safe and connected transportation.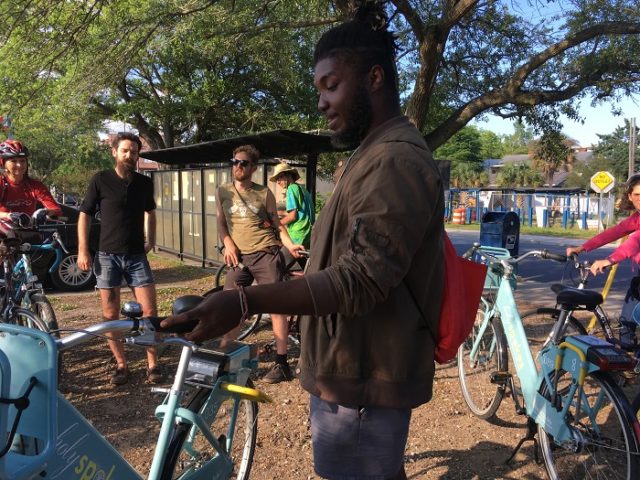 Courtesy of Enough Pie.
Community ambassadors spark change
The partnership work is a collaboration between organizations, including the Gotcha Group, Enough Pie, and Charleston Moves.
As of mid-May, the partnership had onboarded three of the five ambassadors they planned on hiring to assist with the expansion and outreach efforts. The next step after the hirings is to learn how to incorporate the ambassadors more fully into the community.
"We started doing a weekly bike ride, but also need to make sure we have meet and greet time on the ground," said Cathryn Zommer, executive director of Enough Pie. "We're letting people come to us and also going around downtown and being with the bikes. Engagement includes people on their stoops, at the bodega, and the corner store. It's starting to grow organically now."
Zommer and colleagues say that being able to get around Charleston neighborhoods with dignity is an important part of why they do the work. Next steps could include incorporating helmets and leading more group rides.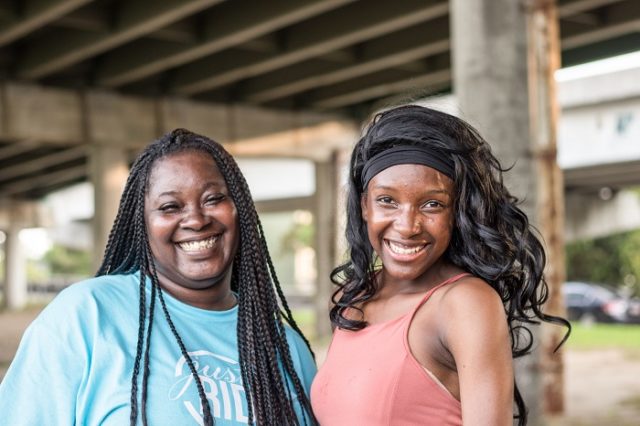 Courtesy of Enough Pie.
AWAKENING: MOTION
AWAKENING: MOTION, which ran through the end of May, was the perfect opportunity to introduce the new ambassadors to the community engagement work.
Art projects during AWAKENING: MOTION spanned an exciting array of activities. In one, called "Motion Sculptures" students built sculptures of transportation methods that didn't involve cars. In another, "Wayfinding," participants designed signs to help visitors and residents find local community resources.
The partners were excited about the collaboration as a way to start building a more inclusive demographic for bike share and for advocating for better streets infrastructure for biking and walking.
The Better Bike Share Partnership is funded by The JPB Foundation as a collaborative between the City of Philadelphia, the Bicycle Coalition of Greater Philadelphia, the National Association of City Transportation Officials (NACTO) and the PeopleForBikes Foundation to build equitable and replicable bike share systems. Follow us on Facebook, Twitter and Instagram or sign up for our weekly newsletter.