Detroit provides adaptive bikes, will expand system
June 26, 2018
Today we look at Detroit's bike share equity work through our 2018-19 grantee intro series. You can see the original post and links to all articles in the series here.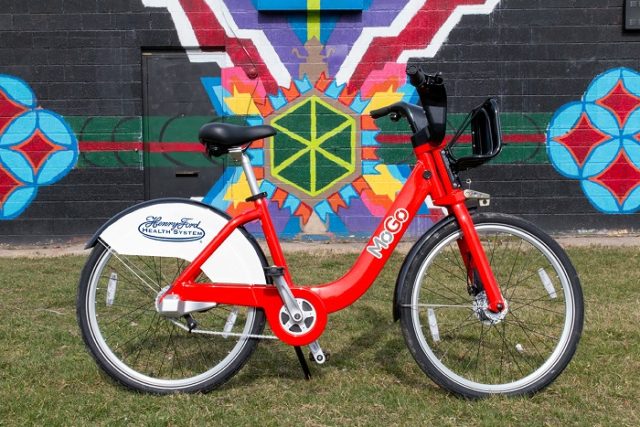 Source: MoGo Detroit.
Far before launch day, MoGo had ambitious plans as Detroit's new bike share system. One year later, with the help of dedicated partnerships, many of those blueprints are coming to fruition.
With partial support from Better Bike Share, MoGo will develop a new regional hub in its bike sharing system. Additionally, the system launched a small pilot program to provide adaptive cycling options to Detroiters with mobility challenges. MoGo also celebrated its first anniversary on May 23rd through a free ride day and a community gathering.
Expanding through a hub model
First of all, MoGo has its sights set on getting just a little bigger.
The planned bike share stations would help cover some of the areas on the border of Detroit that connect to major suburban communities. Lisa Nuszkowski, Founder and Executive Director of MoGo, hopes the expansion will help address the city's fragmented transportation system.
"There's a lot of population density where we currently operate," said Nuszkowski. "Then there are also less dense areas between where we are now and where we would like to be. We're thinking long term — ultimately, we don't want any service areas to be islands unto themselves."
So far, MoGo has started conversations with stakeholders in the target expansion area. The goal is that neighborhood and community ownership will drive the process forward, so engaging key players from the beginning is important.
A recent interview with Nuszkowski on Michigan Radio outlines the ways that equity underlies much of MoGo Detroit's work, including discounted passes, cash payment options, and expansion plans.
Adaptive pilot ups access
Another MoGo initiative that's gotten some amount of fanfare lately is the system's pilot of an adaptive cycle share program. The adaptive MoGo pilot currently includes 13 cycles designed for various accessibility needs — that includes tricycles, handcycles, tandem bikes, and cargo bikes.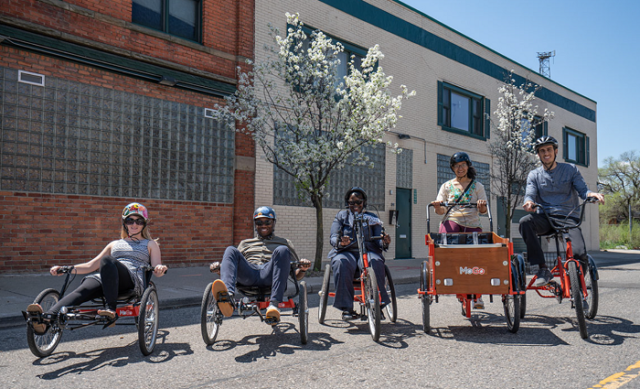 Image courtesy of MoGo Detroit.
To reserve an adaptive cycle, riders can go to the homepage of Mogodetroit.org and follow a link there to the reservation page. The cycles themselves are available through women-owned local bike shop Wheelhouse Detroit, following the partnership model that Portland, Oregon set out with its own adaptive bike share pilot. Wheelhouse Detroit helps fit riders with the best bike for them, before getting riders out on street.
One interesting hurdle to overcome in order for the adaptive pilot to get started was the question of bike storage, given the shop's active central location. The solution? MoGo ended up renting out a storage unit, which they placed across the street on a city-owned parcel of land. It's one example of how creative thinking can help keep a project moving forward.
Now the focus is on targeted outreach to help local residents learn about the adaptive option. MoGo is also conducting surveys and focus groups to learn more about what potential riders are looking for from an adaptive service, as well as about the experiences of those who use the program.
"We want to provide demo days over the summer, where the adaptive cycles will be open to anyone who wants to come try them and see which is the right size," said Nuszkowski. "We're working with [local nonprofit] PEAC, which does a lot of education and advocacy work around youth and other people with disabilities."
The current program pilot runs through October 31st, after which MoGo will evaluate the program and tinker with it for improvements.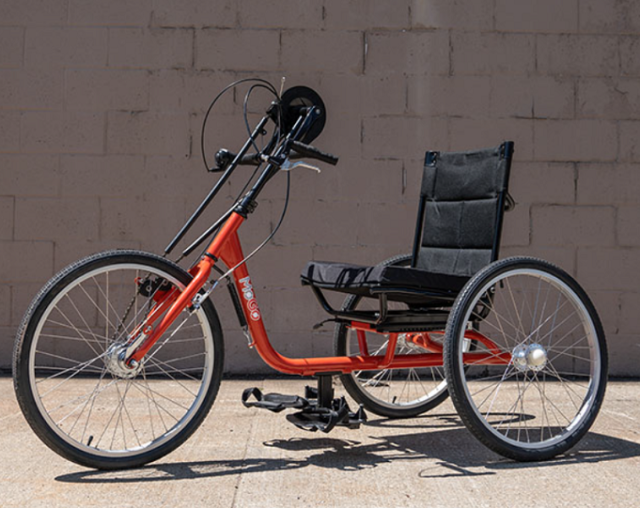 Image courtesy of MoGo Detroit.
One year in, and going strong
To ring in the second year of MoGo operations, the system was free to all riders for a full day in May. There were more than 1,200 rides on the free day — in a system of only 430 bikes — despite a particularly cold winter.
In the evening, a low-key event at a local restaurant provided an opportunity to toast bike share's local success — which it has been, according to the numbers. MoGo projected 100,000 rides in the first year of ridership and ended up at closer to 140,000 by the time the actual anniversary date rolled around.
When asked, Nuszkowski said that MoGo's stretch goals lie in communications and keeping perspectives novel.
"We could always learn more about effective marketing and community outreach," said Nuszkowski. "There's a basic approach we always use, and we're interested in innovative ways to reach people. We're always thinking about how to stay creative and keep what we're doing fresh."
The Better Bike Share Partnership is funded by The JPB Foundation as a collaborative between the City of Philadelphia, the Bicycle Coalition of Greater Philadelphia, the National Association of City Transportation Officials (NACTO) and the PeopleForBikes Foundation to build equitable and replicable bike share systems. Follow us on Facebook, Twitter and Instagram or sign up for our weekly newsletter.