Bostonians Get 30-Days of Free Bike Share
August 30, 2022
With the MBTA closure of the Orange and Green lines, Bluebikes is offering free monthly passes and valet service.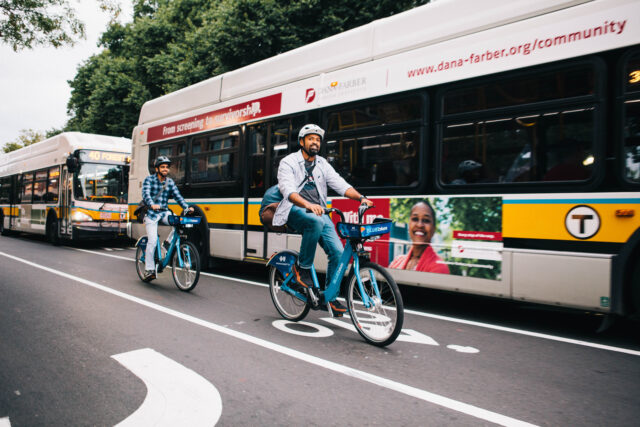 When a vital transit line needs updating, the best course of action is often to shut it down entirely and knock out the work as soon as possible. It's a tough call for transit authorities to make, as closing an entire line can affect millions of travelers, including those who live further afield and already have long commutes.
After a pretty rough year for Massachusetts Bay Transportation Authority (MBTA) riders — filled with trains derailing, intermittent shutdowns, delays, and even a fire — the agency announced that it was closing its Orange Line and part of its Green Line to tackle key repairs. Shuttle buses have been running between stations to accommodate the shutdown, which began on August 19 and will last nearly a month. The second busiest route in the region, the Orange Line alone handles nearly 100,000 trips per weekday and the city has designated bus-only travel lanes on some streets to accommodate the additional traffic.
Bluebikes, Boston's publicly-owned bike share system, is also offering free 30-day passes to help residents impacted by the closure, alongside other initiatives like pop-up bike lanes and valet service. While not a completely novel concept — Capital Bikeshare also offered free 30-day passes when parts of the Washington D.C. Metro shut down last year — it's still an important move, a way to turn an inconvenience into a conversion effort.
"The idea [for free bike share passes] was first born out of this desire to help and to support people getting where they need to go," says Stefanie Seskin, active transportation director at the City of Boston. "Then, following that, we realized it could be a great way to get people to try biking."
In Boston, bike share is considered an important first- and last-mile solution for getting people across the region to and from transit. Thus, Bluebikes stations are already well positioned along the Orange and Green lines, and the city has expanded stations where it could ahead of the shutdown. In places where expansion wasn't possible or adequate, additional valet service — much of it funded by the system's title sponsor, Blue Cross Blue Shield — has been deployed.
Valet service is running primarily on weekday mornings and evenings to accommodate commuters and consists of an ambassador positioned adjacent to a Bluebikes station with additional racks of bikes. On inbound stations, that person collects the overflow of bikes coming in and on outbound stations, they would provide more bikes. The ambassador helps facilitate the transition and ensures that people are still using their membership to check bikes out and in properly.
While the 30-day membership is free, residents and visitors still have to take the time to set up a pass, which helps track ridership and will ensure all of the vehicles are accounted for. The process of enrolling in the free 30-day membership, however, was intentionally designed to be easy, with few obstacles preventing people from using it.
"It was really important to us to make the process easy to understand," says Hannah Fong, an active transportation planner with the City of Boston, noting that the pass still requires using a phone or the internet to set up an account. "We did a lot to update the website."
While signing up does still require a credit card (the city acknowledges that there's more to be done to serve unbanked residents), Bluebikes offers a robust low-income program and its employees are committed to continuing to break down barriers to use. In addition to not requiring a code and translating the instructions for accessing the pass into multiple languages, the City of Boston — as well as the 10 other municipalities where Bluebikes operates — maintains drop-in office hours for anyone that needs additional support in setting up an account or resolving technical issues. Fong also says that, in addition to posting the instructions near Orange Line stations, they're also being posted at more far-flung locations with the understanding that many people trip-chain into the city center.
Plus, there's been a lot of interdepartmental collaboration and on-the-ground outreach efforts amongst city staff. Work has also been done to build pop-up bike lanes during the closure, as well as make sure the bike routes alongside the shuttle routes are safe. There are neighborhood-specific community liaisons involved in getting the word out about transportation alternatives, as well as the Office of Small Business and the Mayor's Office of Immigrant Advancement.
"It's a lot of in-the-moment troubleshooting, and also coordinating between different teams to make sure all modes — biking, walking, and transit — are all working together to serve everyone's needs," says Fong. "A lot of our public officials have also jumped in to help."
Here are 3 ways commuters can get around the city while Orange Line service is paused 👇 Check out more details & route maps: https://t.co/eZD44LGixN pic.twitter.com/pGElHoPb55

— Mayor Michelle Wu 吳弭 (@MayorWu) August 22, 2022
That includes Boston's mayor, Michelle Wu, who in addition to creating public service announcements has offered constructive feedback after her own commute using a bus and two shuttles immediately following the Orange Line closure (she recommended more signage at crucial wayfinding locations, as well as signs in more languages). Mayor Wu has long been a vocal proponent of free transit, having argued for years that "free public transportation is the single biggest step we could take toward economic mobility, racial equity, and climate justice."
While she hasn't been able to make transit completely free in Boston (yet), Mayor Wu has made some major strides. On her first full day in office, she filed an appropriations request for $8 million to make three bus lines free for two years. The Orange Line shutdown has provided another opportunity to offer free transit, this time to the entire commuter rail system in zones 1, 1A, and 2, which includes all stations within Boston. Riders need only show their MBTA payment CharlieCard (no need to have money loaded), which the city is also distributing to anyone in need (cards are available at all libraries and amongst station service teams).
The opportunity to offer free 30-day Bluebikes memberships only drives home the fact that, in Boston, bike share is an integral part of the public transportation system.
"By making Bluebikes free, we're following through on our goals to have bike share be a convenient, affordable public transit option, as well as Mayor Wu's strong belief that public transportation is a public good and should be available to everyone for free," says Seskin. "This is a great test case for that."
---
The Better Bike Share Partnership is funded by The JPB Foundation as a collaboration between the City of Philadelphia, the National Association of City Transportation Officials (NACTO) and the PeopleForBikes Foundation to build equitable and replicable bike share systems. Follow us on Facebook, Twitter and Instagram or sign up for our weekly newsletter. Got a question or a story idea? Email kiran@peopleforbikes.org.