New Study: Understanding the Use of a Reduced-Fare Program
September 22, 2023
Researchers from Monash University studied users of Lime Access — an affordability program offered by shared micromobility company Lime — in Australia, New Zealand, and the U.S.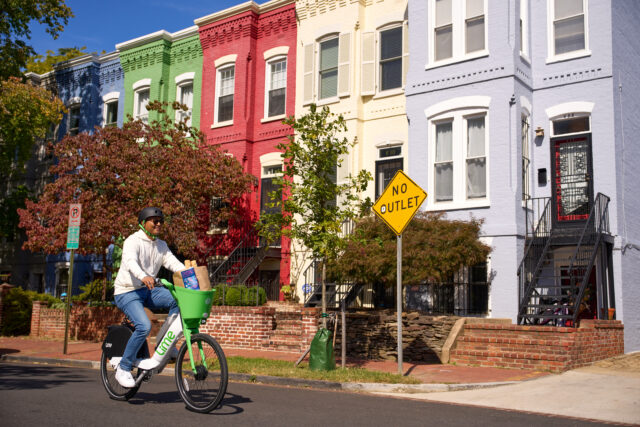 Who's excluded from using shared micromobility?
What barriers exist for users, and why?
Are reduced-fare programs effective in bringing more people to shared micromobility? 
These are some of the questions researchers from Monash University sought to answer with a comprehensive study of Lime Access, a reduced-fare program offered by shared micromobility company Lime. To date, little research has directly examined the role shared micromobility programs play in supporting the travel needs of low-income populations, and this new study aims to fill a gap.
Titled "Widening Access to Micromobility: Understanding Use of a Reduced-Fare Program in Three Countries," the report uses quantitative and qualitative data from a survey of more than 1,000 Lime riders in Australia, New Zealand, and the United States from June to October 2022. By surveying both Lime Access and non-Access riders, the research team was able to identify similarities and differences in their personal characteristics, usage patterns, benefits, and barriers, helping to establish a baseline for the effectiveness of Lime Access.
In addition to an open-ended question asking for general feedback, the questionnaire survey included questions on the following topics:
How often riders use Lime

Information about their most recent trip

Reasons why they use Lime

Challenges/obstacles they experience using Lime

Familiarity with the Lime Access program

Demographics

Researchers found that Lime Access serves a diverse group of low-income riders, its intended population. Expectedly, Lime Access customers are much more likely to be in the lower income brackets than non-Access customers, with around 90% of Lime Access customers on a below-median household income. Compared to non-Access riders, Access riders were 2.5 times more likely to be employed part-time, over 4 times more likely to be unemployed, and nearly 3 times more likely to be a student. Lime Access riders were also found to have greater age diversity than non-Access riders, with both young (under 25) and older (over 64) individuals making up a greater share of users. Unfortunately, women remain underrepresented among both user groups. 
Some key differences emerged between Lime Access customers and non-Access riders. For one thing, Lime Access Riders were more likely to be locals who used shared micromobility for utilitarian purposes like commuting or shopping, while non-Access members' most common trips were social outings. For both populations, Lime was regularly used as a first- and last-mile mode for accessing transit, but this was especially true for Access customers (44% of trips linked with transit versus 23% for non-Access). Using this data, researchers concluded that Lime Access riders are primarily using Lime for essential trips.
"We knew that Lime Access would be used by low-income groups, we just didn't anticipate how much more Lime Access customers integrated shared micromobility into their travel patterns, using the program for essential mobility," says Alexa Delbosc, associate professor at Monash University and the study lead. "We were honestly taken aback by some of the written comments describing how important Lime Access was for their mobility. Some people weren't physically able to walk long distances, ride a traditional bike, or drive a car — they described Lime Access as a 'game changer,' providing them with independence and freedom."
Not only do many of the Lime Access customers not drive but they're frequent transit users that see micromobility in a similar light as public transit, both as a complement and a substitute. According to Delbosc, if cities want shared micromobility programs to help fill the gaps in their transit networks — especially for people who might not have many other options — they should consider partnering with providers. She also emphasizes that municipalities and operators should both nurture robust partnerships with local community-based organizations, which can help identify populations that would most benefit from subsidized shared micromobility programs and let them know these programs exist (and how to sign up for them).
The report points to a range of other creative options cities should consider to reduce barriers to shared micromobility and increase use. Much of the survey feedback pointed to rider frustration about a lack of availability of devices and/or the seemingly arbitrary restrictions around ridership boundaries. From a regulatory perspective, this would suggest that cities reconsider fleet size limits as well as service area boundaries. 
Other suggestions for municipalities include directly subsidizing reduced-fare programs, or reducing program fees in exchange for more robust equity programs. For the latter, Denver, Colorado, is cited as an example, as is Washington, D.C., where the city provides a schedule of program fee rebates that increase depending on how well shared micromobility companies promote the usage of reduced-fare programs. 
"Sometimes shared micromobility is written off as a frivolous mode for tourists and joy-riders but it can be so much more, especially for the people who don't have many other options for mobility," says Delbosc. "Yet it won't happen accidentally — mobility providers need to work together with cities to get the best outcomes for sustainability and equity."
There are also initiatives shared micromobility operators can institute to help reduce barriers to low-income programs. The report features two Lime initiatives, including its partnership with Propel, a financial services company that helps individuals manage their public benefits. Lime has begun advertising its Access program on the platform in order to reach potential users where they're at. The other initiative is a partnership with SheerID, which makes the application for its Access program near-instantaneous. With SheerID, applications are typically processed in under 60 seconds, rather than requiring Lime staff to manually review applications, which can take up to 3 days. In markets where this integration has gone into effect, Lime Access signups have increased by a whopping 90%. 
While the research itself only focuses on Lime's reduce-fare program, it's still an important study for the industry to reflect on. Reduced-fare programs help alleviate the biggest barrier to shared micromobility for transportation-insecure individuals: its cost. But the research also forces us to consider other barriers, including awareness about low-fare programs, ease of enrollment in such programs, and the availability of vehicles. 
This study highlights how for many, shared micromobility functions like transit, a key tool for helping them remain mobile and live their lives. The more we can do as cities, operators, and nonprofits to ensure more people have access to it, the better. 
---
The Better Bike Share Partnership is funded by The JPB Foundation as a collaboration between the City of Philadelphia, the National Association of City Transportation Officials (NACTO), and the PeopleForBikes Foundation to build equitable and replicable bike share systems. Follow us on LinkedIn, Facebook, Twitter, and Instagram, or sign up for our weekly newsletter. Have a question or a story idea? Email kiran@peopleforbikes.org.