Research Highlights Equity Recommendations for Shared Micromobility
August 4, 2023
A qualitative study out of California summarizes what public agencies and non-governmental organizations can do to better bike and scooter share for all.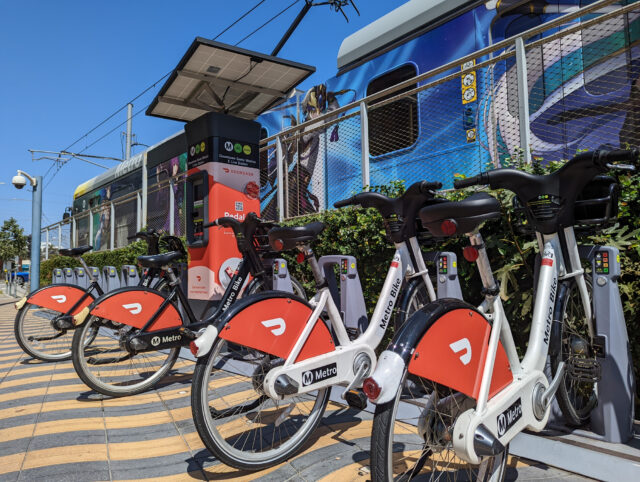 A new study out of the University of California, Davis, examines how various transportation agencies in California can improve shared micromobility to better serve historically marginalized communities. Titled "Shared & Equitable Micromobility in California: Recommendations for Public Agencies and NGOs From Expert Observers' Perceptions," the study is the thesis of Jouke Ype Ruud Peutz, a master's student studying community development.
"It seemed to me like people in shared micromobility wanted to talk about equity but that it wasn't very well developed or well-grounded sometimes," says Peutz, who's originally from the Netherlands and began his career working on architecture in Southern California. "I started going to conferences and I came into contact with the California Bicycle Coalition [CalBike], which is how this all came together."
Thanks to the support of CalBike, Peutz pursued the idea of how agency officials can influence private sector operators to help create a more equitable shared micromobility landscape. While conducting background research for the paper, Peutz dove into the transportation justice side of shared micromobility, concluding that while equity was generally a focus area for many individuals and agencies, it wasn't a concept that was particularly well-developed or well-grounded. 
"It's always important to focus on equity in any subject, context, or subset of society but it's also not an easy question — a lot of people are looking at equity in transportation in general but often without clearly identified objectives, goals, or reasons," says Peutz.
Peutz decided to forgo quantitative research in favor of a qualitative approach, conducting semi-structured confidential interviews with 10 expert observers in both public and private sectors on-the-record and several more off-the-record interviews. He then analyzed and compared the interview material, identified themes, and came to some conclusions.
Overall, Peutz found that interviewees strongly believed that both urban planners and shared micromobility operators should develop long-term plans with government agencies to better incorporate micromobility services in our built environment. Representatives of both government agencies and operators expressed concerns about the "here today and gone tomorrow" culture of these companies. Those on the operational side also believed that without designated operational zones or changes in funding structures, they will be unable to make long-term guarantees or investments in communities. 
"Operators would talk about how they need operational zones or they need some kind of structure in order to guarantee that they can have some type of income," says Peutz. "On the government side, I was seeing some research done on the lack of investment that should have been done parallel to these operators coming into communities."
Based on this data, Peutz concluded that regional transportation planning agencies, or Metropolitan Planning Organizations (MPOs), need to play a much larger role in the development of shared micromobility in California. Notably, he found interviewees were open to pivoting these services towards a true type of "public" transportation service, meaning that operators might cede control to the government in exchange for guarantees of contracts and funding. 
When presenting the idea that shared micromobility be seen more as an extension of our public transportation system, Peutz expected to encounter more pushback from private operators. "I was expecting a lot of resistance from the private realm and I wasn't getting any of that resistance at all," he says. "I think because it has become hard for them to have some kind of realistic income model and not just rely on capital investment."
During the time period that Peutz was conducting his research — just after the pandemic — many operators were struggling and beginning to retreat from the more rural or less dense urban areas, a trend we're still seeing today. California currently spends billions on transportation but just 2% of that goes to active transportation, which doesn't even necessarily include shared micromobility. Through his thesis, Peutz is making a case for the state to integrate shared micromobility with public transportation and fund it accordingly (a concept that BBSP has long advocated for and one that's been gaining mainstream traction). He cites Los Angeles, where bike share is administered by the Los Angeles County Metropolitan Transportation Authority, and the Bay Area, where local leaders have allocated $16 million for the Lyft-operated system, as two places where public entities are subsidizing bike share. 
"We don't have bus routes everywhere, we don't have transit connections everywhere," says Peutz. "Since shared micromobility is so adaptable, it can help fill in a lot of gaps we have in transportation."
Peutz's research also encourages readers to think about how bike share can further disadvantage populations when not done right, citing shared micromobility pilots that leave communities worse off when they're not renewed and systems that are created with little to no community engagement. Peutz also emphasizes that shared micromobility policy can't simply live in isolation — for it to truly be equitable, governments need to explicitly combine housing (or land-use) policy, equity, and shared micromobility services.
"I argue that it's essential to have the state and MPOs develop policies to influence long-term decision-making on local housing, land use, and alternatives to driving, which would support shared micromobility services," says Peutz, noting that only with these larger changes will we truly benefit historically disadvantaged communities. "Looking through an equity lens forces us to look holistically and big picture — you have to think of the network as a whole, not just the bike dock down the street."
---
The Better Bike Share Partnership is funded by The JPB Foundation as a collaboration between the City of Philadelphia, the National Association of City Transportation Officials (NACTO), and the PeopleForBikes Foundation to build equitable and replicable bike share systems. Follow us on LinkedIn, Facebook, Twitter, and Instagram, or sign up for our weekly newsletter. Have a question or a story idea? Email kiran@peopleforbikes.org.