Lyft's Take On Adaptive Bike Share: Chicago, IL
September 12, 2023
The Divvy bike share system partners with the nonprofit Adaptive Adventures to ensure people of all abilities are able to ride.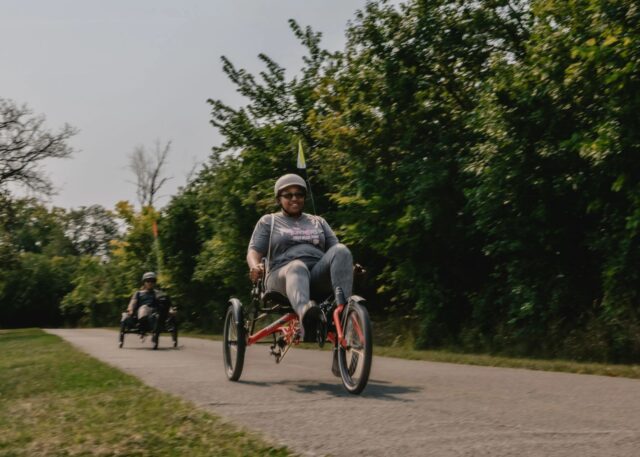 Two decades ago, Adaptive Adventures was formed with the goal of making outdoor sports accessible to everyone. Today, the Colorado-based nonprofit is the world's largest mobile provider of outdoor adaptive sports, having helped more than 100,000 participants find independence, overcome trauma, and establish purpose through recreation. Activities include alpine skiing and snowboarding, climbing, a full suite of water sports, and cycling.
Adaptive Adventures operates under a mobile model, meaning it brings its adaptive cycling services — hauling 75 styles of adaptive cycles in a 32-foot trailer — to unserved and underserved communities. The organization runs three-day clinics in each locale, introducing people to bicycling basics, from nutrition to bike maintenance to road safety. Most importantly, they also fit people to an adaptive bike.
"We really try to get people on the right type of bike," says Chelsea Elder, the executive director of Adaptive Adventures, explaining that with adaptive cycling, fit is everything. "We also make recommendations for where they can get a bike granted to them."
For many people, these three-day clinics are the only way to get on an adaptive bike, let alone try a variety of models and see what suits their needs best. Adaptive bikes cost thousands of dollars and while there are many grant programs available to ensure folks with disabilities can afford them, they often require people to have at least tried the bike they want to purchase beforehand. 
Adaptive Adventures solves this issue by breaking down areas to access and bringing bikes to the people who need them most. The organization not only provides education about using the bikes during its three-day clinics but if an organization is interested in its own cycling program, Adaptive Adventures provides a trailer, identifies mentors to run the program, and trains local mechanics to work on the bikes. In Chicago, the nonprofit has also created a custom adaptive program with Divvy, the local bike share system.
Launched in 2022, this partnership was several years in the making. Over many months, Adaptive Adventures worked closely with the Divvy team (the system is managed by Lyft) to figure out what it should look like.
"Ultimately, we decided that we really needed a more structured, programmatic approach for the bike share program," says Elder. "We currently run the program in six different locations throughout the city of Chicago to diversify the communities that we're serving, make sure that we're getting new adaptive riders into the program, and ensure that transportation to a location is not a barrier for participation."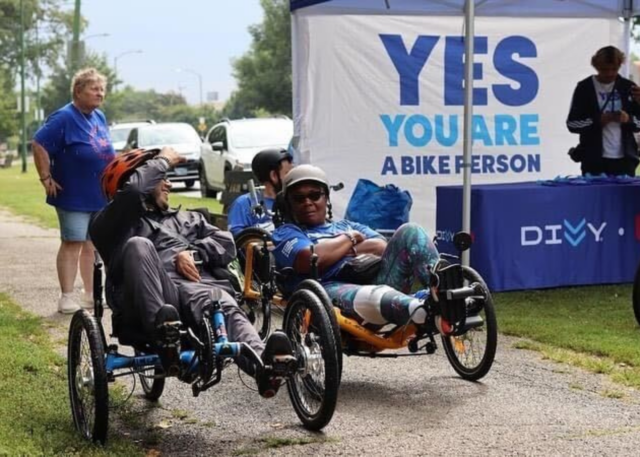 The Divvy adaptive program takes place in six different locations throughout Chicago on different days, typically for anywhere from two to four hours. Like Adaptive Adventure's clinics, attendees have access to a variety of bikes (tandems, hand cycles, or recumbent bikes are always available), as well as trained staff that can help get them fitted properly.
"We allow individuals to try a wide variety of cycles and then go on a group ride together with all the safety measures in place," says Elder. "Everything is controlled so those individuals and their families have a really positive experience on bikes, often for the first time."
Adaptive Adventures selects and permits every location, advertising events to the community as a completely free, open opportunity in monthly e-newsletters, on its website calendar, and in tailored invitations to partner organizations. For each event, Divvy sends out representatives who bring along a fleet of upright bikes so that friends and family members of adaptive riders can join in. Extra riders help build community around the program, as well as provide extra support for adaptive riders. There were six total adaptive events scheduled for this summer, with the last set to take place on September 26 at Marquette Park in southwestern Chicago. 
For Divvy, the decision to partner with Adaptive Adventures made the most sense for a variety of reasons, including the complicated logistics, the financial cost, and the required medical knowledge of running a dedicated adaptive bike program. 
"Fitting an adaptive bike correctly requires more than just simple common knowledge," says Elder, explaining that it requires everything from making sure riders are seated properly to avoiding pressure sores. "Our team is very talented at making sure that the individual has a good experience and it doesn't cause them more pain or exacerbate an issue versus helping them to rehabilitate and get stronger with their disability."
According to Elder, many adaptive participants show up and don't believe that they'll be able to ride a bike. They might be missing three limbs, be blind, or have a back injury. No matter the disability, Adaptive Adventures can make anything happen on a bike, creating workarounds for things that don't yet exist if need be. 
"We can modify anything to make it accessible to anyone," says Elder, noting that adaptive cycles can also help with people's rehabilitation. "There's a misperception that if you have certain disabilities you can't access cycling but you can."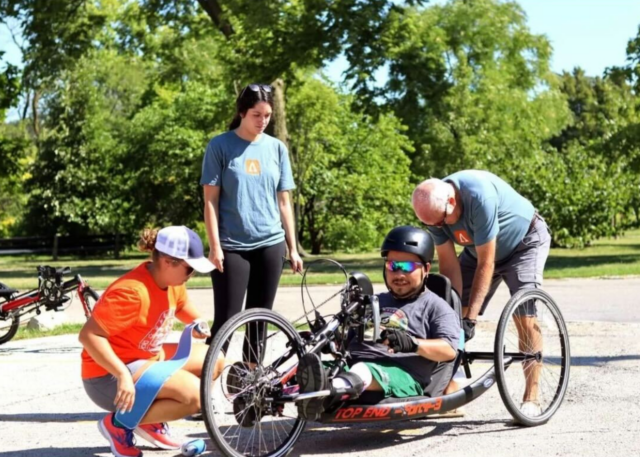 Adaptive Adventures is currently in conversation with several other cities and hopes to eventually expand the number of adaptive bike share programs available across the country (the organization is happy to also consult and offer their expertise on an as-needed basis). When speaking with cities, Elder always emphasizes the importance and value of having an adaptive bike share program.
"It's not just for a small community of people that you're going to be serving — one in four U.S. adults have a disability," says Elder. "That's 66 million Americans."
That's a significant number of individuals who could be served by these types of programs but currently aren't. They're also not just for recreation, although that's often the entry point for many. As with its other core cycling programs, Adaptive Adventures will help users eventually apply to secure a bike of their own, which can then be used for transportation. 
"It's very significant what an adaptive program can do for a community," says Elder. "Riding a bike can be a truly life-changing opportunity."
---
This article is part of a series — tune back in to learn more about some of Lyft's adaptive bike programs in cities across the country. Have a question or a story idea? Email kiran@peopleforbikes.org.