Lyft's Take On Adaptive Bike Share, Part 1: New York, NY
August 25, 2023
For the last three seasons, CitiBike — the largest bike share system in the U.S. — has been working with the nonprofit Achilles International.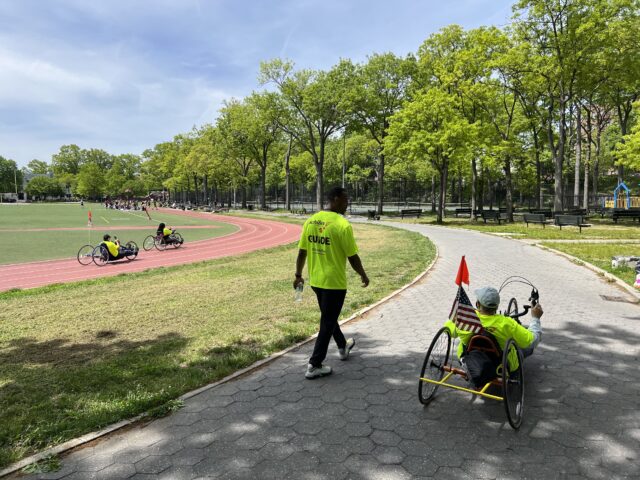 Across the U.S., adaptive bike share programs are few and far between, and of those that do exist, no two are quite the same. While most shared micromobility systems accept that under the Americans with Disabilities Act of 1990 — which prohibits discrimination against individuals with disabilities in all areas of public life — it's important to accommodate differently-abled riders, there's no clear path forward for companies looking to incorporate adaptive programming. 
This is largely due to the fact that adaptive bikes come in all shapes and sizes, and standard docked and dockless bike share systems don't suit unusual models. What's more, many adaptive riders require assistance when it comes to getting fit for a vehicle or learning how to use a certain vehicle, while others might require a guide or a safe place to store their wheelchair while they ride. Because of this, adaptive programs aren't fully integrated into bike share systems but rather operate in addition to them. 
In Seattle, for example, the city contracts with the Outdoors For All Foundation to offer free, seasonal adaptive rentals seven days a week from 10 am to 6 pm from a hub located in Magnuson Park. In Hamilton, Ontario, the Everyone Rides Initiative (ERI) — the equity arm of the local bike share system — operates its small fleet of adaptive bikes out of a shipping container. MoGo bike share in Ferndale and Detroit, Michigan, also uses a seasonal hub model but it boasts two locations (one in each city) and operates on select days of the week and limited hours.
In New York City, which has the country's largest bike share system in Citi Bike, the operator Lyft has taken a completely different approach to adaptive bike share. Since 2021, the system has partnered with Achilles International, a leading adaptive running nonprofit that also facilitates adaptive riding in cities around the world. Through the program, which runs from May 25 through early November, residents with disabilities can access free, weekly adaptive cycling sessions in Manhattan, Brooklyn, the Bronx, and Queens.
The collaboration first came about after a 2019 research pilot between New York University and the New York City Department of Transportation, which was geared at understanding what people with disabilities were looking for in a bike program. The researchers set up shop during the city's Summer Streets program, letting folks try out adaptive bikes and interviewing them about what sort of programming they'd want to attend.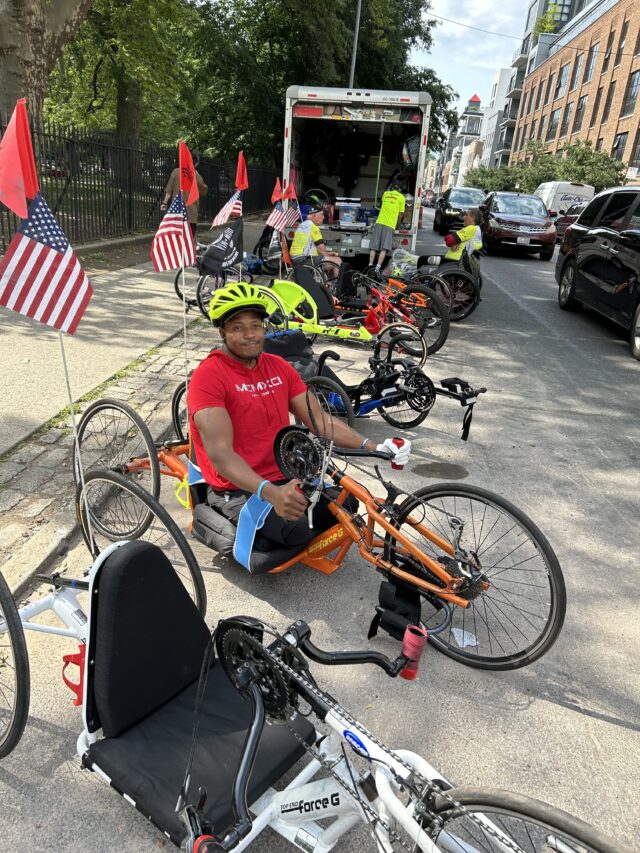 "What it came down to, ultimately, was that the more consistent the program, the better, because then people can plan their lives around it," says Inbar Kishoni, Citi Bike's community and equity programs manager at Lyft. "People were also looking for recreational exercise-based programs."
Armed with this knowledge, the Citi Bike team began looking for a partner, and in 2021, the system launched its first pilot program with Achilles. The program ran for six weeks in Central Park and was incredibly successful — in 2022, Citi Bike contributed additional funding to expand programming to all four of its service area boroughs and added a second day in Central Park. This year, they've again doubled down on the investment to offer the program twice a week in many boroughs, including new locations in Brooklyn and the Bronx. By visiting the various locations, all of which are accessible, adaptive riders can now attend an Achilles bike event every day of the week. 
"A big part of what we're trying to do is meeting members where they are, in their own communities, and not having them travel three hours using paratransit or something," says Francesco Magisano, NYC director at Achilles International. "So being able to expand the frequency and locations of workouts has been amazing — people should be able to move every day, not just once a week or once a month."
Anyone is welcome to show up to an Achilles International event, even if they've never before ridden a bike (in fact, first-timers are encouraged). Interested riders need simply create a profile and register for local events, which auto-populate based on the zip code provided. Achilles staff and volunteer guides are always on-site to match folks with the right bike from their fleet, answer any questions, and help train new riders, as well as accompany those who need additional support on rides.
"The bikes aren't cookie-cutter or one size fits all — modifications are done on each bike before each person gets on," says Magisano, who himself is an elite blind athlete. "Every person, whether or not it's the same disability, has different needs."
Providing access to adaptive vehicles, including trikes, tandems, and hand cycles, helps break down one of the biggest barriers for riders with disabilities: cost. The equipment alone can run anywhere from $2,500 to $12,000, and most people living in the New York City area don't have a safe place to store it. By providing not only bikes, but also staff to help get people fitted, guides to ride with them, and a community of riders to join, the Achilles program is changing lives. Notably, 80% of Achilles members report increases in well-being and self-confidence, with more and more people showing up each season.
"The sense of community that these workouts bring is incredible," says Kishoni, adding that participants regularly go on to participate in other bike races and more competitive events. "It builds this team of people that have your back, encouraging you and cheering for you — it's like, come for the bikes, but stay for the community. It's really amazing to see."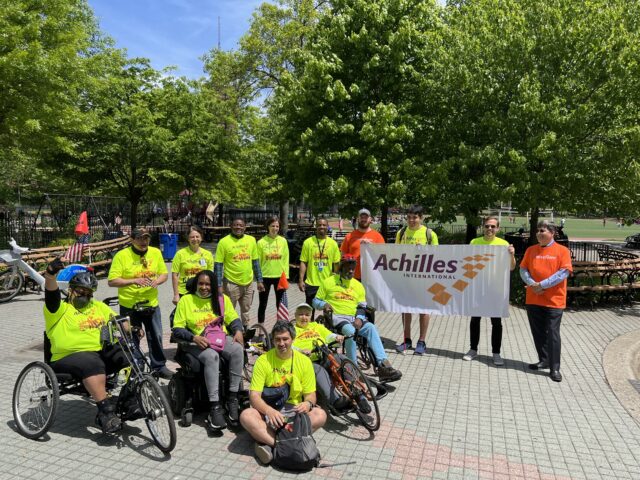 While most participants hear about the programming from word of mouth, Citi Bike has a community organizing team that conducts outreach, especially whenever the bike share network expands to a new area. Organizers are constantly talking to prospective riders, highlighting the city's reduced-fare bike share program (only $5/month thanks to the sponsorship of Healthfirst), and answering questions about how bike share works. Whenever someone says they're unable to ride, for whatever reason, they're referred to the adaptive offerings. 
According to Kishoni, the program works because it has a reliable partner in Achilles that can offer regular programming and handle all the logistics that an adaptive program necessitates.
"We know that one size fits all doesn't work well for the adaptive community," says Kishoni. "It's important to partner with those who are experts in the field, have a strong network, know how to adapt the bikes, and offer up regular opportunities to ride."
---
This article is part of a series — tune back in to learn more about some of Lyft's adaptive bike programs in cities across the country. Have a question or a story idea? Email kiran@peopleforbikes.org.