Increasing Access to Bike Share in Honolulu
September 8, 2023
In order to expand ridership amongst low-income residents, Bikeshare Hawaii has revamped the marketing and application process for its discounted membership program.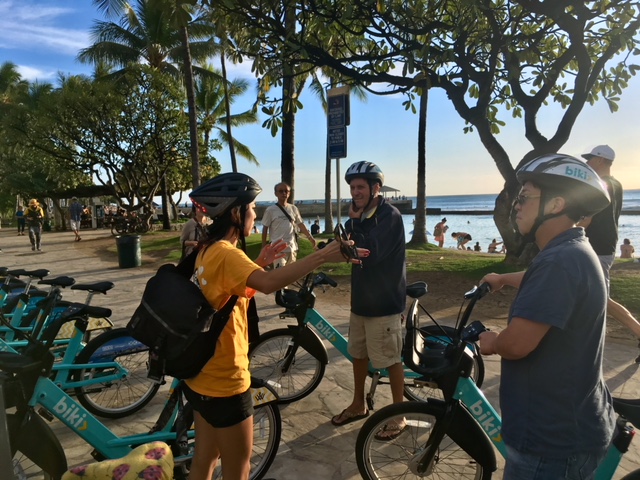 Offering a discounted membership program is one of the key things any bike share system can do to build equity. For those living on a low income, a discounted bike share pass can help fill a transportation void, allowing folks to get to a job, attend school, buy groceries, or conduct any number of other essential services. A discounted program, however, can only be successful if people know about it.
Since 2019, Biki Bike Share in Honolulu, Hawaii, has offered the Everybody Rides access program, which provides discounted memberships to Hawaiian residents receiving public assistance from the Hawaii Department of Human Services. The plan offers participants unlimited 30-minute rides for $10 a month, a discount of $60 per year compared to Biki's most affordable resident plan pricing (the average ride in Honolulu is around 13 minutes). For low-income, transportation-insecure individuals, the plan might be life-changing but unfortunately, for the past four years, it has been under-utilized. 
From 2019 until early 2023, only 22 people applied for the program, and at the beginning of this year, only two were currently enrolled. The low numbers reflect a lack of awareness about the program amongst those who would qualify for it, as well as some known barriers to the application process. Not only was information about the program buried in the website but there was also a small window every month to apply and a lot of extraneous demands. 
"The requirements were a little bit hard and I think just the barriers and all the obstacles people had to go through to sign up just made it not worth it," says Kelsey Colpitts, marketing director at Biki. "Our goal has been to just make it easy."
Colpitts drew up a plan to revamp the application process to make it more streamlined and easier to use, which included overhauling the website. She also wanted to invest in new marketing materials and outreach time to help ensure qualified residents were aware that it was an option for them. Understanding the financial cost such changes would incur, Colpitts applied for a BBSP mini-grant. In May, Bikeshare Hawaii was granted funding to raise awareness about its Biki Access Program through strategic digital communications, content creation, in-person outreach, and hands-on workshops. A chunk of the funding was earmarked to improve the current application process and make it easier for residents to enroll in the program.
After weeks of working with an external team to redo Biki's website and application, the new Everybody Rides page is live. While the plan itself remains unchanged, there have been some tweaks, notably the fact all participants will now get three warnings before they're ever charged for overage fees. Most importantly, finding information on what's needed to apply and the application itself has never been easier. 
"Previously, people would have to come into the office during a certain window and bring all their materials and it would take a week to review them," says Colpitts. " Now, we just have a super simple online application and applications will be reviewed within two business days."
Going hand in hand with the launch is a comprehensive outreach campaign. The majority of Biki's outreach will be digital and will include blog posts, paid advertising on social media and Google Ads, and newsletters, which will also be disseminated in collaboration with partners. Starting in September, Biki will also take part in two outreach events per month, leading presentations at community events and tabling, all alongside partners like the HACBED (the Hawaii Alliance for Community-Based Economic Development), the Hawai'i Public Health Institute, and the Hawaii State Department of Health. All outreach events will take place in neighborhoods where the demographics are traditionally lower-income. 
"It's all hands on deck with making this our main effort," says Colpitts. "We're also really hoping to build a community around bike share in the process."
Biki has conducted several community events thus far with the goal of gauging what barriers to riding people are currently facing, although events will truly kick-off starting on September 6th with a series of workshops. Put on in partnership with the Hawaii Bicycling League, each workshop will be divided into two parts: Part one will be a 40-minute classroom session, where participants will learn the rules of the road, about different types of infrastructure, and how to use the Biki system, while part two will be a two-mile group ride through urban Honolulu, giving participants first-hand experience with checking out a bike, getting ready to ride, and the different types of infrastructure they might encounter.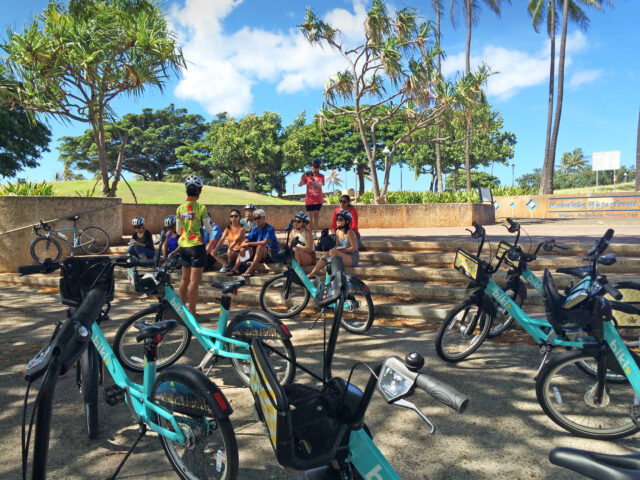 Each workshop will also feature lunch and refreshments, as well as a half-hour for participants to socialize and ask questions. For those interested in joining the reduced-fare program, Colpitts hopes to sign them up on the spot. Regardless of whether or not they're ready to commit to a membership, all participants will receive a free helmet and a free month on Biki, providing ample opportunity for them to give bike share a try. While there are four workshops currently scheduled, Colpitts says she'll add more if there's enough demand. 
According to 2022 Ridership Data, 58% of users take bike share to get to work, 67% use it for shopping, 74% use it for fun and recreation, and 19% use it to connect to public transportation. For transportation-insecure individuals, bike share can be a viable option for remaining mobile — by promoting the low-income program and making it easier to enroll, Colpitts and the whole Biki team hope to see an impact on Honolulu residents. 
"I'm hopeful that we can bring more users to Biki who might not be able to use it currently," says Colpitts. "We really need to support our community with an affordable way to get around."
---
The Better Bike Share Partnership acknowledges the tremendous loss Hawaii has and continues to suffer due to the wildfire in Maui last month.  We encourage those who would like to support the relief efforts to donate to any of the organizations doing good work on the island — some suggestions include the Maui Community Power Recovery Fund or the Hawaii Community Foundation's Maui Strong Fund.