Metro Bike Share – It's Time to Be Bold
August 8, 2023
Looking to our future as a region, bike share will increasingly become a critical addition to meet the needs of our city's travelers. This story was originally published on Streetsblog LA and is republished here with permission.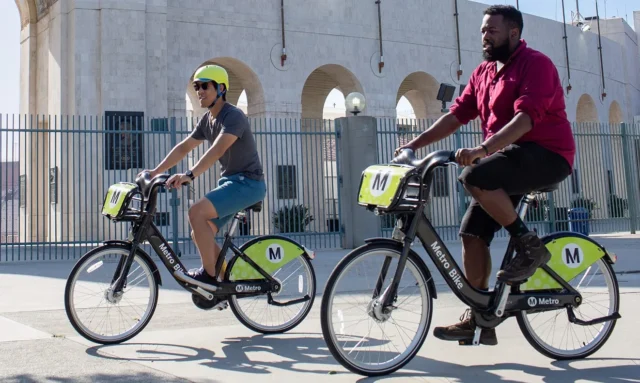 As outlined in the Mobility Plan 2035, Los Angeles city has ambitious goals for sustainability, clean air and transportation that will help improve quality of life and reduce car dependence in a city that has long been famous for its freeways, smog and congestion. While a transit renaissance is already brewing in L.A. – to the credit of policymakers and advocates – more can and should be done. Los Angeles officials should carve out a bigger space for bikes as the region looks to clean our air, reduce car dependency, and improve L.A.'s resiliency in the face of a changing climate.
The Los Angeles Metropolitan Transportation Authority (Metro) is working to create a cohesive, car-free system linking neighborhoods throughout a region larger in size than the state of Rhode Island. Currently, it is implementing the most ambitious expansion of new rail lines in the country. Recently Metro also opened a request for proposals for an operator for the Metro Bike Share system – a once in a decade opportunity for Metro to think big about the role bikes can play in their vision for the future.
Cities with bike share systems at scale – including Citi Bike in New York, Santander Bikes in London, and Vélib in Paris – serve hundreds of thousands of travelers per week. These cities are the benchmarks Metro can and should strive to be. As Southern California looks toward the 2026 World Cup and 2028 Olympics, having a robust bike-share system becomes even more important for the mobility of our residents and guests. A fully integrated bike-share network – one that provides flexibility and reliability that both complements and supplements the bus and rail networks, and integrates seamlessly with the Metro TAP card system – is a must have for a transportation system looking to reach world-class scale, improve ridership and decrease car dependency.
An ample supply of e-bikes has also proven to be a key factor in building successful multi-modal transportation systems. For example, Madrid began replacing its first-generation system with one that is 100 percent e-bikes and has already broken its single day ridership record. With their ability to climb hills, go longer distances, and support riders of varying physical abilities, e-bikes can transport people faster and with more ease and accessibility. While a three to four mile car trip can take 45 minutes with traffic congestion in Los Angeles (not including the desperate search for parking), an e-bike can get you there in as little as half the time and for a fraction of the cost. E-bikes are a true car replacement, and have started outselling electric cars in the United States.
The future of multimodal transportation in Los Angeles is an exciting one; Los Angeles will move from one of the most car-dependent large cities in the world to one with world-class transit infrastructure. Bike-share must be part of that equation, solving the key first/last mile problem of getting people to and from bus and rail stations outside of a car. We urge Metro to be as bold with its next bike-share system as it has with its other services; it should not be an afterthought, but a core Metro mobility service.
---
Michael Schneider is the founder of Streets for All and Eli Lipmen is the executive director of Move LA. This story was originally published on Streetsblog LA and is republished here with permission.