How Shared Micromobility and Transit Can Work Together
March 1, 2023
Based on work from NABSA's Research and Data Committee, this blog provides insights into the different options for creating a more seamless transportation ecosystem.
From traditional buses or trains to shared micromobility options, an interconnected transportation network can mean greater ease of use and more access to opportunities for riders. North America hosts some great examples of transit and shared micromobility integration, yet there is still an opportunity for further development and collaboration.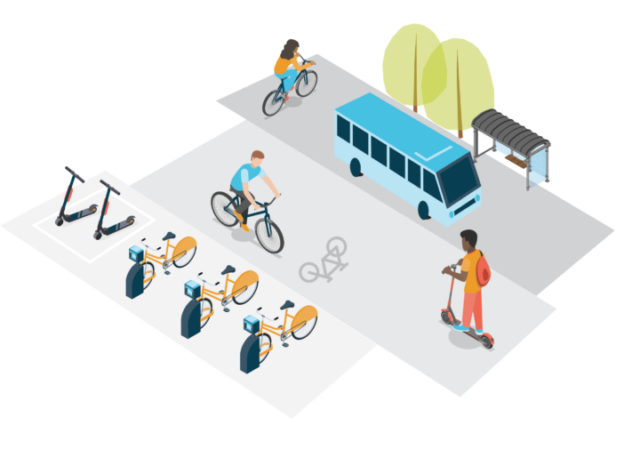 Over the last year, NABSA's Research and Data Committee (R&D) investigated the topic of transit integration with shared micromobility after recognizing opportunities for growth between these transportation sectors. The committee is made up of NABSA Board members and general members, who help develop NABSA's annual Shared Micromobility State of the Industry Report, build relationships with shared micromobility researchers, and advise on research and data topics.
With the inclusion of new topics developed by the R&D Committee, the 2021 Shared Micrombility State of the Industry Report featured a new section that provides insights into the roles and relationships associated with integrating shared micromobility with public transit. The report indicated that more than half of transit agencies are involved in micromobility station planning, and 37% of transit agencies co-promote or co-market shared micromobility alongside their services.
Additionally, 63% of riders reported that they use shared micromobility to connect to transit; 19% say they use it weekly to connect to transit and 18% of all shared micromobility trips were for the purpose of connecting to transit.
Transit Agency Perspectives on Integrating with Shared Micromobility
The R&D Committee's interest in digging deeper into the topic of transit integration with shared micromobility led them to develop a supplemental survey specifically for transit agencies, which was distributed in 2022. The purpose of this survey was to gain a better understanding of transit agencies' perspectives on integrating with shared micromobility and to serve as a tool to continue building strong relationships with transit.
The survey was distributed to transit agencies via email and at in-person events capturing responses from agencies that were already working with shared micromobility partners or planned to in the future. The survey received 18 responses from agencies in the United States and Canada. Major themes within the survey results were:
The ways that agencies currently or plan to interact with micromobility services are diverse. Often we think of integration between shared micromobility and transit as payment integration, however, the scene is much broader. Integration types range from payment to operations, branding, and marketing to planning and locations, and much more.
With bike share, e-bikes are popular vehicles for interaction. Out of those surveyed, over 60% interact with e-bikes and over 90% are interested in working with e-bikes in the future. This is on trend with the growing popularity of e-bikes and suggests a promising future for transit and e-bike integration.
There is significant interest in working on payment integration between transit and shared micromobility. Most agencies surveyed would like to see more integrated payment between shared micromobility and transit, which indicates a future of continued development of payment integration types.
The biggest challenge is finding the sweet spot where capacity and funding align. Of those surveyed, limited funding, capacity, and procurement challenges represent the largest barriers to integrating the two modes.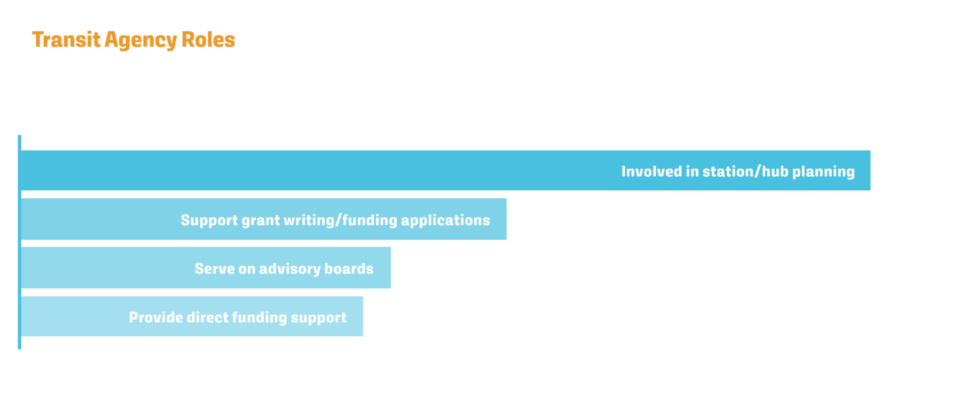 In order to help facilitate further conversation and collaboration between transit and shared micromobility, below are some ways to think about the different options for how shared micromobility and transit can integrate and work together towards a more seamless transportation ecosystem for users.
Co-location
Co-location– locating shared micromobility near other public transportation options– is important for creating more access to transportation and mobility options for communities. It facilitates first/last mile connections for transit trips and multimodal trips and can encourage replacing trips that would otherwise be made by car. Transit providers can coordinate and partner with shared micromobility to plan and place stations or hubs.
Trip-planning Integration
Bike sharing and scooter sharing information, such as device location and availability, or even trip-chaining options between modes, can be integrated into trip-planning apps. This allows users to see and choose the best option for their journey and purpose. It can also help seamlessly provide alternate options when there are transit service disruptions and add redundancy and resilience to the transit network.
Payment Integration
Transit and shared micromobility providers can work together to establish payment methods, utilizing cards or apps. This way users can pay for all of their public transportation modes in one place or through a seamless pathway between one service and another.
Service Coordination
Some shared micromobility services are operated in partnership with transit agencies or are contracted through transit agencies. This can look like a transit agency being a partial or full funder of a program and/or having people on staff whose role it is to coordinate between transit and micromobility services. Sometimes this also results in shared branding.
Shared micromobility is an important part of the public transportation ecosystem. As a flexible transportation option with comparatively low overhead and operations costs, shared micromobility can complement higher-volume, fixed-route transit services by offering mobility services for many trips at a lower per traveler cost.
Current transit and shared micromobility partnerships demonstrate that integration is not a dream but a reality with important implications and benefits for communities. As we seek to build better transportation networks for the future, coordination, collaboration, and integration between traditional transit and shared micromobility will help connect residents to goods, services, and jobs, and create a more equitable and sustainable transportation ecosystem.
---
This article was originally published on the North American Bikeshare and Scootershare Association's website. NABSA is a nonprofit organization dedicated to providing resources, education, and advocacy for the shared micromobility industry, and to creating spaces for the industry's public, private, and nonprofit sectors to convene and empower each other.