6 Things We Learned at SUMC 2023
May 10, 2023
This year's Shared-Use Mobility Summit brought industry transportation professionals together to talk about equity, micromobility, and community engagement.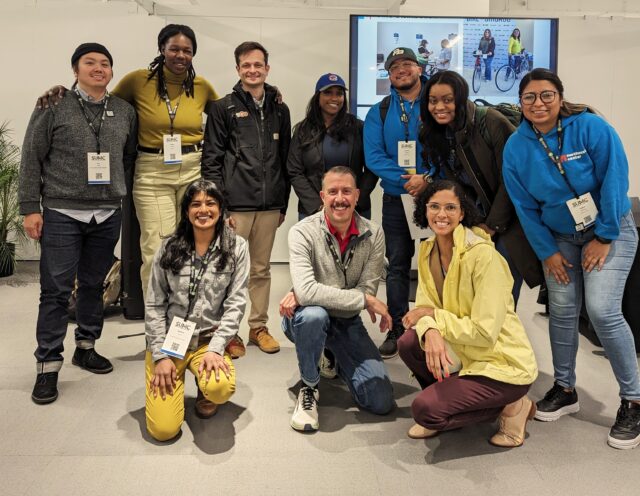 From May 3-4, transportation officials, advocates, and operators gathered in Chicago for the annual Shared-Use Mobility Center (SUMC) conference. The summit, which had the theme of "All Together Now: Collective Action for Shared Mobility," featured keynotes from the likes of Veronica Vanterpool, the deputy administrator of the Federal Transit Administration, and Gabe Klein, the Joint Office of Energy and Transportation's electrification czar.
Breakout sessions included conversations around how equitable transit-oriented development can fix American cities, as well as strategies for addressing the gender gap in the use of shared micromobility. Members of the Better Bike Share partnership team were in Chicago to gather as a cohort at the tail-end of our two-year Living Labs program — grantees from Chicago, Cincinnati, Detroit, Philadelphia, and Portland, Oregon, joined us for day one of the SUMC conference before transitioning into Living Labs-focused group work in the days following. 
What follows are six high-level takeaways, with a particular focus on how we can all organize our work around transportation equity.
1. We Need to Fund Social Infrastructure
One of our grantees from Chicago, Jeremy Cuebas of the Northwest Center, sat on a panel titled "Beyond Access: Chicago Initiatives and Practices for Expanding Mobility Opportunity." The session focused on the impact community-based organizations like the Northwest Center (alongside others across the country) can have when it comes to getting low-income and BIPOC communities onto affordable modes of transportation. It also highlighted the important role those same organizations can play when it comes to building trust between communities that have experienced systemic disinvestment and government entities. 
Another panelist, Olatunji Oboi Reed, the president and CEO of Equiticity, called on cities and operators to fund "social infrastructure," or the programs, events, and educational opportunities that make the adoption of physical infrastructure possible. That includes things like Equiticity's Community Mobility Rituals, as well as the numerous activations the Northwest Center orchestrated to bring Divvy bike share to the Chicago neighborhood of Belmont Cragin and, crucially, to ensure residents use it.
2. Community Engagement Works
In addition to the session referenced above, there was no shortage of examples regarding how good community engagement really works. In Belmont Cragin, where the Northwest Center is active, the presence of transit ambassadors, facilitated community conversations, and group bike rides all played a role in the neighborhood having the highest ridership of all the Divvy expansion areas in 2022. 
Other good community engagement strategies came from Angela Hurlock, CEO of Claretian Associates, a nonprofit that focuses on housing and other vital services in South Chicago. Tried and true methods her organization employs include:
Taking part in all sorts of meetings




Hurlock emphasized not just showing up at standard neighborhood meetings or town halls, but rather engaging in conversations in churches, restaurants, and other more accessible locations, as well as those outside of traditional transportation-oriented spaces.

Creating "meetings" in a box




This refers to a box with materials that can be left with librarians and other community members to engage people 1:1 around a project

Offering childcare and kid's activities




For many parents to be able to attend a meeting at all, child care is a necessity. Hurlock recommended also empowering youth to have a say in their future by including child charette tables alongside adult ones. 
Always assuming you're missing someone
No matter what technique you use to engage, you're always going to be missing someone. For one person a phone call will be ideal while another might prefer a digital survey — community engagement techniques need to be consistent yet varied.
3. Equitable Transit-Oriented Development Is Key
One of the best sessions we attended at SUMC was on how transportation justice and housing justice are inextricably intertwined. Walkable, transit-oriented development tends to consistently be in primarily white neighborhoods — equitable transit-oriented development, however, brings affordable housing, transit, walkable streets, bike lanes, green space, and public art to historically underserved communities. It requires ample community engagement alongside a robust, intentional plan that starts early and prioritizes those that have been left behind. 
The U.S. is in the midst of an extreme housing crisis in the midst of a global climate crisis. To tackle these enormous challenges, we need to de-emphasize single-family zoning and emphasize infill development that allows people to live in communities where they don't need a car. By addressing the housing shortage through an equity lens, we can also help solve transportation insecurity.  
4. We Need to Shift Transportation Culture
During the conference, James Davies, the executive director of Bublr Bikes, spoke about how "culture is the last-mile problem of transportation." To get mass buy-in around shared micromobility and change the culture, we need to change how we talk about it. This will require a shift in messaging — such as speaking to drivers about how micromobility benefits them — in order to bring a larger segment of the population on board. 
It will also require us to change how we think about shared micromobility. In addition to funding shared micromobility like transit, cities should start prioritizing Mobility as a Service (MaaS), helping create holistic transportation ecosystems with many different modes (Pittsburgh has made cool strides on this front). People are always going to choose the transportation option that works best for them, so we need to create a system where choosing not to drive is easy and convenient.
5. Any Trip Can Be "Essential"
One in four Americans suffers from transportation insecurity and when brainstorming solutions, there are often a lot of conversations about the need for people to be able to make essential trips. But what qualifies as an essential trip? Going to the grocery store, the hospital, work, or school are commonly-cited examples. A short bike trip around the block, however, can be equally essential to someone's mental and physical health. People need to be able to move freely, period. It's not up to us or transportation professionals to decide what qualifies as essential. 

6. People Need to Stop Underestimating Shared Micromobility

This is less a takeaway for our readers than a message for the public at large. In one of our favorite moments of the conference, Samantha Herr, executive director of the North American Bikeshare and Scootershare Association (NABSA), pointed out that, "Year over year, shared micromobility is over-performing but often undervalued." 
It's undervalued in the sense that cities aren't funding it like they are transit or thinking about it as a way to increase economic mobility. We need federal entities to see shared micromobility as a necessity for electrifying transportation and curbing greenhouse gas emissions. 
Within our industry, we're consistently seeing how shared micromobility — and in particular electric shared micromobility — has the power to alleviate transportation insecurity and bring mobility to historically underserved communities. It's important to continue showcasing strategies that work and making our voices heard in the larger transportation space.
---
The Better Bike Share Partnership is funded by The JPB Foundation as a collaboration between the City of Philadelphia, the National Association of City Transportation Officials (NACTO), and the PeopleForBikes Foundation to build equitable and replicable bike share systems. Follow us on LinkedIn, Facebook, Twitter, and Instagram, or sign up for our weekly newsletter. Have a question or a story idea? Email kiran@peopleforbikes.org.