Sustaining a Talent Pipeline for Bike Share
April 26, 2023
Divvy has successfully teamed up with local nonprofits in Chicago to prepare youth and adults to work as bike share mechanics.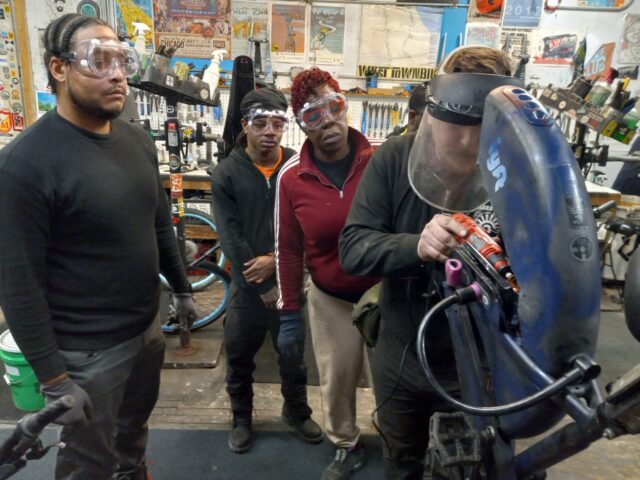 After a substantial expansion last year, Divvy, Chicago's Lyft-operated bike share system, maintains a 12,000-bike network across the city. The system has done increasingly well in the last few years, adding 8,500 bikes since 2019 and seeing sustained ridership growth. More bikes, however — especially electric bikes, which make up a bulk of the Divvy system — require more mechanics and more time to do maintenance. 
In order to meet demand and maintain an employment pipeline, Divvy decided to partner with local organizations, as well as the City of Chicago, to train bike mechanics on the nuances of the system's specific bikes. One of the organizations is the not-for-profit bike shop Working Bikes, which has graduated five cohorts since it launched in 2022. 
Working Bikes, which specifically serves low-income individuals and those living in transportation deserts, was approached by Lyft to launch the program. Geared toward those facing barriers to employment, the five-week course taught small groups basic repair skills in both English and Spanish, which is crucial to ensure inclusivity and encourage participation from underserved groups, including migrants. Attendees received a stipend of $150 each for 10 hours of instruction per week. 
"Offering paid training in a welcoming, inclusive environment has helped bring folks of all ages and backgrounds, primarily from the South and West sides of Chicago, into the wrenching community," says Trevor Clarke, executive director at Working Bikes. "The program uses an applied learning session to have trainees working alongside volunteers repairing bikes for donation, contributing directly to Working Bikes efforts to get more bikes out to folks as tools of transportation."
Once they complete the program, graduates are encouraged to apply for employment with Divvy or at other bike shops throughout the city. Even if folks don't go on to work in the industry, Clarke says that the program still helps ensure that communities across Chicago have access to a mechanic that can keep the neighborhood rolling — and perhaps inspire others to consider wrenching themselves.
A similar training program was launched this year by another nonprofit community bike shop, West Town Bikes. West Town Bikes is located in Humboldt Park on Chicago's West Side, which is a hub of Puerto Rican culture and history in the city. The shop's main focus is youth programming — in fact, it's completely staffed by the young people it trains — but it also hosts adult classes and a variety of community partnerships and events. 
In February, West Town Bikes partnered with Divvy and Greencorps, the City of Chicago's green industry job training program for individuals with barriers to employment. For the last two decades, Greencorps has traditionally trained adults in things like landscaping, horticulture, and tree keeping — Alex Wilson, West Town's founder and executive director, has been trying to add a bicycle component since 2014. 
"We've been interested in bike share-specific mechanic training for a while but finding the resources to be able to do that has been challenging," says Wilson. "We were able to pilot a Divvy training program with adults in February and we just did an abbreviated one with teenagers over spring break."
Greencorps is a 9-month job program where participants are paid for 20 hours a week of training, switching focuses throughout. While new to the Greencorps curriculum, the bike share component was well-received. Justin Grembowski, who managed the mechanic training program, was a trainer at Divvy for eight years before coming to work at West Town. 
"This was one of the better training groups I've had," says Grembowski, noting that the group went through regular bicycles, single-speed, and mountain bikes alongside Divvy's classic and e-assist. "We didn't really get into batteries or internal computer diagnostics, but I gave [the group] all the information they would need to be successful at Divvy."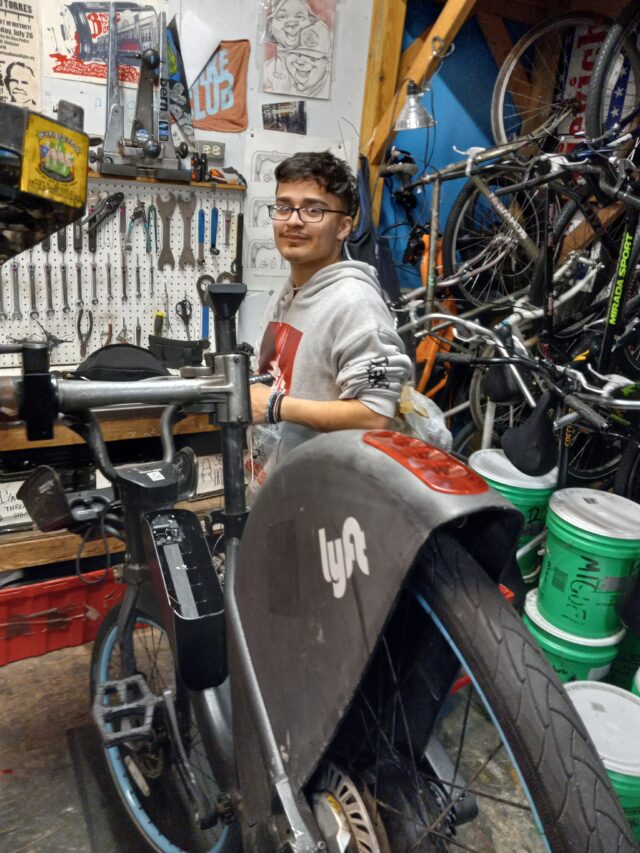 That includes teaching about the importance of being on time, laying out how one's typical workday is organized, what mechanic tool organization looks like, and how to troubleshoot common issues.
"I walked [the trainees] through all that so that they'd be a good resource to reach out to for other new employees and be leaders in any bike shop environment," says Grembowski.
Of the eight trainees Grembowski taught, seven completed the Greencorps program and three — including the group's one female — have been offered permanent employment with Divvy, something that's not necessarily a given straight out of the gates (employees tend to start as seasonal or part-time in the summer, proving themselves before being brought on full time). The group's other four employees went on to find employment in some of the other things they were trained in.
Early this spring, West Town partnered with After School Matters for an abbreviated 4-day, 20-hour intensive with a group of high school juniors and seniors on their Spring Break. The youth learned how to repair Divvy bikes and took them on a group ride. The hope is that by introducing them to bike share early, they can turn to it later when entering the job market. 
There's a distinct difference between encouraging those who might experience barriers to use bike share versus encouraging them to work in the field, yet both are crucial to making shared micromobility more equitable overall. Currently, the future is uncertain for both the Working Bikes and West Town Bikes training programs, although both shops hope to continue their respective bike share training programs going forward. 
"Not only does our program benefit bike share systems like Divvy, but it's also benefiting the same target communities, those low-income under-resourced communities that aren't accessing bike share systems as much," says Wilson, adding that having more qualified people to maintain bikes translates to more bikes being available, a win for everyone. "The return on investment for stakeholders is really great."
---
The Better Bike Share Partnership is funded by The JPB Foundation as a collaboration between the City of Philadelphia, the National Association of City Transportation Officials (NACTO), and the PeopleForBikes Foundation to build equitable and replicable bike share systems. Follow us on LinkedIn, Facebook, Twitter, and Instagram, or sign up for our weekly newsletter. Have a question or a story idea? Email kiran@peopleforbikes.org.