This Summer, NYC Youth Rode Citi Bike to Work
September 27, 2022
An initiative from Citi Bike and Healthfirst provided free, two-month bike share memberships to hundreds of participants in the city's Summer Youth Employment Program.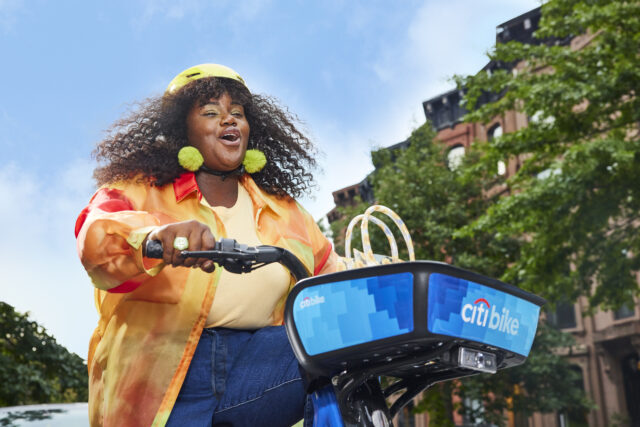 If you're a teenager living in New York City, where the majority of people don't own a car, turning 16 is less about getting your driver's license than it is about being able to ride a Citi Bike. Operated by Lyft, Citi Bike is the largest bike share system in the country, with a footprint extending across four boroughs and 24,500 bikes (an increasing number of them electric) spread throughout more than 1,500 stations. For most New Yorkers, it's a great way to commute.
This past summer, Citi Bike and its official wellness partner, Healthfirst, provided hundreds of free, two-month Citi Bike memberships to participants in New York City's Department of Youth and Community Development's Summer Youth Employment Program (SYEP), which connects youth from the across the city with career exploration opportunities and paid work experiences. While the SYEP program is a city institution, having run for almost 50 years, this particular partnership is new, a way to both increase mobility amongst city youth and help build up the next generation of bike share riders.
"We're always looking for new ways to introduce bike share to new communities of riders and this is a strong program with a big user base," says Inbar Kishoni, Lyft's community and equity programs manager at Citi Bike. "We wanted to introduce youth to bike share so that they build those habits and consider it an option for later in life."
The SYEP program employs around 100,000 youth aged 14-24 each summer, placing them in a wide variety of places, from summer camps to the United Nations. The SYEP program is considered a successful upward mobility strategy and many of New York City's leaders are alumni. A press release for the partnership with Citi Bike declared, "that rider next to you in the bike lane might be your future doctor, architect, or elected official."
All SYEP participants apply to work with a provider — their home room, if you will — and then the provider places them with a job. Citi Bike worked with the providers to recruit youth who knew how to ride, were over the age of 16 (about 60% of program participants), and lived or would be working near Citi Bike stations. 
Providers then invited participants who met the criteria and showed an interest to attend Citi Bike's virtual information sessions, hosted by Kishoni, where they learned about bike share and how to use the system, as well as the rules of the road and how to ride safely.
"We talked a lot about how to make the most of your membership," says Kishoni, speaking of the info sessions. "We didn't just want to give people memberships and then have them ride for more than 45 minutes and get overages."
Upon completion, participants were given a free membership code and encouraged to try out bike share before they started commuting to work. For this reason, the memberships started a week before the youth's six-week work placements. 
"We also extended them a week after so they could just enjoy the bike for whatever they wanted to do," says Kishoni. "We wanted them to also be able to experience the pure joy of riding."
While the Citi Bike program ended up with a few hundred participants, Kishoni says no one was turned away and that those who did take part took full advantage: More than 10,000 rides were taken by those youth who did participate, resulting in 117,000 minutes of ride time and more than 6,000 miles ridden.
"People who used it used it," says Kishoni, adding that Citi Bike wasn't prescriptive in how people should use their memberships. "We saw people taking more than two trips a day, so it was more than just for their commute. It was building their relationship with biking through running errands, seeing friends, and just having fun."
The youth who took part were free to use Citi Bike just as any other member would, with 45-minute rides on classic bikes being free and upgrades to an e-bike costing an additional $.12/minute (capped at $3 for rides under 45 minutes that start or end outside Manhattan). All bike rides longer than 45 minutes (regardless of where they start or the type of bike) cost $.12/minute. Since many young people don't have bank accounts, Citi Bike allows riders to link pre-paid debit cards to their membership accounts. This was particularly effective since those same pre-paid debit cards were how students in the SYEP program received payment from their respective employers.
According to the Department of Youth and Community Development, 80% of SYEP participants are eligible for Temporary Assistance for Needy Families (TANF), a designation that speaks to household income levels. As such, many SYEP Citi Bike riders also qualify for Citi Bike's reduced fare pass program. That program, which is also sponsored by Healthfirst, offers $5 monthly memberships for all New York City Housing Authority (NYCHA) residents and Supplemental Nutrition Assistance Program (SNAP/food stamp) recipients 16 years and older. By offering free two-month memberships, the hope was that a subset of young New Yorkers might have the opportunity to try bike share and eventually become regular riders.
"Ultimately, we wanted to show the young participants that Citi Bike is for them, and what better way to do that than with a free membership," says Kishoni. "[The low fare program] is a sustainable way for many to retain their membership and keep riding." 
Riders enrolled in Citi Bike's low-fare membership program also take 50% more rides than full-priced members, a testament to its utility. What's more, from 2020 to 2021, membership in Citi Bike's reduced fare program grew by 75% and this year, it broke 15,000 members. For Kishoni, who spent almost 12 years working as a transportation and community planner with the city before coming to Lyft, it's been a huge success when it comes to getting folks from all backgrounds to bike.
In addition to the SYEP program, Kishoni manages community rides, a community grants program that works with nonprofits to develop projects that involve bicycling, and — new this summer — an Adaptive Cycling Program in partnership with Achilles International.
"At Lyft, everyone is a bike person," says Kishoni. "And we employ a mishmash of creative ways to get people riding."
---
The Better Bike Share Partnership is funded by The JPB Foundation as a collaboration between the City of Philadelphia, the National Association of City Transportation Officials (NACTO) and the PeopleForBikes Foundation to build equitable and replicable bike share systems. Follow us on Facebook, Twitter and Instagram or sign up for our weekly newsletter. Got a question or a story idea? Email kiran@peopleforbikes.org.