A Workforce Program Introduces Youth to Bike Share
May 18, 2022
Bublr's B3 Workforce Development Program is a six-month track offering Milwaukee-area young adults a career in bikes.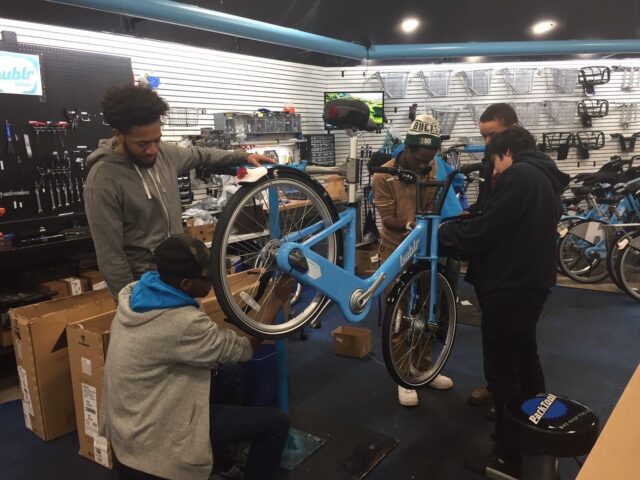 Kadeam Wilson, a mechanic and program manager at Bublr bike share in Milwaukee, Wisconsin, biked regularly as a kid — the bicycle was and continues to be a symbol of freedom, as well as his primary source of transportation. It was Bublr's B3 Workforce Development Program though, which helped him build a career around bikes. 
"I always loved biking growing up but the B3 program enhanced that times 100," says Wilson, who went from riding sporadically to becoming a full-on advocate. "Learning how to fix a flat for the first time was a huge accomplishment."
Over the span of about six years, Wilson transitioned from being a Bublr intern enrolled in the B3 Workforce Development Program to managing it. Launched in 2016, the B3 program is a partnership between DreamBikes, a nonprofit bike shop with a focus on training youth, and the Boys & Girls Club of Greater Milwaukee, which has its own functioning bike shop. All participants spend two months training at the Boy's & Girls bike shop before transitioning into a two-month internship at DreamBikes and finally, a two-month stint at Bublr. 
Open to young adults aged 14-21, the goal of the B3 program is to provide hands-on experience, setting graduates up for a successful career within the bike industry. At the Boys & Girls Club, students are taught basic bike mechanic skills before graduating to work in an actual shop, serving real-world customers and gaining on-the-job experience. The final internship, which takes place in Bublr's downtown shop, educates students on the nuances of bike share, from fixing a fleet bike to keeping a system properly balanced.
"It's almost like starting over, as far as the mechanics go," says Wilson. "You're also not just in the shop all day — you're fixing bikes, taking phone calls, handling customer service, and transporting bikes from one station to another. You get to know the city in a totally different way."
To date, the program has graduated more than 50 people, three of whom currently work at Bublr. In addition to Wilson, there's Kabayiza Ntirengenya, Bublr's lead system technician, as well as Michael Ramirez Sunstrom, Bublr's operations manager. At 24 years old, Sunstrom joined Bublr after completing the B3 program at age 18, and today, he does a little bit of everything, from working on adaptive bikes to managing inventory to training new hires. 
"The B3 program is an excellent thing for young people — it allows them to learn a whole new trade," says Sunstrom, explaining that many graduates also go on to work at DreamBikes. "It's six months of pure school but with really smooth transitions and everyone involved is incredibly helpful. It's also really easy to get involved."
Students often find out about the B3 program through the Boys and Girls Club, which has a history of offering career guidance, mentoring opportunities, and after-school programs for youth throughout the United States. Although B3 enrollees skew male, there have been some female graduates. The program starts in the summer and finishes in the fall, with all three participating partners making accommodations for school schedules and the like. The B3 program is free for participants, who are paid throughout its duration (about $1,500 over the course of six months) and receive a mechanic's certificate and a toolkit (worth about $50) upon graduation. In February, Bublr secured a $25,000 grant to continue the program courtesy of the United Way of Greater Milwaukee & Waukesha County. The money came from a fund specifically earmarked for projects that reduce barriers to employment.
When it comes to hiring for open positions at Bublr, B3 graduates are the natural first choice, having already been trained by the system's staff. Both Wilson and Sunstrom also noted how the B3 program helped them to better understand the culture of bicycling, in addition to the ins and outs of three distinct bike shop environments. Even if Bublr isn't currently hiring, graduates are well set up for a career elsewhere within the industry: the B3 program qualifies participants to bypass the waitlist to get into Transportation Trades programs at Milwaukee Area Technical College, as well as certifies them to work in any Trek Bikes bike shop or BCycle bike share system. 
Recently, Bublr has begun to integrate some 400 e-bikes into its system, hoping to complete the process by the end of the year. The new pedal-assist bikes are a definite win, as they're fun to ride and make bike share more viable for people of different abilities. However, the electric motor requires different mechanical knowledge, something newer cohorts of B3 participants will take on this year.
"I'm excited to watch the program grow," says Wilson. "We just want to continue to expand and see interns take over."
---
The Better Bike Share Partnership is funded by The JPB Foundation as a collaboration between the City of Philadelphia, the National Association of City Transportation Officials (NACTO) and the PeopleForBikes Foundation to build equitable and replicable bike share systems. Follow us on Facebook, Twitter and Instagram or sign up for our weekly newsletter. Got a question or a story idea? Email kiran@peopleforbikes.org.