Red Bike Is Engaging a New Generation of Riders
July 23, 2021
The Cincinnati and Northern Kentucky-based bike share system is partnering with community organizations to host weekly youth rides.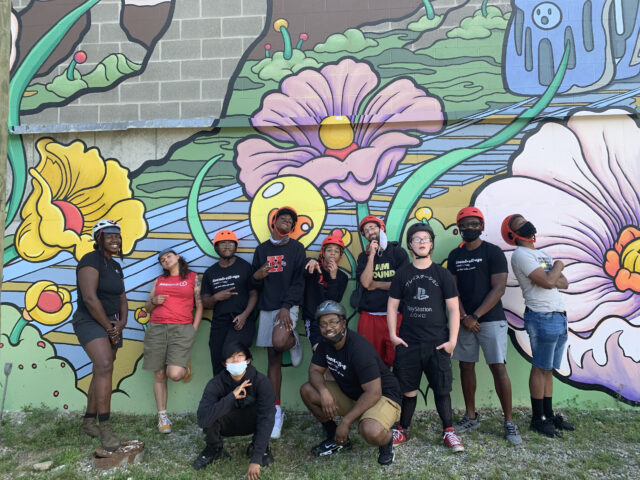 Red Bike, the bike share system that serves Cincinnati and parts of Northern Kentucky, is one of our five Living Labs, having bet big on new station docks, community art activations and crucially, the local youth. Noticing an ongoing interest in its system from kids, Red Bike has decided to lean in and engage a new generation of bike share users. The nonprofit has devoted a large portion of its Living Lab funding to youth programming, emphasizing safety, education and responsibility.
In addition to a small-scale mechanic apprenticeship program—where teens can learn tangible bike skills—the nonprofit is also conducting weekly youth rides in partnership with different community organizations. Red Bike has also brought on a new youth programs coordinator to manage all the new initiatives.
"We want to get young people engaged with Red Bike in a way that makes them feel like they're invested and able to contribute to it," says Elese Daniel, education and outreach manager at Red Bike. "We want to get our youth thinking about bike share and make sure that they're using it in a safe and responsible way."
Since the beginning of summer, Red Bike has consistently held weekly youth rides with three organizations: Found Village, a youth empowerment nonprofit, Groundwork, an environmental justice nonprofit with a youth component, and the Oyler School, a public high school in the Lower Price Hill neighborhood, which will be getting a Red Bike station in 2022. Each ride includes around six to 10 kids, as well as three to four adults from both Red Bike and the partnering organization. Routes vary from eight to 12 miles and introduce the young riders to different types of on and off-street bicycle infrastructure, as well as city neighborhoods. Most rides also include an additional activity, such as a short hike in a local nature preserve or a visit to the Cincinnati Art Museum.
"The youth have been amazing—we've made them climb some hills, with e-bikes and without, and they keep coming back," says Daniel. "They've been listening really well and are genuinely excited to be bicycling."
For Kyle Reiser, a lead coach at Found Village, the rides are just as much about learning to ride a bike and navigate new terrain as they are about connecting the kids to the city at large, each other and even Red Bike's staff. Found Village works with youth from a variety of different backgrounds, with some having experienced mental health episodes or the foster care system. Through structured rides, the kids have the ability to build confidence and bond as part of a group. In some instances, the rides have even provided a safe space for more difficult conversations.
"We work with a lot of teens that are really yearning for a community to call their own and we look to build that safe space and place for them and wherever that may be in the city," says Reiser. "With these rides, it's really neat that they have a community of peers to share their story with and connect with."
The partnership between Found Village and Red Bike came about organically after Found Village youth expressed an interest in transportation and biking specifically. Prior to the on-street rides, Found Village set youth up on bikes in its gym facility to get prepared. Coming off of a year that's been particularly hard on kids, Reiser believes the physical and exploratory components of the rides are more important than ever. 
"It's been a really strange academic year and not everyone has been able to participate in sports," says Reiser, noting that it's also important for the kids to start interacting with the larger world again. "Red Bike has done a really nice job of mapping out the rides and finding places that speak to the teens."
For DJ, a 15-year-old who grew up in Cincinnati, the year he's spent with Found Village has been incredibly rewarding.
"If I wasn't in Found Village, I wouldn't have so many different opportunities," says DJ, adding that the adults have his best interests at heart. "It's just been fun and chill."
Although DJ has been riding bikes for a long time, he says it's been really cool to get to know Red Bike staff and experience different parts of the city. Through the rides, he's been sold on bike share and is now a natural Red Bike ambassador, recommending the system to others. 
"When I get a job, if I don't have the money or something like that, I can go to Red Bike and ride one to work or to my destination," says DJ. "It just feels good to get outside and do stuff and see new views."
For Daniel and Reiser, the connection between Red Bike, affordable mobility and the joys of riding is important. As much as the group rides are about building relationships with one another, they're also about building a great relationship with bicycles.
"The kids are starting to realize how bikes can serve them going forward," says Reiser. "From a physical standpoint, a mobility standpoint and a having-fun-with-their-friends standpoint."
---
The Better Bike Share Partnership is funded by The JPB Foundation as a collaboration between the City of Philadelphia, the National Association of City Transportation Officials (NACTO) and the PeopleForBikes Foundation to build equitable and replicable bike share systems. Follow us on Facebook, Twitter and Instagram or sign up for our weekly newsletter. Got a question or a story idea? Email kiran@peopleforbikes.org.