Chicago Youth Are Building a Bike Community
March 30, 2021
This is the fourth article in a series profiling our five Living Labs, all of which are focused on bettering bike share in historically marginalized communities.
Chicago's Northwest Side Housing Center (NWSHC), a HUD-Certified, community-based, nonprofit organization, has been serving the predominantly Latino neighborhood of Belmont Cragin since 2003. Although the organization formed to offer free housing counseling, over the course of 17 years its mission has expanded to include holistic financial education, a subsidiary community development corporation and comprehensive community planning and organizing to address issues related to safety, education, youth, women, older adults, and transportation.
"Our main vision as an organization is to respond to the needs of the community," says Jeremy Cuebas, Youth Organizer at NWSHC. "And Belmont Cragin is a transportation desert."
The nonprofit's programs serve around 300 actively engaged middle and high school students, and in 2018, it was its youth that identified public transportation (or the lack thereof), as the number one issue impacting their lives. Interested in improving bicycle infrastructure and the efficiency of Chicago Transportation Authority buses servicing the neighborhood, the Belmont Cragin Youth Leadership Council (BCYLC) successfully lobbied its representatives to start bringing bike lanes and low-cost bike rentals through Divvy, Chicago's bike share system, to the neighborhood.
As part of this Living Lab, called "Bikes for Belmont Cragin," NWSHC is letting its youth continue to take the lead when it comes to the neighborhood's micromobility planning and implementation efforts. The teens, shepherded by Cuebas, will help design and roll out an education campaign that will focus on bikes as a way to connect the neighborhood to other transit options. In the past, NWSHC has done this through community roundtables and group rides with residents and stakeholders.
"With this funding, we're going to be able to do twice as many rides," says Cuebas. "We'll also be partnering with an organization called Bikes N' Roses to host 15 workshops a year where we fix up bikes and provide bike education."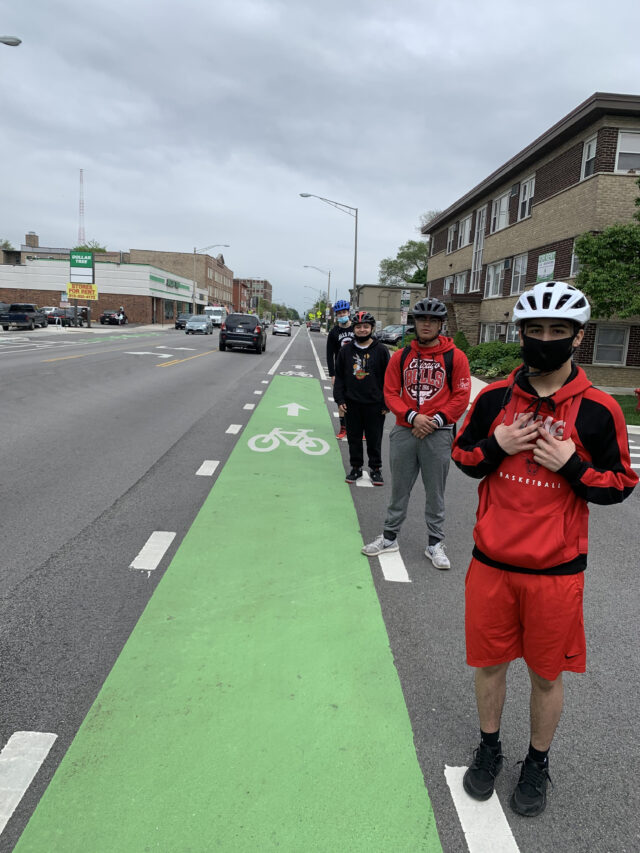 Also in the cards are bike pop-ups on blocks that already have parties planned, so the youth transit ambassadors can bring Divvy to those locations and introduce people to bike share. At those events, the plan is to also sign up folks on government assistance or living at 300% of the poverty level for Divvy for Everyone bike share passes (NWSHC will use the funding to cover the $5 a year fee). The main concerns NWSHC has heard from residents around shared micromobility is that it might lead to fewer parking spaces and that it's not affordable. Throughout the two-year life of the grant, the nonprofit will continue to survey the community and ensure that concerns continue to be addressed and that all transportation planning is resident-led.
For more than two years, NWSHC has been hosting focus groups to help determine the best locations for Divvy stations—and seeing how those choices jive with overall connectivity to transit. Recently, at a local vaccine clinic, while neighbors were in their 20 minute post-vaccination observation period, NWSHC solicited survey responses that asked about people's perceptions of and experiences with bicycling. The first Divvy station was recently approved to be installed at a high school and the plan is for an additional five stations to be installed throughout the community.
"We're going to make sure residents are not only riding their own personal bikes, but also Divvy's as well," says Cuebas. 
Despite the fact that Divvy's age requirement is currently 16, Cuebas doesn't see that as an issue for Belmont Cragin's younger residents. "We want to give all kids the opportunity to learn more about biking, whether that's riding or working on a bike," says Cuebas. "In those ages where they're not yet able to ride Divvy, we hope to provide them with resources to build their own bikes or even let us purchase a bicycle for them."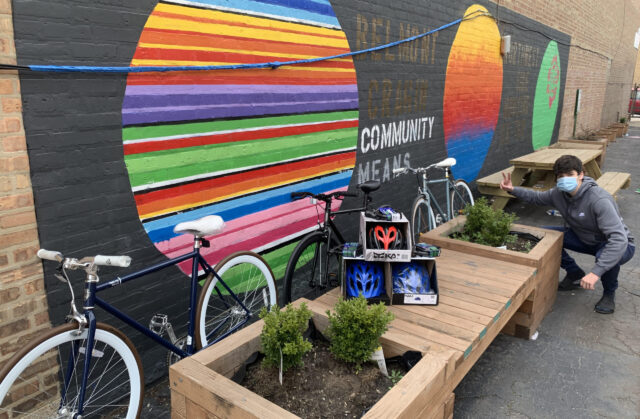 The bike, after all, is a gateway to jobs and other opportunities. In Belmont Cragin's borders, however, there's currently not a single bike shop and until recently, there has been no bicycle infrastructure. The hope is that with education, training and other investment in the youth, the presence of bicycle-oriented amenities will continue to grow, creating a culture of bicycling. Already, the youth are talking about starting a hybrid coffee and bike shop.
"It's all about empowering the next generation," says Cuebas, noting that a third of Belmont Cragin's population is under the age of 18. "We need to empower the youth to take on the mantle—decisions are being made in this country and our youth need to be there helping to create the world they're going to have to live in."
---
The Better Bike Share Partnership is funded by The JPB Foundation as a collaborative between the City of Philadelphia, the National Association of City Transportation Officials (NACTO) and the PeopleForBikes Foundation to build equitable and replicable bike share systems. Follow us on Facebook, Twitter and Instagram or sign up for our weekly newsletter. Got a question or a story idea? Email kiran@peopleforbikes.org.