Hindsight 2020 Conference Through Our Eyes
November 19, 2020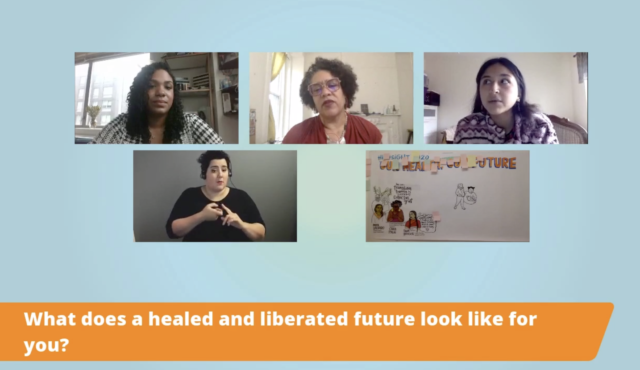 Hindsight is a conference on urban planning through an equity lens, organized and run by the American Planning Association New York Metro Chapter's Diversity Committee (DivComm).
Each year, Hindsight honors a significant urban planning and equity-related milestone to not only shed light on the discriminatory history of planning and its role in shaping today's inequitable places but also to highlight planning as a means of achieving more inclusive and equitable communities.
This year's theme of "Our Health, Our Future" represents how the COVID-19 pandemic amplified America's structural inequities, which can be seen in the racial disparities in deaths and access to care, rise in income inequality, and layered on top, police brutality against Black lives. This year's conference calls for planners and policy-makers to channel our public health roots and re-center environmental justice.
In addition to that, 2020 marks the 50th anniversary of the creation of the U.S. Environmental Protection Agency (EPA), whose mission is to protect human health and the environment. Communities of color, especially indigenous groups, have deeply understood the interconnectivity of the earth and human livelihood. In hindsight, planners' structural understanding of health and the environment needs to deepen beyond Active Design or "going green," and it needs to centralize racial justice.
"Inequitable access to clean air, water, and soil; education and economic opportunity; and safe, quality, accessible public spaces, has resulted in immense racial disparities in life outcomes," writes the conference program.
These inequalities are manifestations of the same system: White Supremacy. But planners, who have been historically complicit in programming these inequities, have the power and responsibility to dismantle it.
That's what the Hindsight Conference is all about.
The Sessions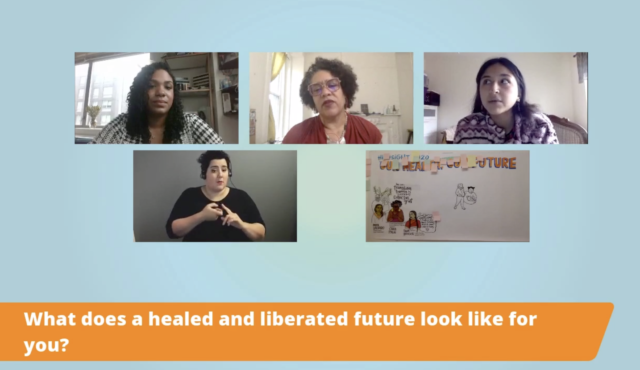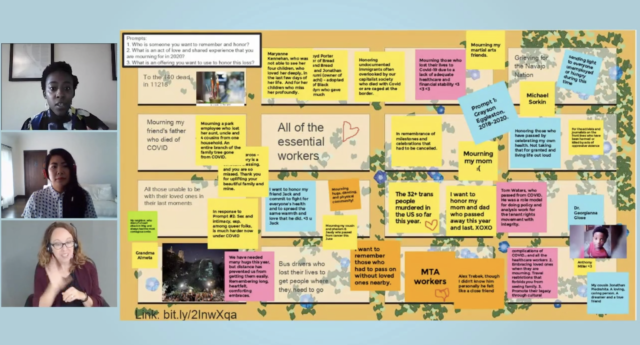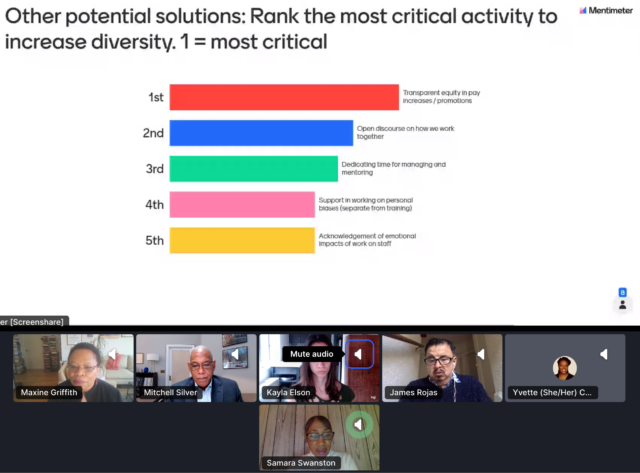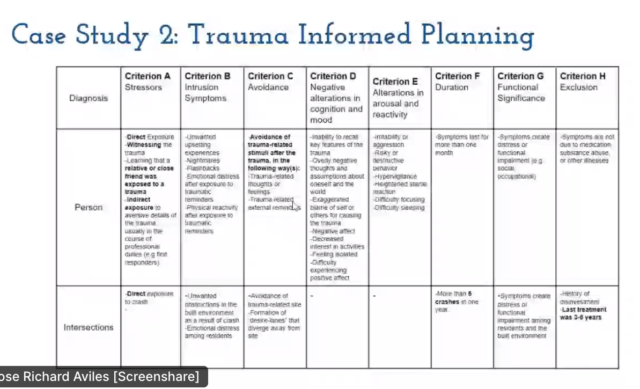 My first time attending the Hindsight Conference was in 2019, when the one-day event was held in Brooklyn, New York. At the time, COVID-19's impact had yet to felt and seen across the U.S., so the in-person event felt incredibly warm, intimate, inviting, and it especially felt important to be there and learn from exceptional practitioners in person.
However, in its first virtual covering, the Hindsight Conference managed to maintain that same level of intimacy — if not more — the chat rooms and social spaces were brimming with excitement and energy, making it evident that all participants felt as connected as I did.
Across two days and five sessions, the conference featured 27 sessions plus a walking tour, a happy hour, a healing and safe space session.
The Exhibits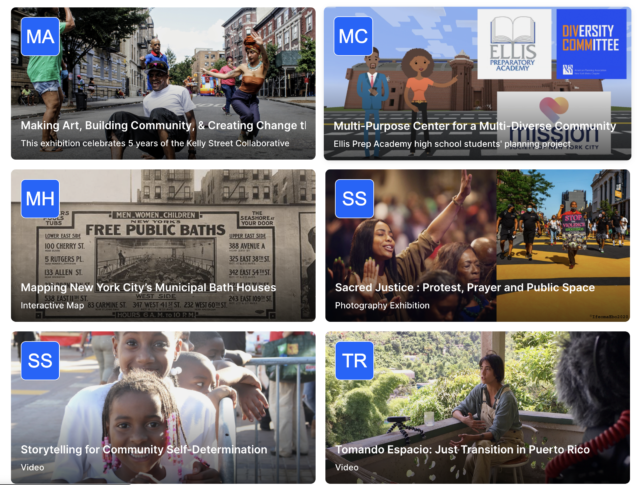 The Hindsight 2020 Digital Exhibit was filled with necessary presentations from a variety of community groups. Check out these exhibitors:
Making Art, Building Community, and Creating Change Through Abundance
👉 The Laundromat Project in partnership with Kelly Street Collaborative: When artists, youth, community leaders, and neighbors come together towards a collective vision, creative community building is catalyzed, bringing about meaningful transformation and wellbeing to the community. This exhibition celebrates 5 years of the Kelly Street Collaborative. Rooted in a history of sweat equity, and resilience, the Collaborative brought a neighborhood together through artist studios, arts and wellness workshops, events, farming, potlucks, BBQs and community-led programming.
Multi-Purpose Center for a Multi-Diverse Community
👉 ELLIS Prep Academy: This 3D virtual model of the newly re-designed Kingsbridge Armory was created by students from ELLIS (English Language Learners & International Support) Preparatory Academy. This exhibit is their take on a project that could directly impact everyone in their community. With such limited space in New York City, maximizing the use of it is a top priority
Bicycle Maintenance and Mental Health
👉 Ambar Johnson, Transportation Planner and Writer: While bicycles have traditionally been used to represent freedom, independence and joy, BIPOC continuously witness the weaponization of bicycles by police, advocates, and folks with hidden agendas. Without needing to travel or pedal anywhere, this exhibit will demonstrate how to use bicycles to find what is desperately needed this year: balance.
Mapping New York City's Municipal Bath Houses
👉 Melanie Dieg, NYC Landmarks Preservation Commission: The public bath movement in New York City emerged as one of the many progressive public health-minded reforms of the 19th century. Nestled within the origins of immigrant New York, the municipal baths were designed to serve the city's poorest residents, at a time where many lacked the facilities for regular bathing — this interactive map was designed to provide a historical reference of where the baths were located and how they exist today.
Sacred Justine: Protest, Prayer and Public Space
👉 Ifeoma Ebo, Creative Urban Alchemy, Syracuse University and Columbia University: Through visual storytelling, this exhibition explores the power of collective prayer and acts of protest in the public realm. This digital collection aims to spark curiosity among built environment professionals on how urbanism and the public realm can play a role in facilitating collective action in and for communities of color.
Storytelling for Community and Self-Determination
👉 Fay Darmawi (SF Urban Film Fest) and Shantre Pinkney (filmmaker): Directed by Shantre Pinkney and produced by Fay Darmawi, Founder and Executive Director of the SF Urban Film Fest, "Invest. Preserve. Reclaim the Community" is a 3-minute film on the story of struggle and contributions of the Black community in the Bayview Hunters Point area of San Francisco.
Urban Planners As Organizers Toward Liberation: A Resource Guide and Framework
👉 Sabrina Bazile, City & Regional Planning: Part manifesto and part digital library, this document is a resource for urban planners and urbanists to think about revolutionary and liberatory politics as the way to move towards racial, environmental, social and economic justice.
We_Generate: Democratizing Housing and Health Planning
👉 Meta Brunzema and Radhi Majmudar (Collective for Community, Culture, and Environment), and Elyse Highstreet (Good Old Lower East Side Inc.): A short film that presents the beta tool We_Generate, which is an interactive, participatory digital tool for communities and professionals. Learn how this new tool democratizes neighborhood planning by empowering citizens to visualize and shape complex urban building and renovation projects, analyze tradeoffs in real-time, plus make persuasive data-backed choices that further public health, resilience, preservation and urban justice.
Tomando Espacio: Just Transition In Puerto Rico
👉Hannah Anousheh and Lidia Henderson, Pratt Institute: This exhibit highlights a project that highlights the efforts of frontline communities, largely led by womxn, that forge alternative paths beyond short-term recovery. The interviews highlight work supporting a movement towards a just transition and an equitable and resilient future through art, agriculture, movement and community organizing.
— — — — — — — —
Thank you to the wonderful team from Diversity Committee for putting this together! Keep up with their work and follow @DivComm on Twitter.
The Better Bike Share Partnership is a JPB Foundation-funded collaboration between the City of Philadelphia, the Bicycle Coalition of Greater Philadelphia, the National Association of City Transportation Officials (NACTO) and the PeopleForBikes Foundation to build equitable and replicable bike share systems. Follow us on Facebook, Twitter and Instagram or sign up for our weekly newsletter. Story tip? Write farrah@peopleforbikes.org