BBSP's Living Lab Cities Program: The Q&A Recap
September 14, 2020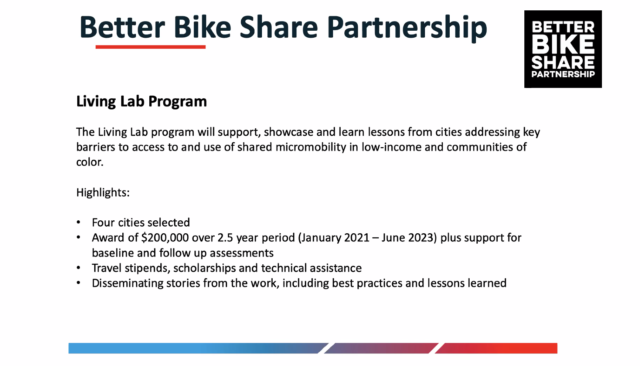 If you couldn't attend the Q&A we held last week for our Living Lab Cities Program, no worries! We've got you covered.
Below are all the questions participants had during the one-hour session. And providing all the answers is Zoe Kircos, PeopleForBike's Director of Grants and Partnerships. 
Before we dive in, here's a little background: Created by the Better Bike Share Partnership, the Living Lab Cities Program will support, showcase and learn lessons from four cities, in addition to the City of Philadelphia, that are addressing a key barrier to access to and use of shared micromobility in low-income and communities of color. Living Labs will build on the work of Philadelphia — the first BBSP Living Lab city — and many others by piloting, expanding, replicating or scaling strategies and tactics related to a specific issue or barrier. To learn more about how you can qualify, check out this article explaining everything from guidelines to timelines. 
Don't want to read the recap? Check out the recording at the bottom of this article!
Living Lab Program Q &A
Q
:
What are you looking for in the Partner Information section about their background and contributions? How detailed should we get in the part of the narrative?
ZK: "We definitely want to know that you have support from a lot of different stakeholders in the work. In the application, what we want to see is maybe one or two lines about what role they play in the community, then a very brief description of what they'd be contributing. That can be a small paragraph or three bullet items — it's just helpful for us to know, for example, if they are giving cash or any kind donation of services or products, or if they are connecting you to their network to help disseminate information. Are they a partner that's going to be running some aspect of the work? Are they an organization that's acting as an ambassador and connecting you to their audience? 
It's just us understanding what the depth is, because we certainly see many partners who are supporting the work, and that's great, but we're interested in a more meaningful contribution and knowing what that is."
Q: Part of my program requires outfitting a van as a mobile bike shop to turn it into an actual working shop — would my equipment be considered the kind of equipment BBSP will NOT fund for this program?
ZK: "No, if that's part of the work you're doing as part of your outreach and engagement, that's fine. That doesn't count as the kind of equipment we don't fund because that's integral to your work. So, when we talk about equipment. In the past, we've gotten groups [that want to add three stations with 20 bikes to these locations, for example] and we are actually not permitted to fund that by our funders, so we can't provide that kind of expense funding. But if the mobile bike shop is going to be part of the outreach work you're doing, then we could help fund that."
Q: Should we include a detailed plan and timeline for the project we plan to initiate?
ZK: "We did not ask for that even though it is a much longer time period than what we've worked with in the past. If that is something you are doing as part of your development, then please do include it, but it is not listed there as a requirement. But an application is certainly strengthened if there are different elements you will be rolling out at different points in time and you included that.
Even if it's not included in your actual application, that's something we will individually be working with our living cities to develop so we have an idea of what you're doing so we can help guide that [part of the process]. A big piece once the cities are selected is for us to work with you to conduct that baseline assessment, and the components of that are going to be determined based on the organization selected and what their project plans look like — I'm guessing that that will inform the timeline, so that's one reason we didn't ask for it. 
We want to know what you're planning, but as far as the specifics of the timeline, we didn't feel like you would have quite enough to develop that. If you have that and if that's part of your planning, please do include it. But it is not required — our program manager may help you develop that timeline once your city is selected. 
Q: Regarding the expectation of a city to have an operating micromobility system, is it sufficient for a city to have a group of operators? Or are you only looking at city partnership shared micromobility systems? 
ZK: We're only permitted to fund nonprofit organizations or a city department or agency, so we're not able to fund a for-profit organization. That said, we have spoken with potential applicants talking about doing a partnership that might include a for-profit scooter company. And I think that's totally appropriate as long as you're clear about who is receiving the funding — the funding may support outreach and engagement or other means to support access but doesn't actually fund those companies to stay in business. 
The nuances get specific and we'll probably have to look at them on a case by case basis. Do we fund memberships for people or passes for people to use that system? I think there's a little gray area there that we'll have to determine in the context of the bigger program they're initiating. As far as what has to be operating, one of the potential programs we've been thinking about is a city in which there are multiple operators. There might be a traditional dock-based bike share system, three scooter companies, then a bike library, and they might be all working together in a community to figure out how to increase mobility options for that community. Or, if it's a city in which there are only for-profit operators and nonprofit organizations working with them, [these scenarios are acceptable] as long as we're clear about where the money is flowing and what it's doing and what the goals are. 
Q: For cities operating shared micromobility programs in the pilot stage, is that enough of a commitment by the city that it has an operating system?
ZK: "Yes, that would be sufficient as long as we knew that the entities involved planned to continue [the program] and that our funding won't just keep it going without commitments from other investors and stakeholders. But I think that would be eligible; we'd be interested in considering that."
Q: With the pandemic, we've seen how quickly things change. Will there be opportunities to pivot from plans that become unfeasible?
ZK: "It's okay if, in your application, you [let us know you'd like to use the first three months of the program to plan and prepare]. Or you may say you're ready to go now and ready to hit the ground running. You can tell us what your timing is and we can be flexible. […] Give us your best estimate of what you think is going to work, then we'll just roll with it. 
 Q: Regarding the evaluations section, it says there can be some funding to do more in-depth evaluations. Here, do you want to know what we can do right now with our means or our dream evaluation plan of what we would like to do?
ZK: We definitely want what you're able to do. Then, we do have funding to do a more comprehensive baseline and follow up, and we'll be devising a plan with you. So, it is totally fine for you to give us a paragraph on your dream to give us guidance, but that's not required. 
We didn't want to put that responsibility on groups because I know assessment evaluation can feel pretty overwhelming, and we might have ideas of things we want to know that may not be on your radar; you might have things you know that we're not thinking about. To us, that's going to be someplace where we come together to figure out what the evaluation is. Give us what you know you can do and what you think is helpful, give us a couple of sentences on your dream and we'll figure it out.
Q: Could items that are not eligible for funding be used as the in-kind? For example, if a system placed a station at a workforce development site, could the station be our in-kind contribution?
ZK: Yes, if a station (and bikes) supports the overall program you are proposing, then the cost of that could be listed as an in-kind contribution. 
Q: What is the budget and how many grants do you plan to issue? Is there a maximum budget?
ZK: We will be selecting four cities [in addition to the City of Philadelphia, so there will be five Living Lab Cities]. Each city will get $200,000 over the course of two and a half years […] in increments. In addition to that $200,000, we also have funding for a baseline and a follow-up assessment. And as I mentioned earlier, we're going to be working with you to figure out what that assessment looks like and what is involved in that. […] Additionally, we have money to support some travel and scholarships for conferences and things like that for each year.
— — — — — — —
Check out the recording!
The BBSP Living Lab application is available here, and you can find the guidelines here.
Please submit your application and any questions about these guidelines or the application via email to Zoe Kircos, Director of Grants and Partnerships, PeopleForBikes, at zoe@peopleforbikes.org.
The Better Bike Share Partnership is a JPB Foundation-funded collaboration between the City of Philadelphia, the Bicycle Coalition of Greater Philadelphia, the National Association of City Transportation Officials (NACTO) and the PeopleForBikes Foundation to build equitable and replicable bike share systems. Follow us on Facebook, Twitter and Instagram or sign up for our weekly newsletter. Story tip? Write farrah@peopleforbikes.org