Infographic: Portland's Adaptive BIKETOWN shares pilot results
January 5, 2018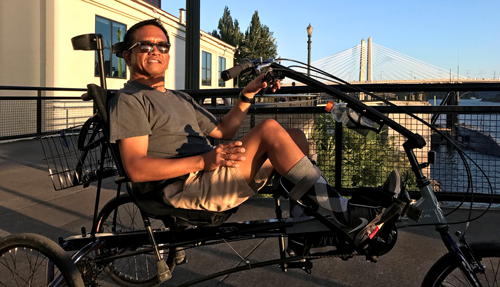 Adaptive BIKETOWN user Chris Pangelinan. Source: PBOT.
Adaptive BIKETOWN just finished its first season in Portland, Oregon, and it's clear that the program has already made a positive difference.
The City of Portland launched a $30,000 adaptive bike sharing pilot in the summer of 2017 that was billed as an alternative service to the established bright orange BIKETOWN bicycles that residents could already rent. The program was created after the City heard from local advocates, and it is meant to bring the ease and accessibility of traditional bike share to those with a variety of physical disabilities.
In a December article on the Portland Bureau of Transportation blog, PBOT shared a status update on the program so far.
Small but enthusiastic ridership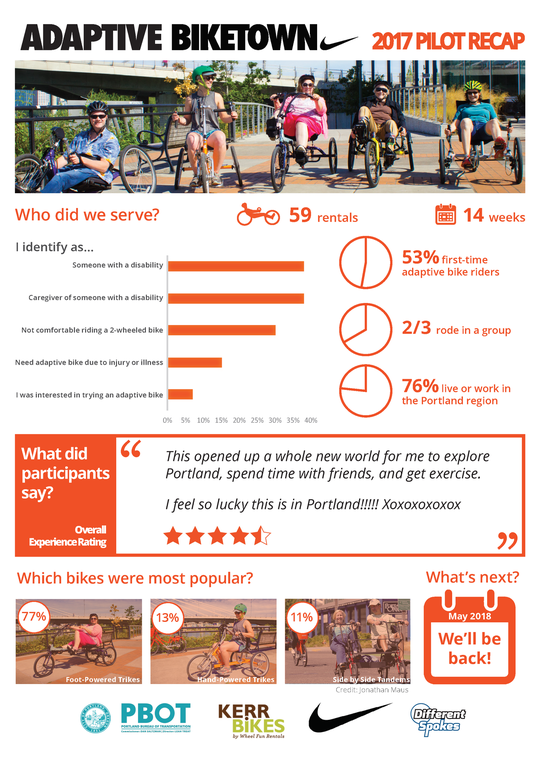 Initial program results. Source: PBOT.
The program had 59 rentals during the 14-week operation period in 2017. The most popular bikes were the foot-powered trikes, followed by hand-powered trikes and side-by-side tandems.
While about 40% of users were those with disabilities, the program was also popular for caregivers and others who simply don't feel comfortable riding a 2-wheeled bicycle. The vast majority were locals, and many participants chose to ride in groups.
The human impact is big
While the numbers are one way to look at impact, stories from actual riders do an even better job at showing the importance of the program. In short, it helps people with mobility challenges experience Portland on their own terms and from a different viewpoint.
Chris Pangelinan, a transportation engineer who is highlighted in the PBOT blog post, was born with cerebral palsy, which has made it difficult for him to balance on a traditional bike. The Adaptive BIKETOWN program was a game-changer:
With Adaptive BIKETOWN, operated by Kerr Bikes, Chris got to bike on the famous Springwater Corridor Trail for the first time.

He also experienced what it felt like to cycle next to traffic for the first time.

"As a transportation engineer, I should know how that feels!" Chris said with a chuckle.

And beyond the practicality and his professional interest, Chris said being able to bike in Portland with his friends – many of whom he describes as bikers or active – is an "immeasurable value."

"This opened up a whole new world for me to explore Portland, spend time with friends, and get exercise," he said.
For Amelia Opie and her son Miles, who has autism, using one of the tandem bikes offered a chance to cycle along local river bike path together.
"The riding part was hard at first," said Miles. "And then it got easier." When he rides the side-by-side tandem, Miles said he gets to relax.
Adaptive BIKETOWN is currently on hiatus, but will reappear in May for National Bike Month. The rental service is operated by Kerr Bikes, in partnership with Different Spokes, as well as sponsor Nike.
The Better Bike Share Partnership is funded by The JPB Foundation as a collaborative between the City of Philadelphia, the Bicycle Coalition of Greater Philadelphia, the National Association of City Transportation Officials (NACTO) and the PeopleForBikes Foundation to build equitable and replicable bike share systems. Follow us on Facebook, Twitter and Instagram or sign up for our weekly newsletter. Story tip? Write stefani@betterbikeshare.org.