Bike sharing should take a lesson from mobile phones and charge by the month
October 27, 2016
Tuesday, we suggested that bike sharing can help answer a problem faced by millions of U.S. households: biking isn't an option because they don't have enough money at any given time to buy a decent bicycle.
For example, after you take out retirement savings, fully half of Black-led households in the U.S. have less than $25 in cash on hand. Half of Latino households have less than $100. Compare that to some sample bike-related costs: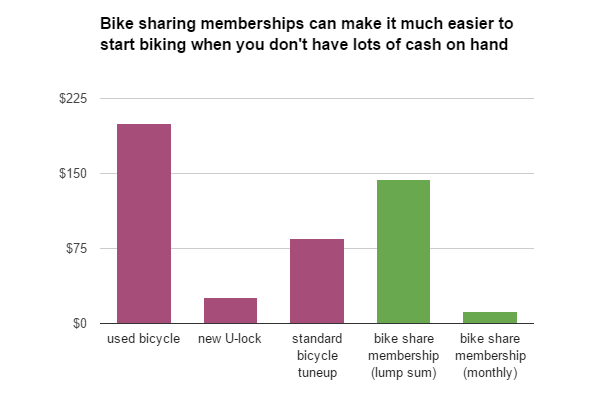 As you can see in that chart, bike sharing can lower this barrier. But there's still a huge difference between paying for an entire year of bike sharing at once and signing up for a recurring monthly plan.
So why do so many U.S. bike sharing systems emphasize their annual lump-sum rate?
This is probably in part because of history. The first U.S. bike sharing systems were modeled on the one in Paris, where the Velib' system doesn't offer a monthly rate at all. But it hardly needs to: a one-year Velib' membership costs just $32 and includes unlimited rides of 30 minutes or fewer. A Velib' daypass costs just $1.85. You won't find prices like that anywhere in the U.S. outside of Topeka.
Here in the States, most bike share systems are minimally subsidized and more expensive to ride. Which means that when it comes to pricing, the stakes are higher — especially if you want to reach people without much money.
A survey of bike share pricing pages
How to tell consumers the price of your product is a complicated decision for any company, and there's lots of room for variation and creativity in the bike sharing world. So let's look, without judgment, at what various bike share agencies are doing.
At Nice Ride Minnesota, there's a huge 65 percent discount for people who can pay the lump sum, which may explain Nice Ride's emphasis on the lump-sum price: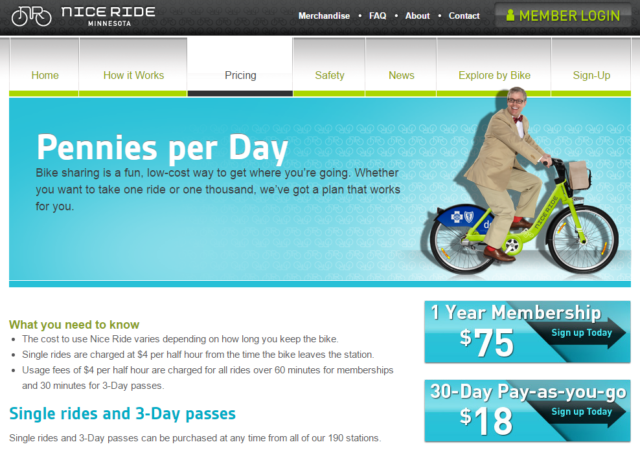 San Antonio B-Cycle also offers a big discount for lump-sum payment, but it leads with the price of a daypass: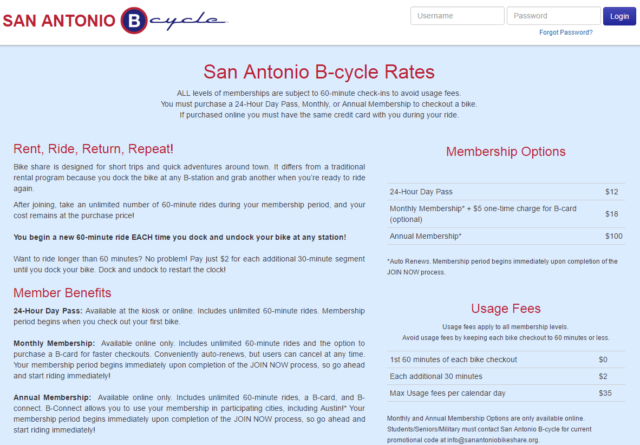 At Coast Bikes in Tampa, the monthly and annual prices are similar but there's also an option for dabblers and tourists to pay a "prorated" $8 per hour — in other words, 13 cents per minute — without any membership commitment.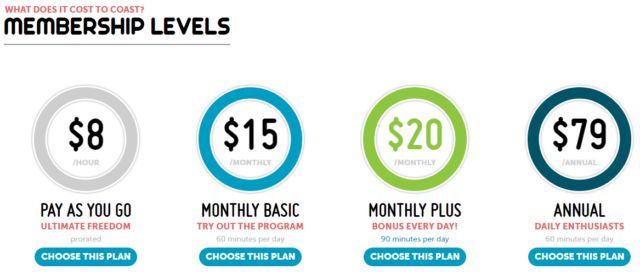 In Phoenix, Grid Bikes doesn't offer any lump-sum annual option, steering subscribers toward the month-to-month ones.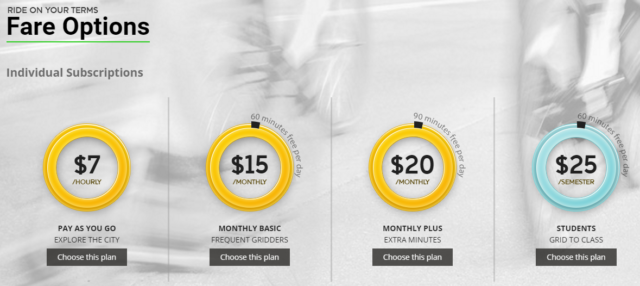 In New York City, Citi Bike doesn't offer a month-to-month rate. Instead, its annual commitment has a heavily promoted monthly rate … but the $155 lump sum, a relatively modest discount, remains in small print.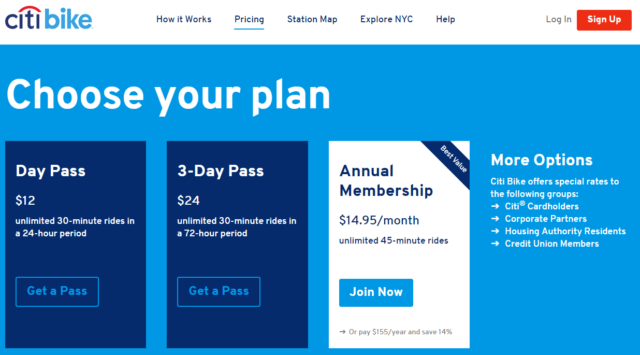 Chicago's Divvy does just the opposite, steering people toward the $99/year option and putting the monthly-option-with-commitment in fine print: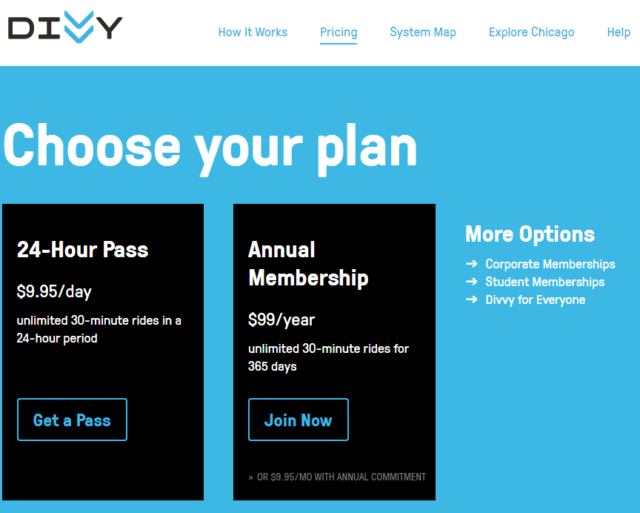 For Biketown in Portland, there's no lump-sum or month-to-month option … dabblers are steered toward the "single ride" (the nation's cheapest walk-up option, tied with Topeka), there's a daypass for tourists, and regular users have the sole option of an annual commitment that's marketed and charged in monthly installments.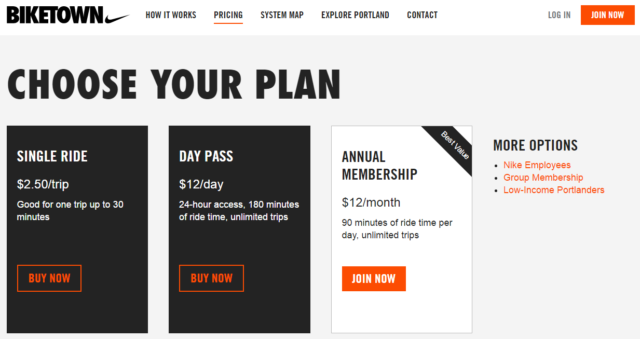 Indego in Philadelphia puts top emphasis on its month-to-month rate and doesn't offer a lump-sum option. Unlike most systems, it also gives top billing to its discount program. This may have the risk of making the standard $15 rate feel more expensive to Philadelphians who don't qualify for the discount … but it probably contributes to the impressive popularity of Indego's discount program. Indego also has a relatively high walk-up price ($4 for 30 minutes) but also an unusual "Flex" option that lets people spend $10 once a year to get a lower hourly rate with no further commitment.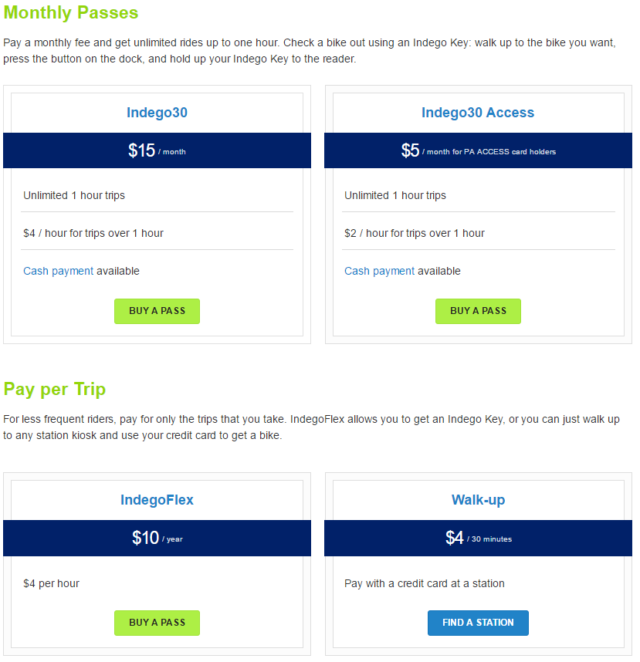 In Milwaukee, Bublr also offers a similar flexible option that it calls "pay as you go": a $2 one-time charge to qualify for permanent $2 per ride pricing, one of the cheapest options in the country for people who want to ride regularly but not daily. (Bublr's walk-up charge is usually $3 per ride.) But Bublr's website puts its annual all-you-can-ride lump sum front and center: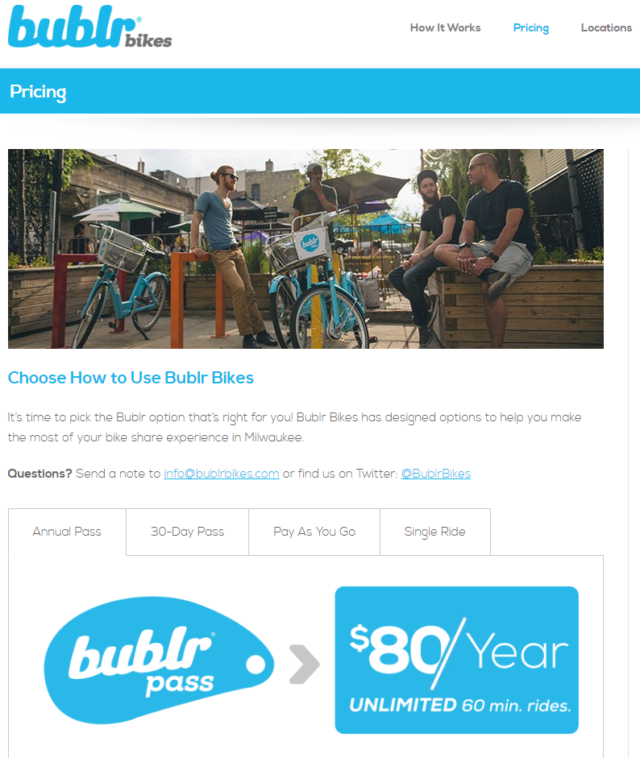 Again, there's no single right or wrong way to price or market bike sharing, and there's something to be learned from all these approaches. Still, it's useful for bike sharing pros to think about the fact that when you don't have much in the bank, what others might see as an annual discount can instead feel like an out-of-reach luxury.
The Better Bike Share Partnership is a JPB Foundation-funded collaboration between the City of Philadelphia, the Bicycle Coalition of Greater Philadelphia, the National Association of City Transportation Officials (NACTO) and the PeopleForBikes Foundation to build equitable and replicable bike share systems. Follow us on Facebook, Twitter and Instagram or sign up for our weekly newsletter. Story tip? Write info@betterbikeshare.org.
Save