Remembering Andrea Gonzalez
November 17, 2023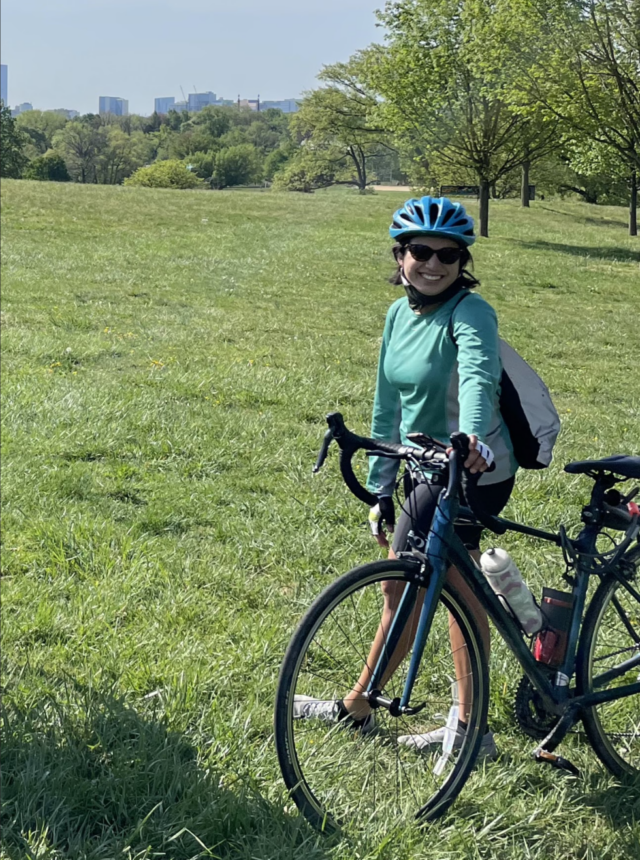 We are saddened by the sudden loss of Andrea Gonzalez, who was killed by a driver on October 21, 2023, in the Cherry Hill neighborhood of Philadelphia. At the time, Andrea, 33, was leading a Radical Adventure Riders (RAR) LGBTQ + BIPOC bikepacking trip from the city to the Goshen Pond Camping Area in the Pine Barrens, New Jersey.
Born in New York State and raised in Mexico, Andrea came to Philadelphia in 2018 to earn her master's degree in urban planning at the University of Pennsylvania. In April 2019, Andrea joined the Bicycle Coalition of Greater Philadelphia (BCGP) as a Bilingual Community Liaison for the Better Bike Share Program. Her charm and endless optimism quickly won over everyone who worked with her. She would even visit the office in her free time — when asked why, she responded "This is my happy place."
After she left the BCGP in 2019, Andrea continued to pursue her interest in long-distance bikepacking, completing the Empire State Ride for Cancer Research from New York City to Niagara Falls in 2021. Andrea talks about her love of bikepacking and how trails are there for everyone in this Circuit Trails Video. 
View this post on Instagram
Andrea worked as an Urban Planning Consultant at Guidehouse and served on the Mayor's Civic Review Design Board. She was recognized for her community service by Al Dia at their 2022 40 Under 40 event. We could always find her at the ever-growing Wednesday Night Rides events.
A memorial ride for Andrea is happening on Saturday, November 25th starting at noon at Corinthian Gardens in Philadelphia. Our deepest condolences to Andrea's family and friends.
We are committed to the fight for achieving zero deaths on our transportation network.
View this post on Instagram
---
The Inquirer and NJ Pen have also reported on the news of Andrea's death.
Inexcusably, U.S. cyclist injuries and deaths are at an all-time high. We know that better bike infrastructure saves lives and we believe that now is the moment to demand the protected bike lanes, road diets, safe speeds, and intersection treatments that make our communities safer.