Workforce Diversity Wednesday: Tangier Barnes Wright
July 19, 2023
As part of an ongoing series, we're spotlighting underrepresented voices in shared micromobility in order to encourage more diversity and representation in the field.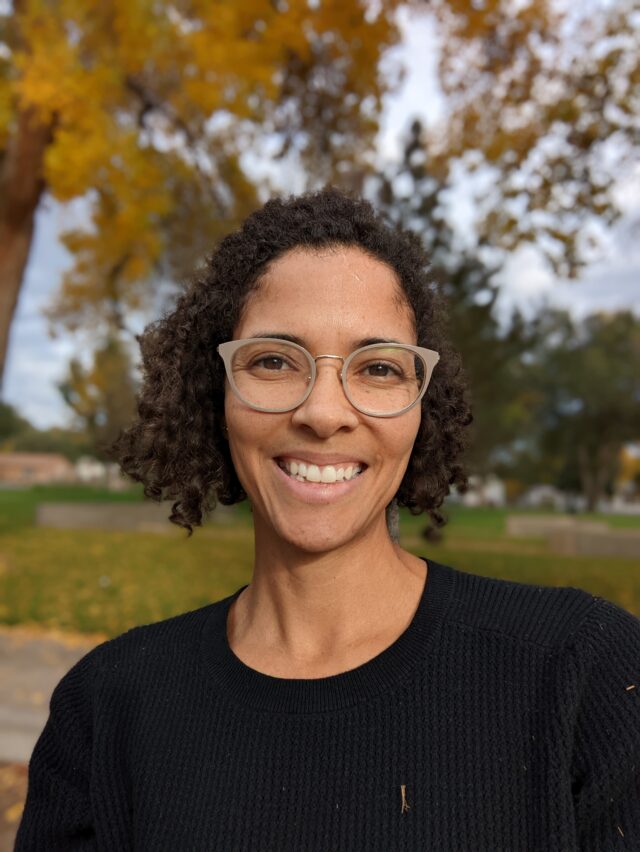 In 2019, the North American Bikeshare and Scootershare Association (NABSA) launched its Workforce Diversity Toolkit for Bikeshare and Shared Micromobility. Created in cooperation with the Better Bike Share Partnership (BBSP), the toolkit includes case studies of best practices from the industry, questions for self-evaluation, and further resources.
This year, NABSA's DEI Committee, in partnership with BBSP, plans to update and relaunch the Workforce Diversity Toolkit with both Spanish and French-translated versions. As part of that update, we've launched this "Workforce Diversity Wednesdays" series, which spotlights BIPOC working in shared micromobility. The goal of both the toolkit and this series is to encourage more diversity and representation in the field.
This week, we'd like to introduce you to our own Trangier Barnes Wright, the senior partnership and program manager for the Better Bike Share Partnership and PeopleForBikes. Tangier is also helping to spearhead the new Workforce Diversity Toolkit, and serves on the NABSA conference planning committee.
Read her interview to learn how she came to this work, what has surprised her most in her career, and what advice she had for the shared micromobility industry as a whole.
How did you come to arrive at working in shared micromobility and your current role?
I live in Denver and commuted to work by bike for years. I am still an avid bicyclist. Even though I was a strong and confident rider during my commuting years, I began to notice the many barriers that existed to accessing Denver's off-street trail system and other safe bike infrastructure. It occurred to me that for the average person, riding a bike on the streets of Denver would be scary. Especially in the neighborhoods where I lived and worked: lower-income, communities of color where industrial land uses were prevalent and where safe bike infrastructure was non-existent.
I decided to devote my time to helping break down barriers to accessing Denver's bike paths and advocating for safer on-street bike infrastructure in these communities. This became my passion. It was a perfect space for me to work because I was able to apply my academic background in Black studies and urban planning, alongside my interest in environmental justice. I did this work through my role at the nonprofit Groundwork Denver and by participating on volunteer boards such as the Denver Mayor's Bicycle Advisory Committee.
Fast forward to 2020, I was ready for something new and I wanted my primary work to be in the transportation and mobility field. I was nervous about pursuing work in this specific field because I didn't have a degree in transportation planning or transportation engineering. I quickly realized it didn't matter. The planning experience I did have — combined with my focus on social and environmental justice and my passion for building our cities so that they work better for people of color and lower-income communities — was enough to make me a good candidate for full-time transportation and mobility work. 
I heard about a job with PeopleForBikes managing the Better Bike Share Partnership. The job description fit me so well that I could hardly believe it. I was thrilled to be hired on and still pinch myself because I get to use my experience and passion to help ensure there is equity in bike share systems across the country. I wasn't looking specifically for shared micromobility positions, but I am so glad this is where I ended up.                                          
What is your favorite thing about your job?
Working with a diverse group of people from all over the country and getting to see the positive impact that happens when people, organizations, and bike share systems are committed to equity.
What has surprised you most about your job? 
When I first started my job in 2020, I was surprised by the success of equity efforts among bike share systems. I was familiar with bike share and ridden bike share in a handful of cities, but it had mostly felt like an amenity — something for visitors because the stations were only in the core of those cities. It didn't take long to learn that people all over the country were working to expand these systems and increase ridership to make bike share more accessible to communities of color and lower-income communities. It was a good feeling to find out that there were places thinking about bike share as a means of transportation and economic mobility.
Why is prioritizing equity in shared micromobility so important?
When equity is prioritized you achieve broader positive social impacts. Ensuring access to shared micromobility for disadvantaged communities means more transportation options which means better access to jobs, more access to physical activity, more opportunities for community building, and more autonomy in how people move around our cities. Prioritizing equity is also important for the overall success of shared micromobility (SMM) systems. Engaging communities, from the start, in expansion efforts means stronger community-based partnerships and more support of systems for the long term.
What's an industry trend you're excited by? 
Electric bikes. More and more systems are replacing traditional pedal bikes with e- assist bikes and it's helping more people see how biking can be a primary mode of transportation. E-bikes further break down barriers to entry for people with a range of physical disabilities and for people who have long distances to travel.
Where do you think there's still work to be done?
We need more integration with public transit systems. It's happening in some places, but we need more of it and I want to see more public funding for SMM and more city staff time set aside for building out robust SMM systems, much like we see in Philadelphia.
What advice would you give to a shared micromobility system just starting out?
Seek to serve those who may be transportation insecure first. Connect with community-based organizations and develop an understanding of the transportation needs of disadvantaged communities. Ask questions; don't make assumptions about how or why people in your town will use bike and scooter share. Involve the community early and often; not only when starting out, but through expansion, and involve them when debating things like pricing.
---
The Better Bike Share Partnership is funded by The JPB Foundation as a collaboration between the City of Philadelphia, the National Association of City Transportation Officials (NACTO), and the PeopleForBikes Foundation to build equitable and replicable bike share systems. Follow us on LinkedIn, Facebook, Twitter, and Instagram, or sign up for our weekly newsletter. Have a question or a story idea? Email kiran@peopleforbikes.org.