Good Co. Bike Club is Bringing New Riders to Bike Share
July 17, 2023
The New York City-based organization is partnering with Citi Bike to lower barriers to bicycling and grow ridership, especially amongst the Black community.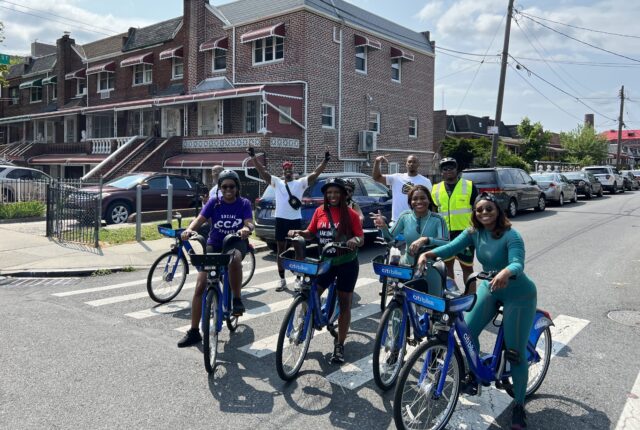 Like many folks during the pandemic, Andrew Bennett started bicycling long distances as a way to stay active and get outdoors. Bennett lives in the Brownsville neighborhood of Brooklyn, but his rides took him well into Manhattan and Queens. He started posting on social media and soon enough, friends began asking if they could join. The first ride Bennett hosted started at the Brooklyn Museum and 17 people attended. The following week, the group had grown to 34.
"Simultaneously, the murder of George Floyd happened, Covid was ongoing, black people were getting killed and there was a lot of civil unrest and protests and things like that — it was just really heavy," says Bennett. "I wanted to do something where we could be together and not have it feel like a protest."
On June 19th, Bennett helped organize a Freedom Ride to celebrate Juneteenth. Some 1,500 people showed up on bikes, ready to have a good time.
"I realized people like to ride and that there are a lot of underrepresented communities that haven't seen people on bikes, haven't seen Black people on bikes," says Bennett. "So from there, we started doing regular bike rides."
The rides revolved around good company coming together to have a good time, and the name Good Co. Bike Club came naturally. As part of the ride, the group started supporting Black, brown, and women-owned restaurants and other businesses, either by stopping mid-route or ending on-site. As its numbers grew, so did those stepping up to help with marketing and content, including Chief Marketing Officer Shari Brown and Chief Creative Officer Marv Marcel. Crucially, a handful of other members stepped up to lead rides. Eventually, Good Co. began partnering with other organizations engaged in bike-friendly projects, including learn-to-ride classes with Bike New York and safe infrastructure work with Transportation Alternatives. 
To keep Good Co. Bike Club focused on group rides, the organization launched a nonprofit arm called Good Co. Cares this past June, which will oversee bike education and bicycle advocacy (and crucially, can take donations). The educational aspect is particularly important to Bennett, who in his day job works as the director of student life at Guttman Community College. Hoping to reach more people and further lower barriers to biking, this summer Good Co. is partnering with Citi Bike, New York City's bike share system, for a series of Saturday rides.
Like most things Good Co. does, the partnership with Citi Bike came about organically. The bike share system maintains a grant program where they allow folks to use partner codes for free Citi Bikes to host different rides — one of Bennett's friends was interested in doing a ride to showcase healthy food options in neighborhoods experiencing food insecurity. That ride transitioned into a series about the healthy benefits of bicycling, coupled with Good Co.'s signature focus on supporting local BIPOC businesses and culture.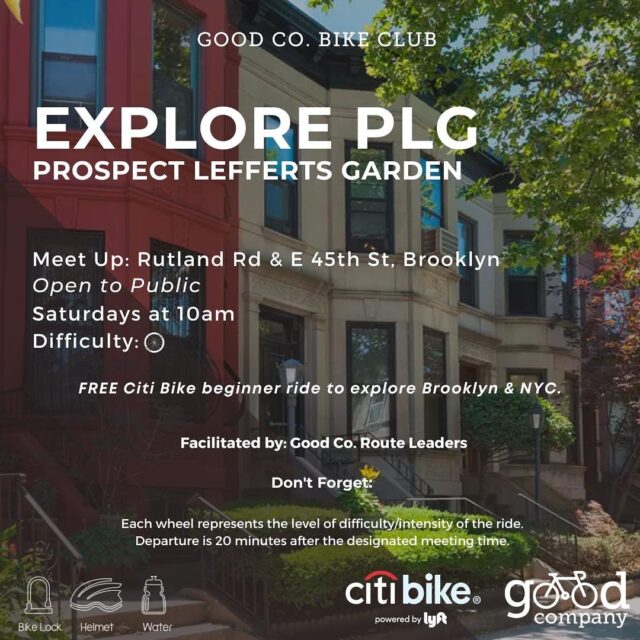 For 16 weeks, riders are invited to meet at 10 am on Rutland Rd and 45th Street in Brooklyn. Made possible thanks to Citi Bike's partnership with Healthfirst, the Good Co. ride is one of five Citi Bike is supporting throughout different New York neighborhoods, all of which are facilitated by a local, BIPOC-led ride club. Unlike Good Co.'s typical rides, which tend to be geared towards intermediate and advanced riders, the Citi Bike partnership is catered to beginners. 
"We don't want to deter anybody or have anybody have a negative first experience, so they're all beginner rides," says Bennett, noting that they'll average 3-4 miles and no longer than 45 minutes. "We also welcome folks who don't know how to ride."
Each ride boasts three captains and if a participant shows up who doesn't know how to bike, a captain will stay behind to offer a one-on-one lesson. Since beginners are unlikely to own their own bikes, Citi Bike has made the bikes available for free, eliminating a major barrier to use. The social, group setting also goes a long way in helping alleviate people's fears and hesitations around riding in New York City (each group ride starts with a safety course on the dos and don'ts of urban bicycling). 
The rides themselves will all be part city tour, part introduction to street cycling, and entirely a good time. 
"Cycling is just the bonus, in my opinion," says Bennett. "It's wellness, it's health, it's community, and it's always a vibe. We just happen to be on bikes."
---
The Better Bike Share Partnership is funded by The JPB Foundation as a collaboration between the City of Philadelphia, the National Association of City Transportation Officials (NACTO), and the PeopleForBikes Foundation to build equitable and replicable bike share systems. Follow us on LinkedIn, Facebook, Twitter, and Instagram, or sign up for our weekly newsletter. Have a question or a story idea? Email kiran@peopleforbikes.org.