Why US Cities Are Rolling Back Shared Mobility Bans
July 3, 2023
An increasing number of U.S. cities that once banned shared bikes and scooters are welcoming the modes back to their streets — and prompting a conversation about why they were ever restricted in the first place.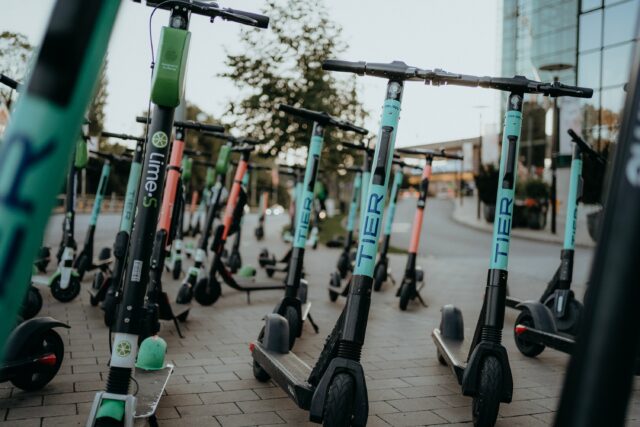 This piece originally appeared on Streetsblog USA, where Kea Wilson is the editor. For some background on this topic, we encourage you to listen to the "Who Gets Hurt When Cities Ban E-Scooters?" episode of Charles Brown's Arrested Mobility podcast, which features Wilson.
A wave of American cities are reversing their controversial decisions to limit the use of shared scooters and bikes — and reframing the conversation about the problems that precipitated the restrictions in the first place. In the final days of May, transportation officials in Dallas announced that they would allow three micromobility providers to resume operations for the first time since September 2020, when the Texas metropolis made the controversial move to shut down its entire scooter- and bike-share program citing vague "public safety concerns."
As the specific nature of those concerns came to light, though, some advocates were disappointed to learn that the city chose to ban a whole mode of transportation rather than enacting progressive safety policies, like installing protected lanes to discourage sidewalk riding or geofencing pedestrian plazas to automatically slow riders down; other complaints, meanwhile, were not traceable to the mode at all, like a deadly August 2020 shooting that the mayor pro tem cited as a factor in the decision, despite the fact that scooters and bikes seemingly weren't involved in the incident at all.
The story is eerily similar to St. Louis, which initiated a seven-month downtown ban on scooters following a drive-by (car) shooting of its own, before allowing the vehicles back for limited hours last January. In other cities, shared mobility operations have been restricted for a universe of other reasons, including reports of impaired riding, underage users, and shared vehicles being left strewn on sidewalks — only to be restored months or years later once they'd implemented common-sense solutions to those problems, like in-app "drunk riding" tests, stricter age control settings, and designated scooter parking. 
According to micromobility provider Lime, Atlanta, Cleveland, Cincinnati, Colorado Springs, Nashville, and Richmond, Virginia have all recently bumped back curfews that prevented residents from riding their vehicles after dark, and Auckland, New Zealand got rid of curfews completely. 
"Anytime you're dealing with a new idea, you tend to be a little more restrictive and conservative, [because it's] something you haven't had a lot of experience with," said Josh Meltzer, Lime's head of public policy and government relations. "And when that's the case, sometimes our knee-jerk reaction could be to overregulate, rather than to find the real cause for concern and take a more deliberate approach. … In the vast majority of cases, it seems that these cities do eventually undo these restrictions." 
Meltzer said that the sheer volume of recent micromobility restriction rollbacks isn't an accident. Providers have been working constantly behind the scenes to help cities understand the impact these policies are having on residents who might not have another way home after the bus stops running, as well on as broader municipal priorities like reducing emissions and vehicle miles traveled. 
"When you think about the ultimate goals of these programs, you want your cities to provide reliable, accessible, affordable transportation options in ways that the existing transportation network doesn't," he added. "And by not allowing, say, third shift workers [to rent shared vehicles] — which could include healthcare workers, hospitality workers, anyone who works late or starts work very early — you're denying a fairly significant part of the workforce a really important and really safe option."
A drunk person, driving at 50 to 70 miles per hour *half on the sidewalk* mows down Nathaniel Stratton, 20, using a scooter in the unprotected bike lane, obviously unsafe. Bloomington's response: SCOOTER CURFEW

insane https://t.co/ttT8dpmpgi pic.twitter.com/xdZUv1TEFk

— Tarn Ohana 🔰 (@Gigawonk) October 12, 2022
At the same time, providers have to be careful not to totally discount communities' concerns about shared bikes and scooters — whether or not those concerns are actually backed by data. Lime, for instance, has created city-specific geo-fenced parking solutions to solve the genuine problem of keeping walkways clear of scooters for pedestrian travel, but it's also challenged other communities to question their assumptions about how limiting scooters and bikes will impact their downtowns. 
In St. Louis, for example, Lime reps say "businesses and hotels asking for [providers] to deploy more e-scooters and establish dedicated parking infrastructure at their establishments" following the rollback of the ban, despite earlier fears that scooter traffic would hurt those same establishments. 
"We want to demonstrate to them that we really do care about their concerns, and if we don't have a tool that we can deploy readily, we're willing to work with them on a bespoke solution that addresses [the problem]," said Meltzer. "We just want to make sure that they're grounded in reality, and that the data supports [their interpretation]." 
Even with data and solutions in hand, Meltzer anticipates that micromobility bans may not be totally in the rearview mirror yet. Paris, famously, voted to enact its own ban on shared scooters in a controversial April vote that only a tiny minority of residents could attend, which he says underscores the importance of advocates speaking up for the mobility future they want for their cities — even if they don't think a scooter or bike ban is imminent. 
"As somebody who's worked in advocacy and in government for a lot of my career, governments tend to hear from opposition a lot more than supporters," Melter added. "When things are going well, when you're happy with the service, you're less likely to raise your voice because you just you're just sort of content. People who support shared mobility programs in their city should definitely let their communities know their elected officials know how much they rely on these services."