Fort Collins Program Will Provide Spin Passes For Free
April 28, 2023
As part of a grant from the Colorado Energy Office, the city will provide micromobility to up to 40 income-qualified residents.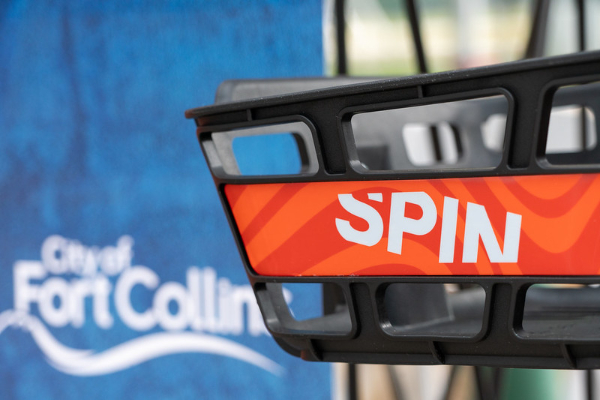 This week, applications closed on a cool initiative from the City of Fort Collins. Dubbed Choose Your Ride, Shift Your Ride, the program will grant income-qualified employees at Colorado State University and city residents either an electric bike or a one- to three-year pass from Spin, the shared micromobility company that operates e-bikes and e-scooters locally. Made possible through a $148,350 grant from the Colorado Energy Office, the program will help up to 40 community members increase their transportation options.
"An e-bike or Spin pass can be much easier for a person than storing, maintaining, and parking their own motor vehicle," says Rachel Ruhlen, a transportation planner with the City's FC Moves department. "And unlike a traditional car, e-bikes, and Spin passes help achieve our climate goals."
To qualify, participants had to be making 80% or less of the area median income and fill out an application that touched on their transportation needs. Those chosen will then get to decide between an e-bike or a Spin pass, the reasoning being that some folks might not have the storage space for a personal bike or the desire to maintain one. No matter what they choose, all individuals will also get the necessary accessories to ride safely. 
Currently, people with low incomes can receive a discount for Spin rentals through the Spin Access program. Removing all cost barriers to access will help ensure that this group of individuals has the ability to embrace alternative forms of transportation and hopefully experience fewer barriers to movement. 
The program is a cool example of how cities are thinking outside the box to help promote transportation justice. A similar program is active in nearby Boulder, Colorado, where the nonprofit organization Community Cycles and Boulder BCycle have partnered to bring free bike share passes to low-income workers, especially those who participate in low-income, affordable, or subsidized programs.
In Portland, Oregon, the Portland Bureau of Transportation (PBOT) runs a Transportation Wallet program, which provides low-income residents with pre-paid cards for people to use on buses, the light rail, Uber and Lyft, or Biketown bike share's fleet of electric bikes. The program, which has been funded by city parking revenue and state gas tax, and vehicle registration fees, has been incredibly successful.
As BBSP Senior Partnerships and Program Manager Tangier Barnes Wright wrote in an op-ed last year, "The ability to move freely and participate in society is a basic right." These government-subsidized programs are small steps towards making guaranteed basic mobility a reality, where everyone — regardless of background or socioeconomic status — has the ability to move freely and access their basic needs. 
Does your city have a program for completely subsidizing shared micromobility for qualifying low-income residents? If so, we'd love to hear about it. Drop a line to kiran@peopleforbikes.org.