There's New Evidence That Bike Share Fosters Physical Activity
November 2, 2022
Researchers at Drexel University studied users of Indego, Philadelphia's bike share system, with promising results.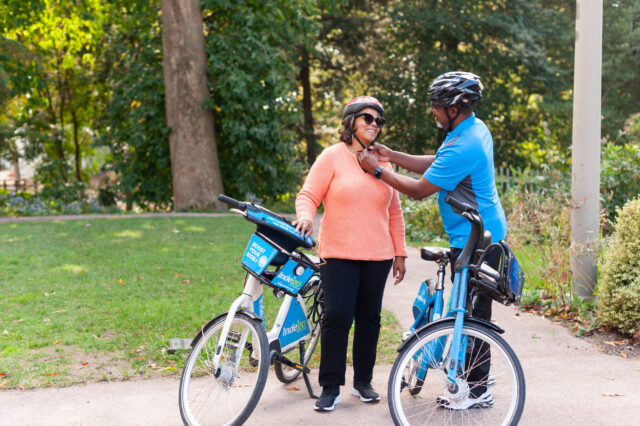 In 2021, a landmark study out of Colorado State University found that, on average, bike share systems are saving the U.S. healthcare system more than $36 million a year. The study also found that bike-sharing trips in the U.S. provide health benefits for bicyclists and that those health benefits are greater than the risks, such as air pollution or injury from cars. Additionally, its authors estimated that U.S. bike share trips resulted in an annual reduction of 4.7 premature deaths and 737 disability-adjusted life years, or years spent living with a health condition such as heart disease, cancer, or diabetes. Bike share, it concluded, is a boon for public health.
A new study, from a team of researchers a Drexel University, supports these findings with data of its own. The study, titled "Changes in Physical Activity After Joining a Bikeshare Program: A Cohort of New Bikeshare Users," found that bike share facilitated increases in bicycling and thus, moderate and vigorous physical activity. Importantly, bike share also showed potential for activating inactive adults.
The study's authors examined 1,031 members of Indego, Philadelphia's bike share system, to determine whether physical activity increased 12 months after joining bike share. From 2015 to 2018, members completed baseline and one-year follow-up surveys online regarding their personal characteristics and past seven-day moderate and vigorous physical activity minutes per week (walking activity was noted separately). In order to objectively assess their bike share use, participants' Indego trips were also monitored. 
"These findings definitely support things we've heard from our riders," says Waffiyyah Murray, Indego Program Manager at the City of Philadelphia. "Riders have told us that physical activity and recreation is one of the main motivators for using Indego — bike share isn't just about transit, it's also about providing access to life-changing resources for both physical and mental health."
Because Indego was specifically designed with an equity focus, researchers also looked at whether the program's benefit was equitably distributed across socio-economic groups and racial and ethnic groups. The findings showed that bike share's effects on personal changes in physical activity were similar for participants of different socio-economic groups and racial and ethnic groups.
Prior to this study, no evaluations assessed within-person changes in overall physical activity in response to joining bike share. For the researchers, that left key questions regarding the health-enhancing potential of bike share programs unanswered. This study filled a gap in that research.
The study concluded that in order to have a larger program impact, all members would need to use bike share more frequently. And for the city to generate a higher uptake and frequency of bike share, safer infrastructure is necessary, as well as initiatives that make bike share more convenient and accessible. Philadelphia is in the midst of a large-scale expansion with plans to extend its service area and double its bike share fleet size by 2026 (including making one-half of its fleet electric bikes). It also has no plans to do away with its equity programs or to scale back its community outreach. All of this will only help ridership and thus, the positive effects it has on activating city residents.
---
The Better Bike Share Partnership is funded by The JPB Foundation as a collaboration between the City of Philadelphia, the National Association of City Transportation Officials (NACTO) and the PeopleForBikes Foundation to build equitable and replicable bike share systems. Follow us on Facebook, Twitter and Instagram or sign up for our weekly newsletter. Got a question or a story idea? Email kiran@peopleforbikes.org.