Does Bike Share Lead to Higher Property Values?
July 29, 2022
A 2022 study highlights how bike share can raise home prices, especially for homeowners that aren't close to subway stations.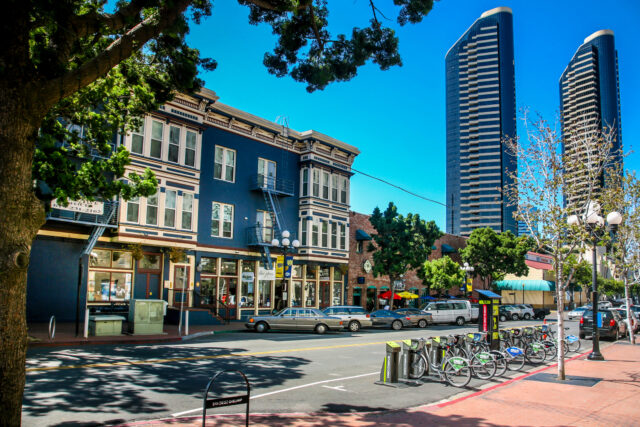 There are so many benefits to bike sharing, from its positive impact on public health and the environment to the ways it can complement public transit and boost local businesses. Of course, for many communities, bike share is also a mark of gentrification, and bike lanes are often linked to the uprooting of BIPOC and low-income communities. 
While there is research that indicates bike lanes don't lead to displacement, that doesn't mean that bike lanes don't lead to gentrification — and in that sense have negative effects on these communities — just that they're not a direct factor in driving folks out. A 2022 study, from researchers at the University of British Columbia's (UBC) Saunder School of Business, highlights how bike share can affect property values, both positively and negatively.
Titled "Does Bike Sharing Increase House Prices? Evidence from Micro-level Data and the Impact of Covid-19," three researchers studied the effects of dockless bike sharing on house prices in Shanghai, China, which was one of the first cities to introduce dockless bike share. The research team used data from before and after the 2016 debut of Meituan Bike (known as Mobike at the time), a brand that represents more than half of Shangai's dockless bike share market. Researchers mapped the intensity of bike share usage according to the neighborhood and examined its relationship to property values, all while controlling for other factors that might affect real estate prices.
Since higher property values have long been tied to proximity to public transit, it stands to reason that bike share — which is often touted as a first-/last-mile solution — would also have an effect on property values. The researchers found that in neighborhoods relatively far from subway stations (at least .75 miles away), house prices increase with the usage intensity of shared bikes. This finding suggests that dockless bike share is truly an extension of public transportation. 
"When people try to decide where to live, whether they're renting or purchasing, one of the decisions is how easy it is for them to get to work and back," says one of the study's co-authors, Professor Anming Zhang, speaking with the UBC Sauder blog. "And when they're more than a kilometer away from a subway station, bike sharing can fill the gap."
On the flip side, however, shared bike usage can also have a negative impact on house prices, although not so much in luxury neighborhoods and those near City Management Teams. The latter are teams sponsored by the government that keep public areas clean and tidy, which includes rearranging shared bikes and regulating the behavior of riders. This finding suggests that the negative effect is related to "bike misplacement," or when bikes are parked improperly or obstruct sidewalks. In a city of upwards of 26 million people, dockless bike share parking can be a chaotic and messy affair, negatively affecting homeowners who live in the mix.
Both the positive and negative price impacts of bike share were significantly amplified during the pandemic. The researchers theorized that this was due to a surge in the popularity of bike share as people socially distance themselves and avoided the subways. 
It's hard to say exactly what these findings mean for the low-income and BIPOC communities that are more likely to be negatively impacted by the gentrification associated with an uptick in biking. In many U.S. cities, white, highly educated, and high-income residents have greater access to public transportation. They also have higher levels of homeownership and household wealth. If bike share can fill in the transit gap in certain neighborhoods, raising home prices in the process, it might help build generational wealth for communities that have long gotten systemically excluded. 
Plus, Asia currently represents about 90% of the dockless bike share market, so there's no direct comparison between this study and U.S. cities. As an industry, however, bike share is only positioned to significantly expand — the overall bike share market is expected to grow 10% per annum and reach $15 billion by 2030 — and it follows that its presence stateside will enlarge accordingly. 
What the study does make clear is that in areas where dockless bikes are well-managed — where there is clearly designated parking and/or companies and city management teams are responsive to complaints — the negative effects are virtually eliminated. As more and more cities look into launching systems or renewing contracts, this information should be top of mind. 
In conclusion, Zhang and his team suggest future researchers estimate the economic value of the environmental benefit of bike sharing. By April 2017, Meituan Bike users had ridden more than 1.5 billion miles, equivalent to a reduction of 540,000 tons of carbon emissions or saving more than 121 million gallons of gasoline. It makes sense that by improving air quality, bike share might also increase local housing prices. 
"Longer term, sustainability and emissions reductions are the way of the future, and bicycles are a sustainable alternative," says Zhang. "They are doing good things for society and perhaps for homeowners."
---
The Better Bike Share Partnership is funded by The JPB Foundation as a collaboration between the City of Philadelphia, the National Association of City Transportation Officials (NACTO) and the PeopleForBikes Foundation to build equitable and replicable bike share systems. Follow us on Facebook, Twitter and Instagram or sign up for our weekly newsletter. Got a question or a story idea? Email kiran@peopleforbikes.org.