Bike Share Returns to Boise
July 15, 2022
A new electric bicycle pilot means that after a two-year hiatus, shared bikes are once again available in the Idaho capital.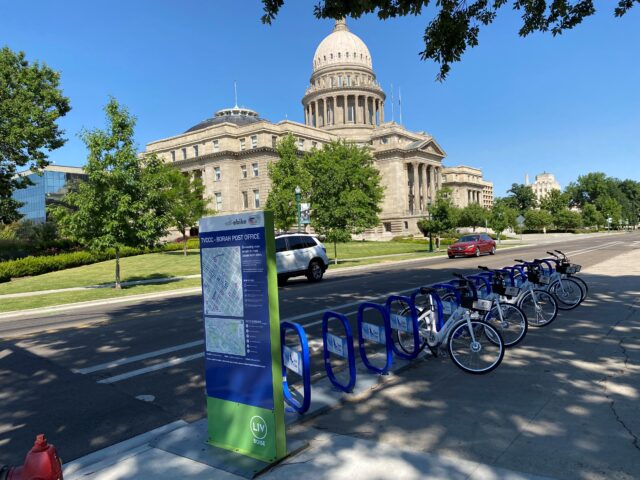 Long before Dave Fotsch worked for Valley Regional Transit, the transit authority in Boise, Idaho, he was a public information officer for the city's health department. A longtime bicyclist, Fotsch was seeing bike share programs launch in Europe and was struck by the clear connection between active transportation and community health. 
"People riding bikes is cleaner than driving a car and it helps people get that 30 minutes of exercise that the CDC recommends each day," says Fotsch, who eventually pitched the idea for a bike share system to his boss. "We put together some grants for Transportation Alternative Program fund monies through the Federal Highway Administration and we got some."
In 2015, Boise GreenBike launched with some 114 bikes — all from Social Bicycles — at 15 hubs, primarily in Boise's downtown area. The system grew slowly to 127 bikes and as it became clear the hub-to-hub model wasn't serving people's needs, customers were allowed to lock their bikes away from the hubs for a fee. The bikes cost $5 an hour for pay-as-you-go, in addition to monthly, annual, and employer-sponsored passes. Although there was no formal low-income program, discounts were offered for students, military personnel, and veterans. 
"We did okay," says Fotsch. "We're in a four-season climate, so we have high ridership in the summer months, and it dwindles to nothing in the winter months."
When COVID-19 hit, the future of Boise GreenBike was already uncertain. First, a disagreement with its title sponsors left the system with only half its operating budget. Additionally, Social Bicycles software was becoming obsolete and as the company changed  (first to Jump before being acquired by Uber), the new owners weren't interested in supporting legacy systems. Then, in an attempt to curb the spread of the virus, the pandemic forced the system to initially cease operations. 
"We shut down for six weeks during the lockdown and ridership, honestly, never recovered," says Fotsch. In September 2020, Boise GreenBike shuttered for good. This week, however, bike share returned to the Idaho capital in the form of a new program dubbed Valle-eBike. 
The pilot, which will run through the end of October, features 50 e-bikes from Drop Mobility, which was selected after Valley Regional Transit put out a request for proposals in 2019. As the old bike share system shut down and Valley Regional Transit went through half a dozen ideas for how to get it back off the ground with little funding, Drop worked with them. Ultimately, the Capital City Development Corporation (CCDC) committed $50,000 to support the launch of the new bike share pilot program and agreed to match the next $50,000 of sponsorships. Drop offered a low-cost lease of the demonstration bikes to generate interest in the new system and attract sponsors for a more extensive system next year.
For the new pilot, it was important to Valley Regional Transit that the bikes be electric. "In 2019 even, it was apparent that that electrification was the direction bike share was going," says Fotsch. "You don't have to be a genius to figure out that people like electric assist."
While the new system has far fewer bikes overall, the e-bikes will vastly expand the area that people will be able to travel to, all while offering greater ease and comfort. When Boise GreenBike shut down, all of the old hubs and stations remained in place and a fraction of them have been converted to accommodate Valle-eBike. Fotsch says that as the new system begins to generate more money through rides and sponsors, old station hubs throughout Boise will continue to be activated and rebranded.
The e-bikes cost $1 to unlock and 15 cents per minute, with day passes available for $8, and monthly passes for $39. Since it's a pilot, annual memberships are not yet a thing. There is an equity program being offered for $4 per month. The station hubs are all located downtown, which Fotsch hopes to change if the pilot becomes permanent and the system expands. 
"With 300 bikes, we'll roll out a more robust equity program and we're going to structure that on what they're doing in New Orleans," says Fotsch, referring to the city's Blue Bikes for All reduced fare bike share program for qualifying residents. Blue Bikes for All is also a Drop system and costs just $4 a month and includes 60 minutes of free ride time per day. "We're going to do something identical to that with our equity program and we will do specific outreach to different communities."
For Fotsch and the folks at Valley Regional Transit, it was always important that bike share sits within the larger public transit agency. Micromobility, after all, is just one more way for folks to get around, and while Bird, Spin, and Lime all operate scooters in the city, none have opted to include bikes. As a public agency with a mission dedicated to moving people, Valley Regional Transit hopes to build back bike share in Boise, ensuring each iteration is better than the last.
---
The Better Bike Share Partnership is funded by The JPB Foundation as a collaboration between the City of Philadelphia, the National Association of City Transportation Officials (NACTO) and the PeopleForBikes Foundation to build equitable and replicable bike share systems. Follow us on Facebook, Twitter and Instagram or sign up for our weekly newsletter. Got a question or a story idea? Email kiran@peopleforbikes.org.