2021 NABSA Conference Submissions Are Open!
April 16, 2021
Plus, the micromobility membership system has launched a new "Advocacy Toolkit."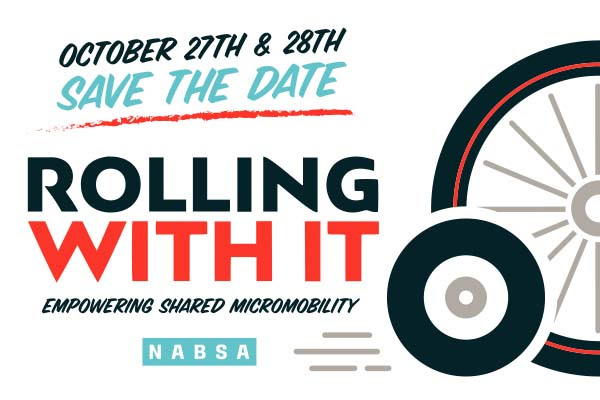 The North American Bikeshare Association (NABSA) is the shared micromobility industry's membership organization, bringing together folks from across the continent to support, promote and enhance public alternatives to traditional transportation. NABSA's 2021 annual conference, "Rolling With It: Empowering Shared Micromobility," will take place virtually on October 27 and 28. Registration isn't yet open, but the organization is currently accepting presentation proposals through Friday, April 30. 
The NABSA Annual Conference is a place for shared micromobility and transportation leaders, practitioners, and equipment providers to come together in order to tackle important issues facing the industry. Is there a timely topic you want to address? A cool marketing initiative or university partnership people could learn from? This time for submissions is an opportunity to share your industry insights and knowledge. Since NABSA aims to showcase a diverse range of people and backgrounds, those whose voices are typically underrepresented are encouraged to apply. 
"NABSA is a nonprofit organization dedicated to providing resources, education, and advocacy for the shared micromobility industry. We create spaces like our Annual Conference for the industry's public, private, and nonprofit sectors to convene and empower each other," said Sam Herr, NABSA executive director. "As our industry evolves, sharing expertise and networking with each other through our conference and NABSA membership plays a vital part in achieving both the goals of the industry and the communities we serve."
In 2019, BBSP and NABSA collaborated on a Workplace Diversity Toolkit and recently, the organization launched an Advocacy Toolkit. The latter contains documents, webinars, and other resources that can help folks when it comes to speaking about the industry, communicating with policy-makers and key stakeholders, and strengthening advocacy efforts. Whether it's a toolkit or the larger conference, the organization's overall goal is to provide resources so that we might band together and create the shared micromobility industry we want to see.
---
The Better Bike Share Partnership is funded by The JPB Foundation as a collaborative between the City of Philadelphia, the National Association of City Transportation Officials (NACTO) and the PeopleForBikes Foundation to build equitable and replicable bike share systems. Follow us on Facebook, Twitter and Instagram or sign up for our weekly newsletter. Got a question or a story idea? Email kiran@peopleforbikes.org.