Q&A: Indego Ambassador Denise Taylor Has Seen It All
August 13, 2019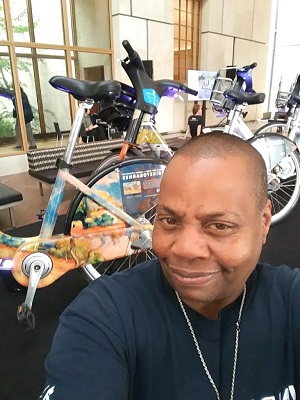 Philadelphia's Indego's Brand Ambassador program was among the first of its kind, leading the way for other bike share systems who now hire community members for outreach and engagement. Today, we have the pleasure of sharing an interview with star ambassador Denise Taylor, who talks about experiences working with Indego.
How long have you been a Brand Ambassador for Indego bike share?
I've been with them since the very beginning, four years ago. I don't look at it as a job, since biking was a hobby from my teen years. It feels like hanging out with family — there are four ambassadors that came on under me. Each year, when the team changes, Indego always seems to find the people that connect best. We work per event.
What are your responsibilities as a Brand Ambassador?
Indego organizes everything. I'm the person who shows up and gives the information to the community, and lets them know how to become a member. We do many different kinds of events — health fairs, community events, and a few block parties in the beginning to get neighborhoods familiar with us. It's always interesting, because I never know what to expect. The community lets us know how we're doing through comments or complaints.
What do you do outside of being a Brand Ambassador?
I'm a grassroots campaign recruiter. I hire people to fundraise for different organizations.
What's changed since Indego and the ambassador program first got started?
When we first started, we were walking blind and doing it as we went along. Now, things are more in place. Indego and the whole Philadelphia team are a big reason for that. The accuracy from the staff is wonderful; they're great at everything. They're the people behind the scenes.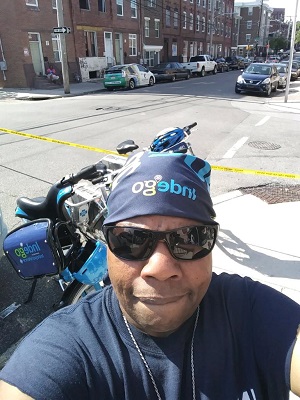 What are a few positive experiences you've had as a Brand Ambassador?
The second year, I was so excited to be involved that I wrote a poem. It got made into a commercial for the Power 99 radio station, and I was really excited about that.
There was also one event we did at 33rd and Diamond, a birthday party. A young man walked up to me and said he didn't know how to work the kiosk. He was on a first date — who would have thought of bike share as a first date? Usually you hear about the transportation or clean air reasons. So, that was special.
What are some remaining challenges?
The community is demanding, so it's hard to keep up with people. People will say, "When are you going to get up to Germantown or so-and-so area?" We try to go all over. Indego originally started from Center City and moved out from there.
What advice do you have for bike share ambassadors in other cities, or people trying to set up an ambassador program?
The first thing is, relax and have fun with it. If you are really about what you're doing, then it doesn't feel like you have to sell anybody anything. You want it to be a fun event with no pressure, but provide information for people.
What's next on your agenda?
I work for the Bicycle Coalition during their season for classes, such as urban riding classes, where you learn the rules of the road. We get into that during the winter to help people who are afraid to get out on the streets.
Sometimes they call me in to do warehouse work or other tasks. If there's anything they need, I'll find a way to get there.
>Download the Indego Brand Ambassador Toolkit here.
The Better Bike Share Partnership is funded by The JPB Foundation as a collaborative between the City of Philadelphia, the Bicycle Coalition of Greater Philadelphia, the National Association of City Transportation Officials (NACTO) and the PeopleForBikes Foundation to build equitable and replicable bike share systems. Follow us on Facebook, Twitter and Instagram or sign up for our weekly newsletter. Story tip? Write stefani@betterbikeshare.org.