Consultant Request for BBSP x NACTO Fellowship: Are You Our Fellowship Navigator?
October 27, 2020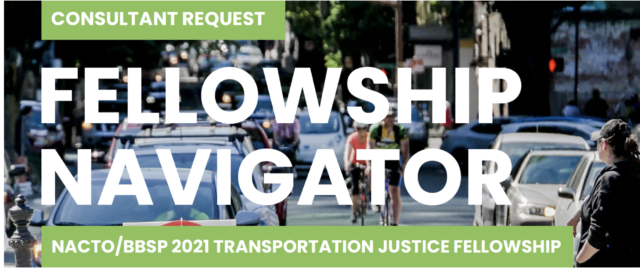 To further amplify the work and profiles of Black, Brown, Indigenous and Person of Color professionals across the transportation sector, the National Association of City Transportation Officials (NACTO) and BBSP have created a fellowship that will expand their networks of equity and social justice-focused peers within the mobility field. In addition to that, participants will have the opportunity to co-strategize on projects, and this fellowship will enhance personal and professional skills.
Here's where you (or someone you know!) come in: To tailor a program curriculum developed by Dr. Destiny Thomas of The Thrivance Group, NACTO seeks a mid-career consultant to implement the Transportation Justice Fellowship.
Here's some of what the navigator will do:
Develop and facilitate agendas, trainings and workshops for 1:1s, affinity group sessions, and project-based learning for virtual convenings.
Research and identify potential community experts, counsel team and practitioners for training and wellness support.
Coordinate coaching and guidance for participants around navigating career development, and personal objectives.
Serve as a resource by advising and coordinating with participants on their professional plans and trajectories. Coordinate with external parties to develop plans of support for participants.
Plus, the ideal candidate will have mentoring experience, facilitation skills and ties to experts on justice for communities of color.
Interested? Check out the full breakdown of requirements here and read this request for proposal to learn more details about the opportunity! The application deadline November 6.
If you have any questions about the Navigator role or Fellowship, please contact Nicole Payne at nicole@nacto.org.
The Better Bike Share Partnership is a JPB Foundation-funded collaboration between the City of Philadelphia, the Bicycle Coalition of Greater Philadelphia, the National Association of City Transportation Officials (NACTO) and the PeopleForBikes Foundation to build equitable and replicable bike share systems. Follow us on Facebook, Twitter and Instagram or sign up for our weekly newsletter. Story tip? Write farrah@peopleforbikes.org