Grantee Stories — How Des Moines and Santa Monica Provided Bike Share in a Pandemic
August 17, 2020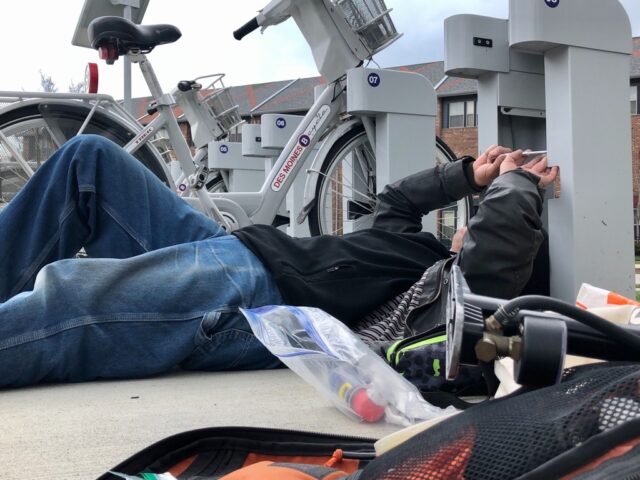 Photo courtesy of Des Moines Street Collective
In May, The PeopleForBikes Foundation (PFB), as part of the Better Bike Share Partnership, made Emergency Response Grants available to nonprofit or city-owned shared mobility operators to support operating or program costs during the COVID-19 pandemic.
The grant was able to support the work of bike share systems in these 13 cities: Boston, MA; Buffalo, NY; Colorado Springs, CO; Des Moines, IA; Detroit, MI; Fort Worth, TX; Houston, TX; Kailua-Kona, HI; Memphis, TN; Omaha, NE; Portland, OR; Pittsburgh, PA; and Santa Monica, CA.
At the height of this virus, many bike share systems were forced to shut down, leaving residents without a safe way to commute. Thankfully, that wasn't the case for every system, including the ones PFB and BBSP were able to support — here are the stories of what they did to serve their community throughout an unprecedented pandemic.
How These Bike Share Systems Served Their Entire Community
Of our 13 grantee recipients, we're covering 2 of them today:
Des Moines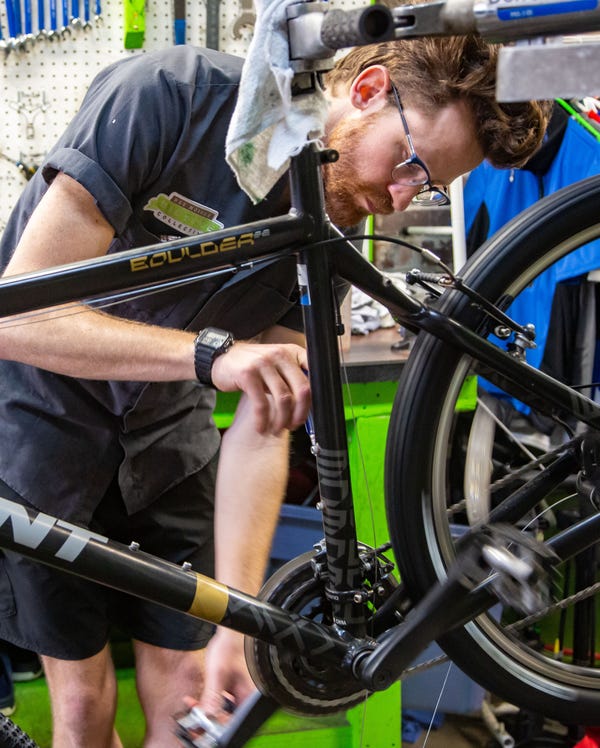 Photo courtesy of Des Moines Street Collective
The Street Collective is a nonprofit organization and community bicycle shop with the mission to champion transportation options that are accessible, safe and enjoyable for everyone.  Having evolved from its roots as the Bicycle Collective, the Street Collective has expanded its reach into walking, bicycling, rolling and riding transit. Their ethos is DIT, or Do-It-Together.
The Collective has over a decade of experience as in advocacy for active transportation, transportation planning and community engagement. And to educate the community, they run programs and classes, developed earn-a-bike programs and bike giveaways to vulnerable populations, and worked directly with diverse populations on empowerment and skill-building.
Currently, BCycle operates in 38 cities throughout the U.S. Having launched in September 2013, Des Moines is the longest-running BCycle operator in the country.
Though limited in their efforts due to minimal investment from the public sector, The Collective's equitable endeavors include:
Offering discounted rates to vulnerable populations
Hosting bike giveaways, earn-a-bike events and women's and youth programming
Providing free bikes to Habitat for Humanity recipients, as well as clients of other social service partners like Iowa Homeless Youth Centers
Providing space and skill development for people to come into The Collective's bike shop and work on a bike for free to earn a bike of their own
Focusing on not only provide a resource but also passing on knowledge that will save Des Moine residents money in the future
Expanding their work with partners like the local Spanish-language radio station La Que Buena and adding videos and resources in other languages to help people access bike share
Throughout COVID-19, Des Moines BCycle remained open to provide access to safe and reliable transportation to the residents in Des Moines.
Throughout the first month, the system offered free rides to anyone for up to 60 minutes, and the team promoted this offer through their public health partners.
"Essential workers are often lower-income workers, and we wanted to make sure they had options. The public bus system was experiencing route reductions and limited service, which left some people without transportation to work or when making essential trips. We also knew that people would be looking for safe ways to get out of the house and recreate. We kept bike share up and running, improved sanitizing procedure, offered free rides to essential workers, and upped our bike giveaway program through our nonprofit partners, such as Iowa Homeless Youth Centers," says Director of Planning and Communications Mike Armstrong.
In a stroke of pandemic luck, at the time, Iowa trailed behind many other states, so Des Moines had not approached peak cases yet. However, BCycle provided free rides to healthcare workers and other key services as needs increased and traditional transit service declined.
"We can't stand back and applaud essential workers without doing everything we can to provide them with the support and resources they need. Transportation is often a barrier in the best of time. Now more than ever people need safe, affordable transportation options for essential trips, as well as joyful ways to stay active and healthy," shares Armstrong.
As far as Breeze's equity efforts are concerned, the City of Santa Monica and Breeze Bike Share have prioritized equity programs and rate structures to ensure Breeze is an accessible transportation service that meets the needs of all users. 
Here are some examples of how this system increases access to low-income communities in Santa Monica specifically:
The Bike Share For All monthly membership provides $5 monthly membership for community members that participate in federal or state income assistance programs.

In partnership with the Community Corp of Santa Monica, Breeze hosted bike safety education classes at nearly all CCSM low-income housing complexes and in the most underserved neighborhood. 

Coordinated with CCSM to enable their annual tenant stipend allowance program to reimburse 90% of the Breeze Bike Share Membership rate, which creates a $5 per year Annual membership for residents of CCSM properties.

Provide multilingual messaging in printed materials
Santa Monica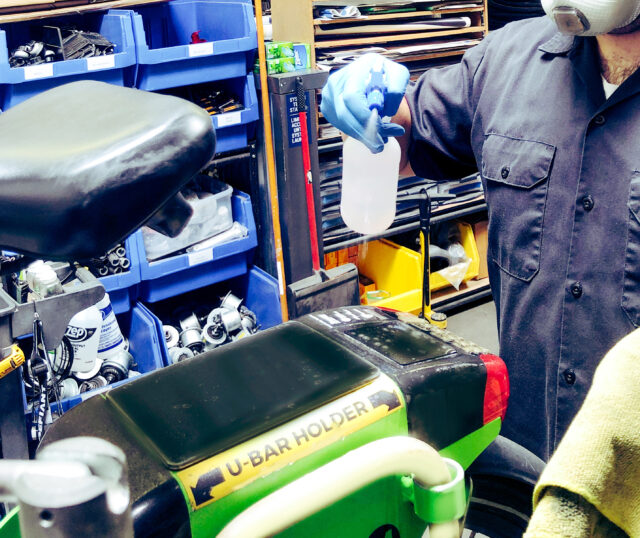 Courtesy of Breeze Bike Share
In 2011, Santa Monica adopted the City's Bike Action Plan, which prioritized the creation of a local and regionally connected bike share system with the mission to:
Reduce vehicle trips and emissions

Encourage broader bicycle ridership

Expand mobility options for people of all socio-economic backgrounds 

Create a first/last-mile connection to the city's new Expo Light Rail

Improve the overall quality of life in Santa Monica
With support from LA Metro and the Air Quality Management District, Santa Monica launched LA County's first bike share system — Breeze Bike Share — in November 2015. 
In 2018, Breeze partnered with local bike share systems in UCLA, Beverly Hills, and West Hollywood through an interoperability agreement to create the Bike Share Connect Regional Network, which gives members access to all the 700 bikes in the regional system with one membership.
The system has offered targeted outreach and education programs and offers special rate programs for students, low-income community members and employers who wish to provide bike share to their employees.
At the start of the pandemic, the City of Santa Monica took quick action to put in place emergency orders that protected community members and businesses from the pandemic's economic fallout and enforced the state and county stay-at-home orders. 
As a part of these actions, the City took decisive steps to ensure that community members and workers continued to have access to safe, affordable and reliable transportation options through this uncertain time for essential trips:
The City waived Big Blue Bus fares and required passengers to enter through rear doors to protect bus drivers. 

To accommodate community members wary of public transit during the pandemic, the City continued to operate the Breeze Bike Share system's full service and provided Pay-as-you-go, Student, Monthly, Bike Share for All (low-income plan) and Annual members with free 90-minute trips with an unlimited number of trips per day through the initial Stay-at-Home order. 

Breeze operations staff increased the daily frequency with which they clean and sanitize the fleet and maintenance vehicles.

Breeze provided appropriate personal protective equipment/cleaning supplies to and staff, encouraged distancing for all maintenance/ field crews and required teleworking for non-maintenance staff. 

While the promotion applies to all riders, Breeze and the City's Transportation Management Organization (TMO) have done targeted outreach to essential industries like health care providers and grocery stores to inform them of the free bike share offerings
"Bike share and bike riding have become a visible mode of exercise and short-distance travel. This can help bolster the City's goals of bicycle infrastructure as a necessity and strengthen the argument for expanding that infrastructure around town," says Kyle Kozar, Breeze Bike Share's Bike Coordinator.
"In a time when economic recovery is on everyone's mind, bicycles may be a fundamental re-building block! While the City encourages people to stay home except for essential trips, we want to continue to provide reliable transportation that will allow people to practice physical distancing like Breeze Bike Share and other shared mobility services through this uncertain time."
Ridership Increases or Decreases
How did COVID-19 affect ridership for these systems? Let's see.
Des Moines
Mike Armstrong, Director of Planning and Communications: Since Iowa's level of severity was significantly lower than many other parts of the country, Armstrong is unsure whether he should pin increases to ridership activity during the pandemic. However, he shared these, figures, which illustrate the significant difference in ridership between this time last year and this year:
April 2019:  122 Versus April 2020:  1108
May 2019:  416 Versus May 2020:  712
Santa Monica
Kyle Kozar, Bike Coordinator: "While we have not seen a spike in ridership in Santa Monica—with March/April 2019 total Breeze trips at 20,051 and March/April 2020 at 7,488, the City recognizes that all trip-making is way down due to the Governor's Executive Order, and the % drop in vehicle trips might even be higher. That being said in recent weeks we have seen a slight uptick in ridership."
COVID Observations
I asked Armstrong and Kozar to share one or two observations about their bike share programs during this experience and how people have responded to them.
Des Moines
Mike Armstrong, Director of Planning and Communications: "We've yet to reach our peak for COVID in Des Moines, but so far we've seen a decent increase in people riding to and from the same station for longer trips. Throughout the pandemic, we've seen massive numbers of people riding for recreation, just trying to get out of the house while social distancing. With several local trails accessible by the bike share system, we've seen our system shift more towards fun rides rather than work rides. This is reinforced by the scope of our system, which is largely downtown. Many essential workers are employed on the fringes and in the suburbs, which is why we also focused on bike giveaways that could provide more freedom."
Santa Monica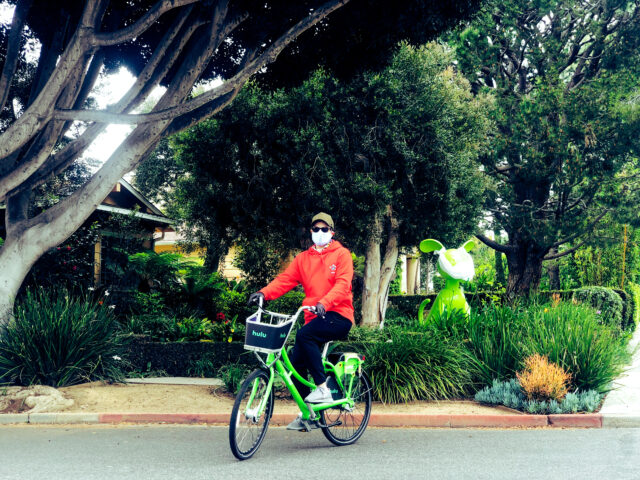 Courtesy of Breeze Bike Share
Kyle Kozar, Bike Coordinator: "The data since the COVID-19 outbreak enveloped the Westside suggests many former members and new sign-ups have turned to Bike Share Connect, specifically, Breeze Bike Share as a reliable transportation option while adhering to personal and mandated safe distancing standards. Our bikes have reemerged as more than just an exercise or casual accessory into an adaptable and irrepressible non-discriminatory option."
— — — — — —
Next up, we're sharing how Memphis served the residents and essential workers in its communities. In the meantime, tell us what you learned from how these cities approached COVID-19! Reach out on Facebook, Twitter and Instagram. 
The Better Bike Share Partnership is a JPB Foundation-funded collaboration between the City of Philadelphia, the Bicycle Coalition of Greater Philadelphia, the National Association of City Transportation Officials (NACTO) and the PeopleForBikes Foundation to build equitable and replicable bike share systems. Follow us on Facebook, Twitter and Instagram or sign up for our weekly newsletter. Story tip? Write farrah@peopleforbikes.org