Grantee Spotlight: Explore Bike Share's Let's Ride It Out Campaign Provided Reduced Bike Share During COVID-19
August 17, 2020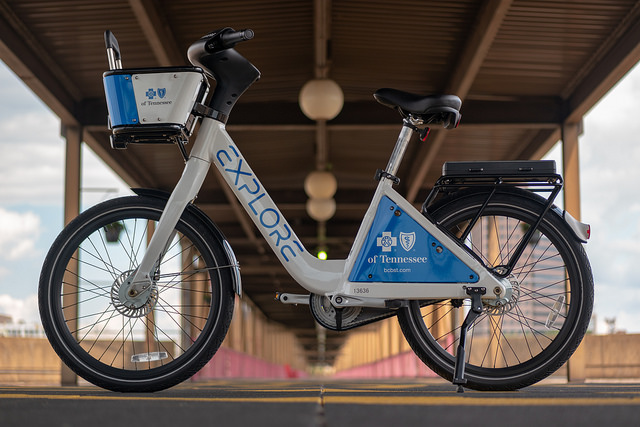 Explore Bike Share
In May, The PeopleForBikes Foundation (PFB), as part of the Better Bike Share Partnership, made Emergency Response Grants available to nonprofit or city-owned shared mobility operators to support operating or program costs during the COVID-19 pandemic.
The grant was able to support the work of bike share systems in these 13 cities: Boston, MA; Buffalo, NY; Colorado Springs, CO; Des Moines, IA; Detroit, MI; Fort Worth, TX; Houston, TX; Kailua-Kona, HI; Memphis, TN; Omaha, NE; Portland, OR; Pittsburgh, PA; and Santa Monica, CA.
At the height of this virus, many bike share systems were forced to shut down, leaving residents without a safe way to commute. Thankfully, that wasn't the case for every system, including the ones PFB and BBSP were able to support — here are the stories of what did they did to serve their community throughout an unprecedented pandemic.
How Memphis Served Its Entire Community
Explore Bike Share (EBS) was established in 2016 to produce measurable impact as a shared mobility system, developed by Memphians for Memphis.
Its mission is to advance Memphis and its residents through affordable and accessible transportation, healthy lifestyles, environment, culture and tourism.
Since the launch of Explore Bike Share in May 2018, these incredible stats have been achieved: 50,000 bike trips have been taken by nearly 20,000 individuals, 6.3 million collective calories have been burned and more than 151,000 pounds of carbon dioxide emissions reduced.
Explore Bike Share has supported numerous neighborhoods in the greater Memphis community, bringing micromobility options to people of all backgrounds.
To support its community through COVID-19, Explore Bike Share provided free bike rides for all healthcare providers, emergency responders and essential service providers as well as the entire community of Memphis. Here's what that looked like:
The Let's Ride It Out campaign was designed to provide an essential transit service for city residents and visitors who continue to commute to work.
EBS also provides a valuable health and wellness resource for those in need of safe, solo exercise, recreation and fresh air.
EBS has suspended all out-of-service fees to allow riders to extend beyond the traditional service area in this time of great need. These benefits are available throughout the city, but perhaps most valuable in the hardest-hit neighborhoods of Orange Mound, South City and South Memphis, where residents are less likely to benefit from stimulus packages and government benefits.
Want to learn more about why bike share is so important in a city like Memphis? Check out these facts:
Memphis has a poverty rate that is over 2.5 times the national average, at 27.8%, with 33.8% of African Americans and 28.8% of Latinos living in poverty — both well above the national average.
63% of South City residents live below the poverty line, with African Americans comprising nearly 75% of its population.
South Memphis, a 78% African American community, has a median income level of $24,563 — that's less than half the median income of the rest of the state of Tennessee.
Orange Mound, a community that is 72.7% African American, experiences poverty at a rate of 34.1%
"This organization, from its inception, has always been about community. We are driven by our mission to serve as an affordable, accessible and available transportation option. In our city's time of need, we're grateful to PeopleForBikes and the Better Bike Share Partnership, who have put us in a position to make this mode of transportation and recreation even more accessible – free of charge. Let's keep healthy as we navigate uncharted waters. Let's ride this out, one day at a time." – Anton Mack, Executive Director
Ridership Increases or Decreases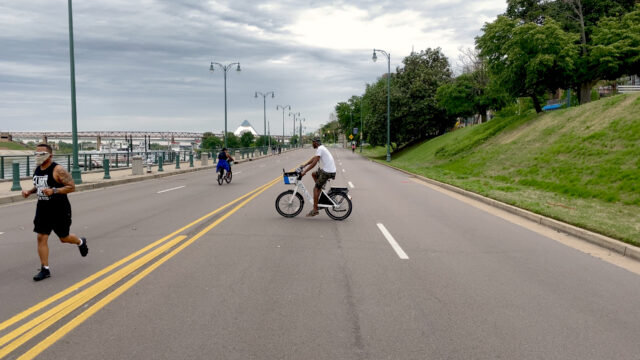 Photo courtesy of Explore Bike Share
How did COVID-19 affect ridership for this system? Let's see.
Michael Sarna, Development Manager: "Since launching the initial campaign in March, Explore Bike Share has seen 1,046 new riders utilizing the system, increasing the growth rate of new users by 285%. In the first month, we saw a 54% increase in check out rates for our top 30 stations in comparison to the previous month alone."
COVID Observations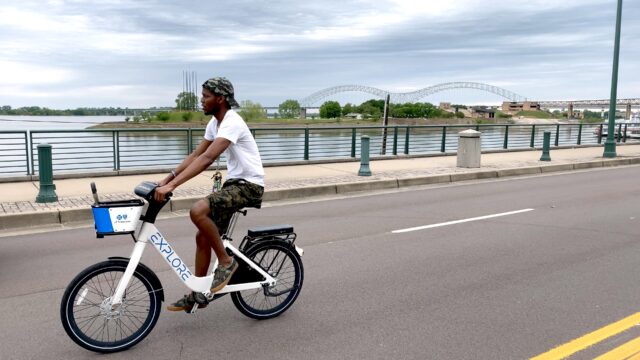 Photo courtesy of Explore Bike Share
I asked Sarna to share one or two observations about his bike share program during this experience and how people have responded to it.
Michael Sarna, Development Manager: "Overall, the reactions to EBS's "Let's Ride This Out" campaign have been overwhelmingly positive. With such an increase in numbers of riders, people are really taking to heart the fact that we are here for Memphis and the community, and are enjoying the system. While Explore Bike Share has been on the ground in Memphis for two years, we think the fact that we have opened the system free of charge [to] people looking for ways to safely socially distance has given Memphians a good "excuse" to try out this system if they have not already.
With the closing of Riverside Drive (the main stretch of roadway along the Mississippi River and the associated Memphis River Park system) to vehicular traffic, it also has given riders a chance to safely traverse some of the city's greatest scenic paths and parks in an entirely new way. Thus far, we have seen substantial use in our parks and green spaces, and are excited about the fact that people are utilizing the resources available to them to stay mentally and physically healthy while the Safer-at-Home order has been in place – we look forward to people continuing to utilize these resources moving forward."
— — — — — —
Next up, we're sharing how Portland served its community residents and essential workers. In the meantime, tell us what you learned from how our grantees have approached COVID-19! Reach out on Facebook, Twitter and Instagram. 
The Better Bike Share Partnership is a JPB Foundation-funded collaboration between the City of Philadelphia, the Bicycle Coalition of Greater Philadelphia, the National Association of City Transportation Officials (NACTO) and the PeopleForBikes Foundation to build equitable and replicable bike share systems. Follow us on Facebook, Twitter and Instagram or sign up for our weekly newsletter. Story tip? Write farrah@peopleforbikes.org