MoGo Detroit Bike Share Expands Across Southeast Michigan
July 7, 2020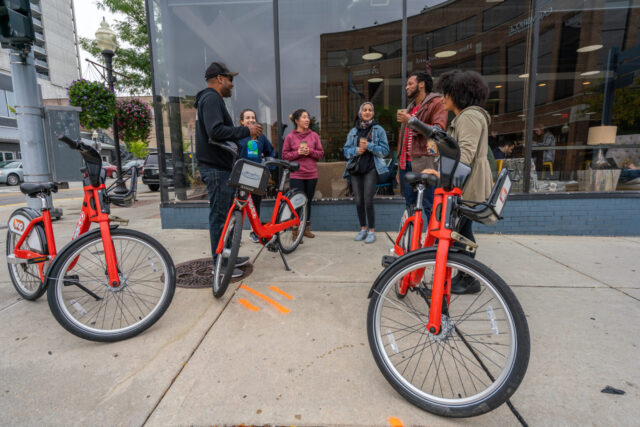 Courtesy of MoGo Bike Share
Detroit's nonprofit bike share system MoGo Bike Share has expanded its service!
On June 4, MoGo added 31 stations and 140 bikes to Livernois and McNichols corridors, and the cities of Ferndale, Royal Oak, Oak Park, Berkley, and Huntington Woods. With this expansion, MoGo now operates a total of 75 stations and 620 bikes in southeast Michigan — a significant jump since it first launched in 2017 with 430 bikes.
A former BBSP recipient, MoGo has been instrumental in providing Detroit residents safe, reliable and equitable access to transportation, leading bike share accessibility work in a city where reports say nearly 25% of people did not have a vehicle in 2017.
MoGo Bike Share
In a press release, Lisa Nuszkowski, founder and executive director of MoGo said:
"We are thrilled to finally offer bike share to additional neighborhoods in the region. The partnerships formed between these communities and MoGo demonstrates the potential we have to work together to solve the many transportation and mobility challenges facing our region."
More than anything, the 29% percent increase in bikes comes at a great time: Despite all the closures of offices and businesses, those without cars who have to travel still rely on public transportation. Because people are in close proximity and COVID-19 can survive on surfaces for up to three days, public transit has posed an added risk for drivers and riders — MoGo's reliable bike share has been a great alternative.
Besides expanding its service, MoGo also announced changes to its passes and pricing, making bike share easier and more convenient:
Access Pass: Pay $5 per year, and receive an unlimited number of 60-minute trips (for people who receive state assistance)
Pay as You Go: Pay $1 to unlock a bike, plus $.25 per minute to ride
Prepaid: Purchase 2 hours of ride time for $18
Monthly Pass: Pay $20 per month, and receive an unlimited number of 60-minute trips
Annual Pass: Pay $90 per year, and receive an unlimited number of 60-minute trips
 MoGo Bike Share
As for COVID-19 the safety precautions they plan to uphold, the press release states:
The Coronavirus pandemic has upended traditional public transportation and ridesharing services as users try to mitigate their exposure to the virus in confined spaces. To help keep riders safe, MoGo and its operating partner, Shift Transit, have added enhanced cleaning procedures to its routine bike and station checks. Handlebars and seats are thoroughly cleaned, as well as docking points, kiosk screens, credit card slots, and receipt dispensers. 
MoGo's team regularly cleans its vans, and any bikes that are in the warehouse for maintenance are thoroughly cleaned before returning to the field. MoGo strongly encourages its riders to wear protective gear such as gloves and masks as appropriate, ride solo or with at least six feet distance between others, and to thoroughly wash their hands after riding.  
Before you go, check out MoGo's video about this exciting new launch:
"As we expand to the Livernois and McNichols corridors in Detroit, as well as the cities of Ferndale, Royal Oak, Oak Park, Berkley, and Huntington Woods, we hope that bike share will continue to connect people and places and serve as a powerful example of what's possible when communities come together to solve the pressing issues facing our region," says Nuszkowski.
Whether you're an essential worker needing to get to your job or you want to hop on a bike to make your voice heard, MoGo can help get you there — check out MoGo's system map to find a list of the stations in Detroit and southern Oakland County.
The Better Bike Share Partnership is a JPB Foundation-funded collaboration between the City of Philadelphia, the Bicycle Coalition of Greater Philadelphia, the National Association of City Transportation Officials (NACTO) and the PeopleForBikes Foundation to build equitable and replicable bike share systems. Follow us on Facebook, Twitter and Instagram or sign up for our weekly newsletter. Story tip? Write farrah@peopleforbikes.org