Equity Program Scan Part 2: Lyft
March 26, 2020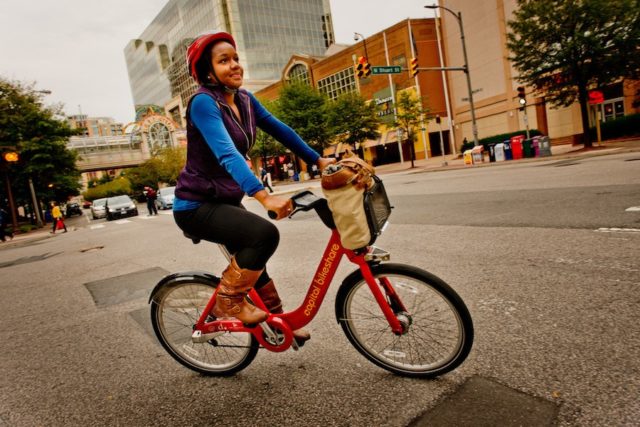 Photo courtesy of Capital Bikeshare
Note: This series does not include a COVID-19 update.
Private companies have long invested significant amounts of stock in the shared micromobility landscape. While the coexistence of traditional and private companies has both ups and downs, is equity compromised by the goal to turn a profit?
In 2017, the Bureau of Transportation reported that households spent an average of $9,737 on transportation. Rural households, on the other hand, spent $10,293 compared to urban household's $9,511. 
The reality is millions of people can't support these skyrocketing transportation costs. Creating accessible and equitable bike share programs means lower-income residents don't have to pay a higher percentage of their income than financially stable people, and don't have to jump through dozens of hoops to access this basic human right. 
Portland State University's Transportation Research and Education Center's (TREC) 2019 research report compared equity-oriented programs across five bike share systems and measured program effectiveness on hiring practices, having electric bicycles, employee training, having an income-based discount, having an adaptive cycle program, and having a cash payment program.
Areas of improvement included marketing campaigns, transit integration, non-English offerings, and service area boundaries.
How might shared micromobilty companies meet some of these standards? In this series of four posts, we lay out the details of the equity-based programs offered by JUMP, Spin, Bird, Lime and Lyft.
In the second part of this series, we'll learn more about how Lyft maintains a commitment to underserved populations in its scooter and bike share operations. 
Q&A With Lyft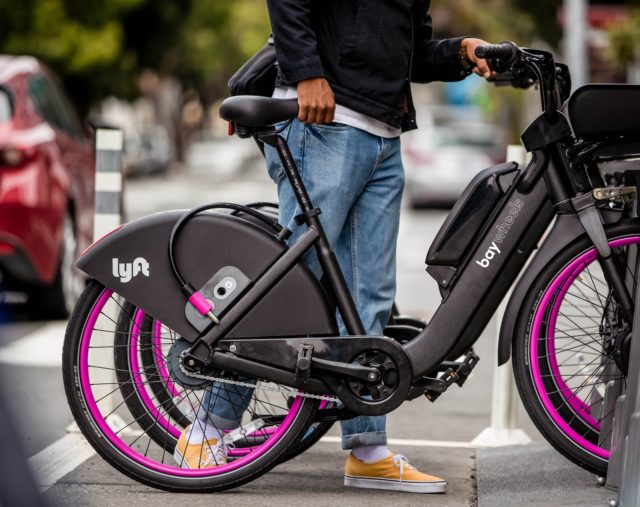 Bay Wheel's hybrid e-bike has a new design and features an innovative locking system. Photo courtesy of Bay Wheels. 
Lyft's Equity and Community Programs Manager Anne Krassner weighed in to help us understand the company's big picture for equity. 
According to Krassner, Lyft sees public-private partnerships, born out practically through long-term contracts with cities, as critical to its success in achieving equity outcomes. "Equity and access hinge on affordability and physical infrastructure," she notes. 
How is Lyft currently prioritizing equity and access?
Lyft is prioritizing equity and access at a local and national level in our shared micromobility systems. As the leading bike share operator in North America with a growing shared scooter fleet, we know we need to both minimize the structural and financial barriers to bike and scooter access at a city-level, as well as leverage our national leadership to bring new attention and funding to shared micromobility as a critical link in the larger public transportation network. 
We are also carrying our standards for reduced fare bike share membership into the shared scooter fleets we manage, standardizing fees and improving the means by which low-income residents can qualify and participate in more affordable scooter rides. With regard to physical infrastructure, we know that access to shared bikes and scooters begins with equitable hardware distribution. Docks are the backbone of our approach to bike share, and Lyft is focused on expanding the network of docks in the cities where we currently operate by expanding several of our largest bike share systems to serve communities more equitably. 
In New York, we are doubling the size of the Citi Bike service area, an increase of 35 square miles, and going from 12,000 to 40,000 bikes, bringing Citi Bike stations to the Bronx for the first time. In Chicago, we are beginning an expansion to bring Divvy to all 50 wards of the city. In the Bay Area, we are in the final stages of expanding to all of San Francisco, adding 4,000 e-bikes to the Bay Wheels fleet, making zooming up those hills easier than ever. These expansions will bring bike share to neighborhoods that have been historically underserved, increasing transportation options in communities that often lack affordable and reliable options. 
We are also working in partnership with cities to identify opportunities to extend the benefits of traditional docks through lighter weight bike parking stations and hubs that can house both scooters and bikes. Nationally, we are partnering with LeBron James, his athlete empowerment company Uninterrupted, and the Y to expand bike share access as part of our LyftUp initiative. Through this partnership, we will be empowering young people by providing free, one-year bike share memberships for Lyft-operated systems across the country. The program will start this spring in New York City (Citi Bike®️), then continue throughout the year with tailored programs
developed in tandem with local partners in Chicago (Divvy) and the Bay Area (Bay Wheels).
How do you plan to improve or make your equity programs more available in 2020?
In 2020, we're expanding access to programs in the cities where we operate bike share through increased investment and partnerships with local community-based organizations that are best equipped to lead local community engagement. For example in Chicago, organizations like the Syrian Community Network and the Coalition for a Better Chinese American Community are leading the way on Divvy for Everyone outreach and related activities like bike rides in their communities. 
We are increasing access to our bike and scooter share systems in five key ways:
Standardizing membership options across bikes and scooters

Making the registration process clear and easy

Expanding payment options

Investing in local partnerships so that community-based organizations can house sign-up locations and resource centers

Increasing bike share access for young people through LyftUp
How many people access your equity programs / what are the top markets?
We currently have over 13,700 people signed up for our equity programs across all of our
bike share and scooter markets. Together these members took over one million trips in 2019. Ourlargest programs are the Bay Wheels Bike Share for All program in the Bay Area and the Citi Bike Reduced Fare Bike Share program, presented by Healthfirst, in New York City.
In the Bay Area, we set out with our regional partners to build a bike share system whose ridership reflected the residents' demographics of the region. In the Bay, 20% of residents are low income, and 24% of our Bay Wheels members participate in our Bike Share for All program for low-income residents. This reflects the impact of our public-private partnership in achieving ambitious equity goals, and the significant role that community-based partners like Transform have had in expanding access at the community level month after month, year after year.
How does Lyft address diversity in the workplace?
At Lyft, inclusion and diversity are at the core of how we make decisions, how we build out teams, and how we serve our communities. A key part of that means making Lyft's culture of inclusion feel real, where everyone belongs, no matter who they are or what they look like. In the past year, Lyft has quadrupled the size of our Diversity and Inclusion team to better integrate our strategy into our talent processes, educate Lyft leaders, and understand the needs of our workforce. Some of what we've accomplished so far includes:
Established partnerships with Historically Black Colleges and Universities to help level the playing field by ensuring those students have a clear path toward employment at Lyft.

Piloted programs, where student job seekers from diverse communities train with hiring managers on software engineer interviews for technical roles, and where hiring managers and recruiters join together to take "second looks" at prospects.

Conducted an annual third-party pay equity audit to ensure that our pay philosophy and practices transcend race and gender.

Developed unconscious bias training for employees and managers, including mandatory training for those conducting job interviews.
At the local level, we believe that diverse, local perspectives are critical in successfully executing our mission and vision. Our bike share operations across the United States typically partner with local workforce organizations to recruit staff, with an emphasis on minority and women-owned businesses. These hiring practices have translated into real results in our bike share systems. For example, the below statistics reflect the hiring and workforce outcomes of our efforts in our Divvy operations:
86% Chicago residents

64% Black/Latino

10% veterans
Additionally, we have partnered with Blackstone Bikes, West Town Bikes and the SAFER Foundation to launch a bike mechanic bootcamp — an effort to empower recently incarcerated individuals and people from marginalized communities with the core job skills to staff our operations and mechanics programs. We will continue to raise the bar for inclusion and diversity, and we recognize that there is always more work to do. You can see our most recent Inclusion and Diversity Report for more details on our holistic approach.
Bike Share for All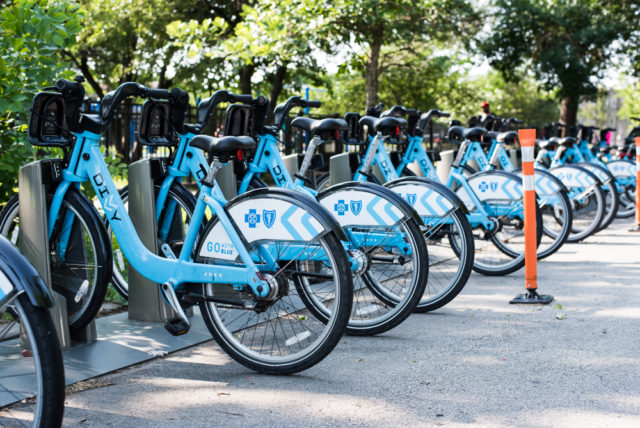 Photo by Max Herman
Lyft's reduced fare programs can be found in seven states, though they operate under different names:
Bay Wheel's Bike Share for All in California

BIKETOWN's BIKETOWNfor All in Oregon
Blue Bikes' income-eligible program in Massachusetts

Capital Bikeshare's Capital Bike Share for All in Washington D.C. 

Citi Bike's Reduced Fare Bike Share presented by Healthfirst in New York

Divvy's Divvy for Everyone in Illinois

Nice Ride's Nice Ride for All in Minnesota
The details of Lyft's reduced fare bike share program are listed below:
Cities
Cost
Cash payment
Qualifications

Bay area (SF, San Jose, or the East Bay)

$5/first year ($5/month after) for unlimited 60 minute-trips — $3 for each additional 15 minutes

Ebike rides are $0.05/minute with the cap of $1

Yes 

18 and older 

Calfresh

SFMTA Lifeline Pass

PG&E CARE utility discount

Boston (

Brookline, Cambridge, Everett, Somerville)

$5 for 30 days or $50/year for unlimited trips up to 60 minutes — $2 for each additional 30 minutes

No

Supplemental Nutrition Assistance Program (SNAP)

Free or Reduced Lunch*

Low Income Home Energy Assistance Program (LIHEAP)

Section 8
MassHealth
Pell Grants
Public Housing
SSI/SSDI

Women Infants, and Children (WIC)

Chicago (and Evanston)

$5/year for unlimited 60-minute trips — $3 for each additional 30 minutes

Tiered yearly enrollment costs to support the 4th-year transition to $75 annual membership

Yes

16 and older with an annual household income at or below 300% of the Federal Poverty Level

SNAP

WIC

LIHEAP

Public housing assistance

Metro DC (Washington DC; Arlington, VA; Alexandria, VA; Prince George's County, MD; Fairfax County, VA; and Montgomery County)

$5 annual membership for unlimited 60-minute trips — tiered overage fee structure
No additional charge for e-bikes.
$0 for Montgomery County residents who qualify.

Yes

18 and older 

SNAP

WIC

Temporary Assistance to Needy Families (TANF)

SSI/SSDI Supplemental Security Income

LIHEAP

Medicaid

Minneapolis

$5/month for unlimited 60-minute trips —$2 for each additional 30 minutes

No
SNAP and TAP recipients

New York City (Manhattan, Brooklyn, Queens and Jersey City)

$5/month for unlimited trips up to 45 minutes 

$0.15/minute for each additional minute

$0.10/minute for e-bike rides — capped at $2 for rides 45 minutes or less that start or end outside Manhattan.

No

New York City Housing (NYCHA) residents

Jersey City Housing Authority residents

SNAP recipients

Portland
The f

irst month is free, then $3/month for up to 90 minutes of ride time per day

Yes

Oregon Trail Card Holder

Affordable housing resident

Utility assistance

Other social services
Scooters part of Lyft's Community Pass reduced fare program can be found in these cities:
Cities
Cost
Cash Payment
Qualifications

Austin, Denver, Los Angeles, Miami, Minneapolis, San Diego, Santa Monica, UCLA

$5/month plus $0.05 per minute of ride time

No

Residents ages 18 and older

Medicaid

SNAP

the Low-Income Fare is Easy (LIFE) program

a discounted utility bill

Oakland, San Jose, Washington D.C.

$5/month for unlimited trips up to 30 minutes

No

Residents ages 18

Medicaid

SNAP

the LIFE program

a discounted utility bill.
The next company we're looking at is Lime! Stay tuned for the upcoming post. 
In the meantime, share your thoughts with us on Facebook, Twitter and Instagram. Missed the other articles in the series? Catch up here:
The Better Bike Share Partnership is a JPB Foundation-funded collaboration between the City of Philadelphia, the Bicycle Coalition of Greater Philadelphia, the National Association of City Transportation Officials (NACTO) and the PeopleForBikes Foundation to build equitable and replicable bike share systems. Follow us on Facebook, Twitter and Instagram or sign up for our weekly newsletter. Story tip? Write farrah@peopleforbikes.org