Q&A: Estevan Fernandez of Indego shares his marketing journey
August 29, 2018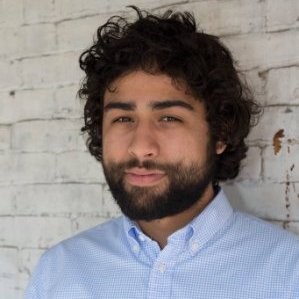 We're always thrilled when new talent joins or moves up on the Better Bike Share team.
Estevan Fernandez is the marketing manager for Indego bike share, and he recently shared a bit about his journey from customer service into management, as well as why bike share equity matters to him.
How did you get your start in bike share, and what were your previous positions with Bicycle Transit Systems?
I remember seeing the docks and bikes hitting the ground when Indego first launched in Philadelphia. At the time I had been organizing the Full Moon Bike Ride. I was adamant about working with the bike community. I found out about a bilingual customer service representative position, and when I applied they offered me the job.
This was when we were still really small. There was a lot of building the plane while we were taking off. From there I made my way to being a dispatcher, freelancer, marketing coordinator, and finally marketing manager starting in May of this year.
What are some of your day-to-day responsibilities as Indego marketing manager?
An example from my day is that we work with a team of brand ambassadors. We recognized that they had a strong skill set that went outside of just events. The question was how can we leverage their talents? We have one brand ambassador who we work closely with to make sure our communications channels are in an Indego voice. We want people to know that we're not just a robotic computer service announcement. There are actual, real Philadelphians behind the wall.
Some of my work is ensuring that our brand ambassadors are working to keep our social media fresh and up-to-date, promoting rides and classes, announcing events and rides we'll be at, and highlighting partnerships. They let folks know where to go with Indego, especially for those who are a little on the fence about where to ride. For example, I live in North Philly and I don't really leave. People sometimes don't know what's in South Philly or other parts of the city. It's important to highlight the beauty of our communities.
Other tasks include making sure our newsletter comes out and that blog articles are getting posted. We have various sales initiatives, and we're developing a corporate relations program, as well as a bike-friendly business network. We also have a bulk sales department which provides single-use day passes, such as if a hotel wants to purchase 300 day passes at once.
Then there are the Better Bike Share initiatives. We organize with the Bicycle Coalition to see if we have enough staff to support their upcoming events. Sometimes that means ensuring that all rides are being posted and shared out. The City does a really great job of trying to work with communities we haven't worked with before. We want to make sure that if they don't have a station yet we're hearing them out. We're working with them to make sure that they're heard.
Why is equity in bike sharing important to you?
I am Latino. We weren't the wealthiest family, so to me it really resonated because public transportation was a really important resource. I understood how impactful it can be. I was always taking the train. I never got a license until I was 25. There is so much potential of cycling as a resource. It's more than just a bike. Biking pushed me out of my comfort zone and empowered me to do more. That's the reason I felt so passionate about working with Indego. That freedom that cycling gave me, I wanted to give that back. I wanted to highlight that for people in similar situations.
When I started on the marketing team it was just me and Kiera Smalls. Her mentorship was one of the reasons I was able to grow in this role. She was one of the biggest advocates for what we do, and she ingrained in me the importance of the work. In this position, it's important to think about the people we can reach and the impact we can have.
The value is seeing people who haven't ridden in years who can now finally make it to their appointments or to see family. Every audience is different. Not every person of color is low-income and not every low-income person is of color. Those kinds of takeaways really stuck with me. That's why when Kiera left I threw my hat in the ring for the position. I wanted to see the institution that she built continue to grow. I believe I have a clear idea of that institution, of how we keep growing.
What do you like the most about your position?
I've realized how important it is to work with the City and our partners like the Bicycle Coalition. None of us can work in a silo. All of the work that we're doing is only successful because we work so tightly together. It can be a lot to juggle, but we've learned a lot. Trying to track our efforts and measure our own success, that's been the biggest role for me personally.
One question is how do we define success? It's not as easy as just having a bottom line. There's an unspoken value in community engagement. We are working to create clear deliverables and define these processes. It's interesting to look back at our efforts and see how can we grow from this. That's just as important as doing the work, and that surprised me. That's the beauty of the BBSP, I'm not alone in this.
What is the biggest challenge?

One of our biggest challenges or goals is how to work with communities that would benefit the most from bike share but just don't have it yet. The BBSP team does great job of building engagement in those communities, and then it is all the more rewarding when we expand into their areas.
Anything else you'd like to share?
Back to the why bike share question. My bike share mantra is that bike share is leaving the world a little bit better than we found it. It's connecting people to resources that they didn't know they had. It's empowering people. Sometimes communities can feel really isolated; they might have felt overlooked or underfunded. Through connection I feel maybe I've highlighted a resource for someone that they didn't know was there.
I'm really impressed and blown away by City of Philadelphia's commitment to the equity work. It's ingrained into everything we do. It's one of the most progressive places because it's part of their process through and through.
The Better Bike Share Partnership is funded by The JPB Foundation as a collaborative between the City of Philadelphia, the Bicycle Coalition of Greater Philadelphia, the National Association of City Transportation Officials (NACTO) and the PeopleForBikes Foundation to build equitable and replicable bike share systems. Follow us on Facebook, Twitter and Instagram or sign up for our weekly newsletter.