Q&A: Seattle's private bike shares are affordable. Does that make them equitable?
October 24, 2017
Post by Stefani Cox, BetterBikeShare.org, and Michael Andersen, PlacesForBikes.

Welcome back to our series investigating Seattle's new dockless bike share systems through interviews with on-the-ground practitioners.
We talked with Tom Fucoloro to understand how he views the newest form of bike share in the city. Fucoloro is the founder and editor of Seattle Bike Blog, an independent news source that seeks to get more Seattle residents biking. He's written about the new bike share systems, and taken a crack at analysis of some of the first data reports.
Fucoloro is also impressed by how well he feels they've been working so far — starting with the fact that, at least for now, these venture-capital-funded systems have managed to offer a price that lots of people seem to like.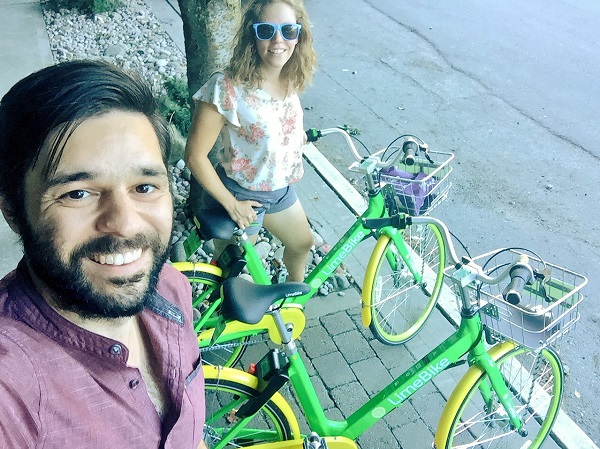 Tom Fucoloro, trying out dockless bike share.

What is the current climate for dockless bike share systems in Seattle?
This thing has been absolutely fascinating to watch unfold. It hasn't been perfect, but the benefits are enormous, and they run deeper than I was expecting in some ways. Making bike share $1 to access has dramatically opened up the number of people who give it a try. Those people were never going to spend eight dollars to use bike share for a day.
You see people biking who look uneasy or unsteady. They're not already regular bikers — they're wobbling and such. This is a bike trip that wouldn't happen otherwise. I've also seen a lot of teenagers using the bikes. It's become popular to ride in packs around town. I'm assuming that they are kids where their parents signed them up. It's been really cool to see people in general ride in groups now. Sometimes, a couple of people have their own bikes, and a couple of people need bike share bikes. Now you just all bike together.
Where are the bikes being used?
What's really cool is that it's pretty popular in Rainier Valley, a somewhat lower density, more diverse neighborhood. A lot of the previous bike share plans had written it off, whereas the dockless companies launched with the boundary of Seattle city limits from day one.
They dropped the bikes in or around the center city and downtown. The bikes just kind of went where they were going to go. They started collecting around light rail lines; people are clearly using them to get home. The major business districts in the Rainier Valley are sort of an awkward distance from transit sites. You can walk that for sure but it's faster to bike it. It's cool to see where this might be successful.
There is also a huge amount of use in the Industrial District, SoDo. There's almost no homes and the bike lanes are horrible, but there are a bunch of jobs there. Of course it would be used to get there — here's this new, convenient, and cheap option.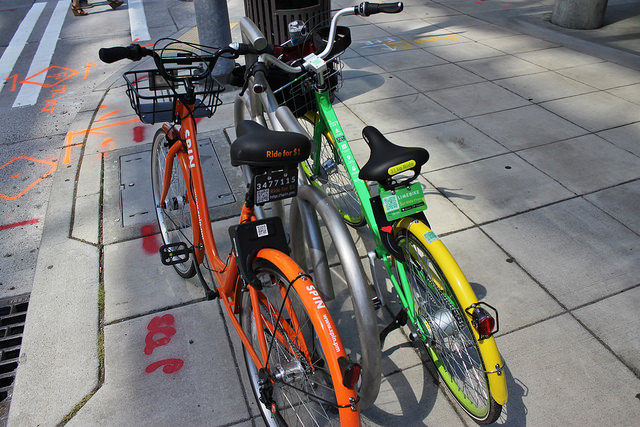 Source: SounderBruce via Flickr.

Are there requirements that will help low-income individuals access the bikes?
For the pilot permit, the equity rules were mostly about servicing parts of the city that were statistically underserved. There was no rule in the pilot about low-income passes, but Spin and LimeBike have gone out and done them on their own. They want to do the right thing, and to have more rides. The user base is more important to them right now than income.
Spin has a really cool program that's not fully up and running yet, where you can access a bike through text message. You can buy prepaid cards with a code on them through Bikeworks, a nonprofit bike shop in Rainier Valley. You can use cash or card, and if you show them you have a low-income transit pass, you can get half off the card. The next step is to make this a really serious widespread thing, figuring out how to get the cards to wider retailers. A lot of people have old phones and want to use this service, even if they're not low-income. I would love for in the permanent permit to have those kinds of requirements more spelled out. Seattle is in an affordability crisis right now, with no relief.
Do you think dockless bike share will be able to serve low-income residents and residents of color better than fixed-dock bike share was able to?
It would be hard to say that it would inherently serve low-income people better. A lot of the lower cost housing is more spread out. Those areas were never going to get a bike share station. This system does serve those places better. If you take a bike to your house [on the outskirts], odds are that it would be there in the morning.
On the other hand, maybe a dock-based system would serve public housing better because it could be more consistently available, especially if paired with proper partnerships, and especially if up a hill. Ultimately just depends on where people are living. And there is something to say about having a public system that doesn't go away. But, the dockless systems are already serving so many more people of all income levels than Pronto had planned in its most ambitious scenarios, so it's almost hard to compare.
Do you think dockless bike share has a sustainable business model?
I have no idea. This whole thing has been exceeding my expectations in so many ways. I've been having to take a step back and question some of my assumptions. The business model pencils out at a huge scale. They want to get a measurable percentage of all trips under three miles. If they can reach that, it's an enormous amount of money to be captured. They're competing with Uber and Lyft very hard on price.
On the other hand, it is definitely flying high on a dream right now. They are aiming for a goal that is way beyond where they are now, and beyond where people would normally think they can get. There is both a lot of risk and potential profit.
There's been a lot of concern about bikes being parked in the middle of the sidewalk or other obstructing or out-of-the way places. In your opinion, how much of a problem has that been?
There are definitely people who get annoyed by it, and if it got out of control it could be very bad. But there is a huge number of trips, and the vast majority are being parked responsibly and out of the way. I encourage the my readers to move bikes that are in the way. Because they're not locked to anything, that eases some of the frustration. You can move them easily. When they are parked in front of a curb cut, that's a problem. If you had a mobility issue that required you to use the ramp, then you might not be able to use the ramp. It's not perfect, but it's yet to be shown as a huge problem.
Ultimately what the city needs to do is place a lot more on-street bike corrals. Create a better place for bikes to be, and people will go out of their way to put them where they should go.
What about redistribution of bikes? How does that work?
The companies bring bikes out gradually over time. They drop the bikes in purposeful locations — if too many get gathered in one spot they will go gather them and redistribute them. People who live at the tops of hills are frustrated because there are never bikes there. It's frustrating for people who had gotten used to the Pronto system. Redistribution might make sense for high density neighborhoods uphill.
How is the quality of the bikes? Can the city require that they are maintained?
Both companies have had issues with their bikes. They're both startups and they've never done this before. It's essentially bugs in the system. I would be worried if they didn't fix them. People gave them the feedback, and within a week of launching they had already announced upgrades to the bikes.
However, these are tech companies more than bike companies. As time goes on, they are going to have to become bike companies more. Every bike needs maintenance.
Can cities use the data to gain insights on where people bike and on network connectivity?
One of the conditions in the pilot permit is data submission. The companies share anonymized trip data, including actual GPS tracking of the route cyclists take. It's a very granular level of data. The City is trying not to make the same mistake as with Uber, Lyft, and other app taxis, where there were lax rules and data. Now we have no idea about [related] traffic. In some ways it's funny that the bike share permits have way more rules than the carshare permits, but I'm glad they are doing it.
We learned that Kyle Rowe (formerly a strategic advisor on bike share for Seattle DOT) recently left the City to work for Spin. Do you have any thoughts about whether the connections between Spin and the City might influence local permitting and policies for dockless bike share?
He was quite a pickup by Spin. I was shocked when I heard he was joining them. Kyle probably is more responsible than anyone else for Seattle's role in kicking this free-floating bike share thing off. He was also put in charge of Seattle's abandoned Pronto expansion, but the writing was on the wall for that effort before he ever started working on it. So his bike share career went up, crashed to the ground, then exploded up again all in less than a year. Pretty wild.
It's always a bit uneasy when people go between public and private sectors, but it happens a lot. I haven't heard of any improprieties surrounding his move.
[UPDATE 10/24/17 12:23pm: Kyle Rowe has informed us that under Seattle's ethics policy, he won't be working directly with Seattle bike sharing or communicating with SDOT for at least the next year of his work with Spin.]
Qs & As edited. Stay tuned for the last post in this series: a conversation with Gordon Padelford, the executive director of Seattle Neighborhood Greenways, and don't forget to take a look at our first post with Seattle DOT Communications Director, Mafara Hobson.
The Better Bike Share Partnership is funded by The JPB Foundation as a collaborative between the City of Philadelphia, the Bicycle Coalition of Greater Philadelphia, the National Association of City Transportation Officials (NACTO) and the PeopleForBikes Foundation to build equitable and replicable bike share systems. Follow us on Facebook, Twitter and Instagram or sign up for our weekly newsletter. Story tip? Write stefani@betterbikeshare.org.
Save
Save
Save
Save
Save
Save