Why bike share and open streets should partner up
May 2, 2017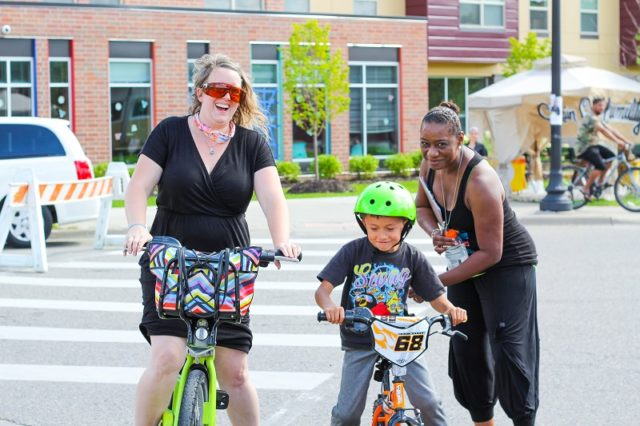 Source: Nice Ride Minnesota.
Bike share staff and partners are always seeking new methods of drawing in diverse members, and open streets events are a big opportunity for bike share to make a splash.
In Atlanta, bike share and open streets work well together, since the main organizer of Atlanta Streets Alive is the Atlanta Bicycle Coalition, a primary community-based partner of Relay Bike Share. Atlanta Streets Alive happens three to four times a year.
Minneapolis has a series of seven to eight open streets events per year that provide an opportunity to showcase bike share. In 2015 alone, Open Streets Minneapolis saw 90,000 visitors across its several event days, and each open streets event can run two to three miles long.
Getting new users on bike share
One of the biggest benefits to featuring bike share at open streets events is that it introduces bike share to individuals who may not yet have tried it out.
At Atlanta Streets Alive, bike share operator CycleHop has used virtual hubs, where interested community members could try out Relay bikes within a specific radius.
"It was a really good fit for us," says Rebecca Serna, executive director of the Atlanta Bicycle Coalition. "It met a key goal of our initiative — introduce people who don't usually bike [to biking]."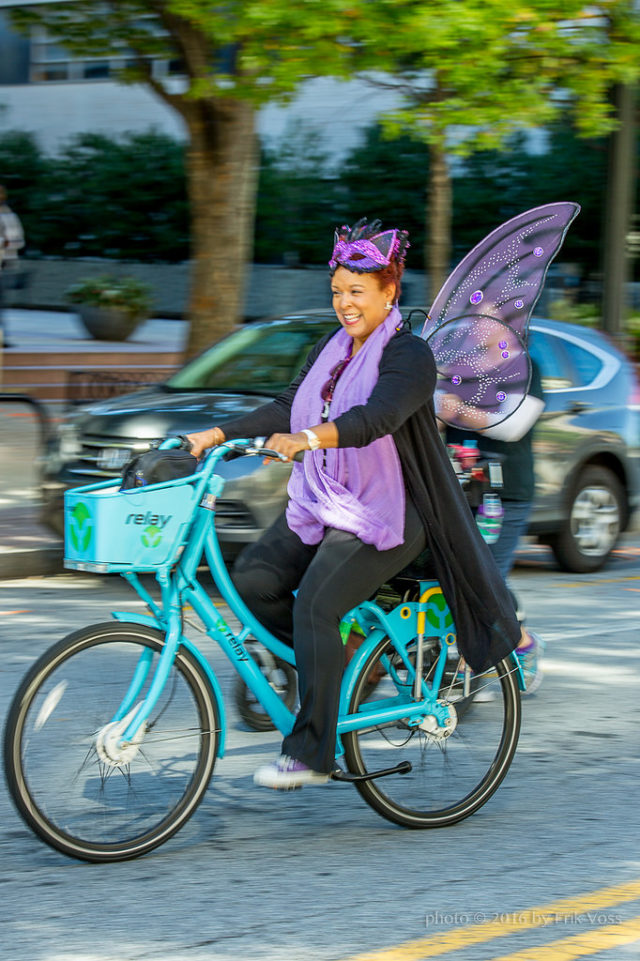 Source: Erik Voss and the Atlanta Bicycle Coalition.
In Minneapolis, bike share staff and outreach partners also work hard to connect with residents at open streets events. The Nice Ride Minnesota bike share system is an essential sponsor of the 2017 events, and each route includes at least one bike share station in its path.
"We do our best to be at the station that is on the route," says Tina Cho, Access Manager for Nice Ride Minnesota. "We set up a booth, talk to folks, and usually have a promotion, like a half-off month. We interact with the customers — if people don't know about Nice Ride we'll educate them."
Cho emphasizes the importance of having demonstration bikes for passersby to try out. She says that in Minneapolis and St. Paul, biking isn't necessarily the first mode of transportation that residents think about. "You have to actually show people. It's just a matter of getting people on it," says Cho.
Overall, being out at a large community event like open streets allows for raising brand awareness, letting people try the bikes in a safe environment, and connecting with a wide cross-section of the community, including families.
Approaching open streets through partnership
Open streets events also provide an opportunity to build partnerships between bike share and other community organizations.
Serna shares, for example, how the organization BRAG Dream Team creates bike teams with grade school students who end up kicking off Atlanta Streets Alive with a bike parade. BRAG Dream Team also partners with the Atlanta Bike Champions on outreach activities. "A couple of Champions have taken on school outreach as something they want to work on," says Serna.
Cho explains how partnerships play a role in Open Streets Minneapolis. "Last year, we had community garden tours using bike share bikes and leaving from our open streets stations." She says the tours helped highlight community work in urban farming, as well as solidify partnerships between bike share and local organizations.
These examples show just a few of the opportunities for building community partnerships with open streets as a focal point.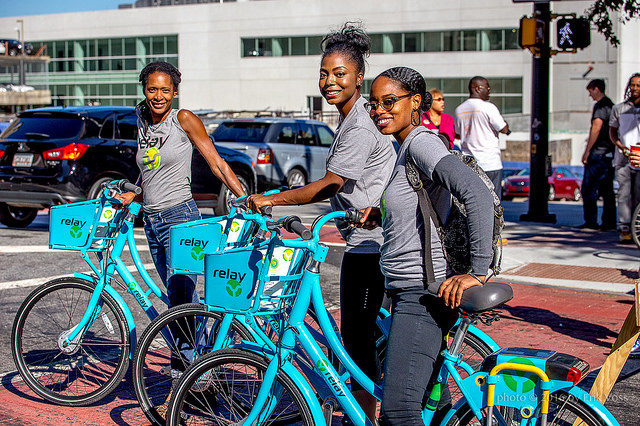 Source: Erik Voss and the Atlanta Bicycle Coalition.

A venue for the whole community
Perhaps one of the most important principles of open streets is that it is meant to be for the entire community. This means that equity goals should be a natural fit.
Additionally, the safe and fun nature of open streets makes the event open to those who are particularly interested in the health and recreational benefits of biking.
"We have four pillars," says Serna of her organization's role hosting Atlanta Streets Alive. "Health is one of them. In some communities the health aspect is more important and more of a selling point than transportation."
The health benefits are also important in Minneapolis, where bike share is often a part of the health and wellness section of Open Streets Minneapolis.
The health and wellness element also draws families with kids. While kids may have their own bikes (they are too young to be bike share members), parents may be interested in bike share to keep up with them.
"A lot of times you might have a family where only the kids have bikes," says Serna.
Cho adds that "a lot of people use their [bike share] scholarship to use the bikes with their kids who already have bikes." Bike share staff work to make sure that kids have plenty of activities to stay engaged at open streets events, by hosting bike races and rodeos.
At the very least, open streets provides a great venue for bike share visibility.
"People use bike share at the highest levels during open streets days, so there's a lot of incentive for partnership," says Serna. "It reinforces the seamless nature that we're going for with bike share, especially if you can provide free or discounted pricing to increase accessibility."
"It's a great time to work out of the undecided market," says Cho. "It's also a vehicle to educate the public about various infrastructure changes. People can try it out, feel it for themselves. You don't have the chance to do that very often."
The Better Bike Share Partnership is a JPB Foundation-funded collaboration between the City of Philadelphia, the Bicycle Coalition of Greater Philadelphia, the National Association of City Transportation Officials (NACTO) and the PeopleForBikes Foundation to build equitable and replicable bike share systems. Follow us on Facebook, Twitter and Instagram or sign up for our weekly newsletter. Story tip? Write stefani@peopleforbikes.org.