Silent barriers to bicycling, part IV: Infrastructure in Black and Latino neighborhoods
March 10, 2017

Source: New Jersey Bicycle and Pedestrian Resource Center.
Fear of traffic collision is the number one bicycling concern among many Americans, and Black and Latino individuals are no exception. But for researchers Charles Brown and James Sinclair of Rutgers, the demographics do matter.
They argue that the political disempowerment Blacks and Latinos often feel in addition to traditional barriers to bicycling, such as traffic safety, has to be examined carefully and taken into account in planning processes.
In our past posts in this series, we've explored the fear that many such individuals face on issues of crime and racial profiling. But the fear of traffic collision shows that there are also other types of mobility and access barriers in Black and Latino neighborhoods. We're using this last post to explore the quality of and access to bicycle infrastructure in these areas.
Infrastructure challenges
In addition to traffic safety, many Blacks and Latinos surveyed were also concerned with pavement condition along the routes they would potentially bicycle.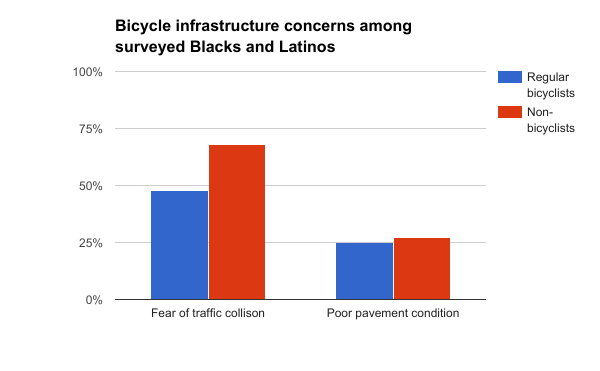 Brown explains why these two data points are important. "These are the people most likely to die as the result of a vehicle and pedestrian crash," he says, referring to the 2014 report Dangerous by Design. "African Americans die at a disproportionately high rate to others. We need to give them an opportunity to get their voices heard."
There is also a dearth of bike lanes and bike parking in some Black and Latino neighborhoods. An article discussing Chicago's 200 miles of bike lanes showed research that the majority are concentrated in neighborhoods with the fewest Black and Latino residents. Furthermore, research showed links between better bicycle infrastructure and higher bicyclist safety. Elements such as protected bike lanes and off-street bike paths were associated with fewer collisions and falls.
Self-assessments of neighborhood bicycle infrastructure from Brown and Sinclair's study indicate the same gaps as seen in other research. When asked to rate the quality and accessibility of bicycle paths, bicycle lanes, and bicycle racks, Blacks, Latinos, and mixed race individuals had less positive results to report.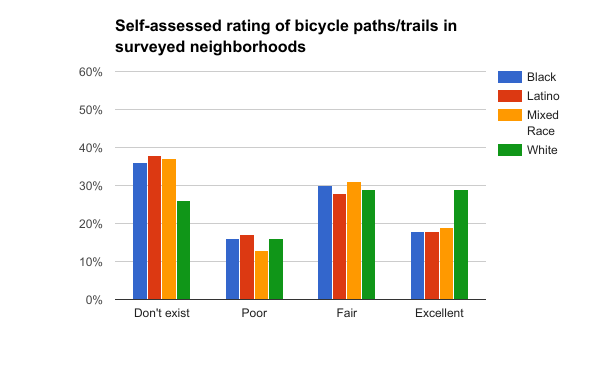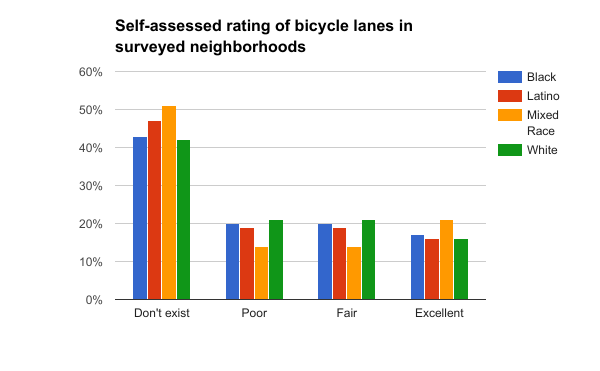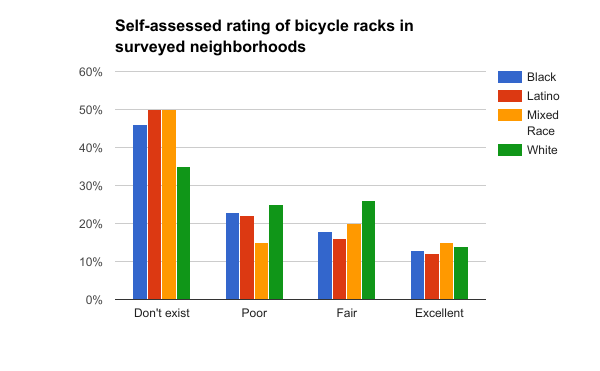 Making communities safer for bicycles
Fortunately, despite the barriers, the individuals surveyed were also clear in what improvements could encourage them to cycle more. Desire for more bike lanes was the clearest preference, but factors such as off-street bicycle paths, secure bicycle parking, and bicycling events — human infrastructure, in a sense — were important those surveyed as well.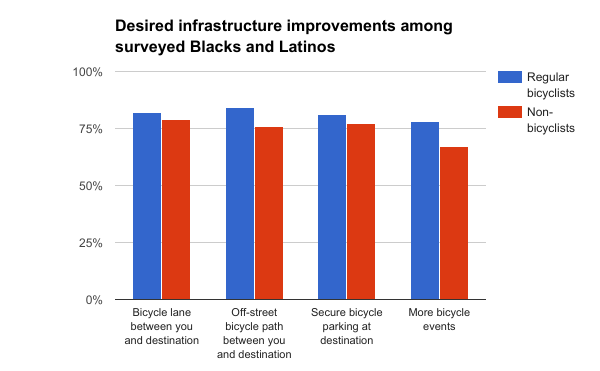 Brown also sees lots of room for improvement in power dynamics and who gets a seat at the planning table. He says, "Number one is to include people of color in the transportation planning decision-making process. The way you can do that is looking at when, where, and how meetings are held when it comes to issues affecting those communities."
Combining infrastructure with other issues

Brown and Sinclair's research revealed plenty of room for more investigation as well. Some of the additional topics that the researchers uncovered through the focus groups included concerns over becoming sweaty and disheveled when biking to work, gender norms in terms of who should cycle, and the prohibitive cost of bicycle ownership and maintenance. In addition, recreation and leisure arose as strong themes within the focus groups as reasons to bicycle.
Those factors, in addition to the fear of crime and fear of police profiling discussed in earlier posts, mean that the barriers to biking are complex. They may also be deterrents that get perpetuated over time.
"I think we would be remiss if we don't see the connection between people being concerned about bikes being stolen, them being robbed and assaulted, and the safety of their kids," says Brown. "Because that's fear that's potentially being pushed down generationally. Can you blame the parents if this is indeed the case?"
To make bicycling seem like a safer option for both current generations and the next, there is a lot of work to be done. And the bike share community is looking forward to being a part of the approach.
Missed any of the prior posts in our series? Access them here:
>Silent barriers to bicycling, part I: Exploring Black and Latino bicycling experiences
>Silent barriers to bicycling, part II: Fear of crime among Blacks and Latinos
>Silent barriers to bicycling, part III: Racial profiling of the Black and Latino community
This post was written by Stefani Cox, MCP, Equity Writer at PeopleForBikes and edited by Charles Brown, MPA, Senior Researcher and Adjunct Professor at Rutgers University.
The Better Bike Share Partnership is a JPB Foundation-funded collaboration between the City of Philadelphia, the Bicycle Coalition of Greater Philadelphia, the National Association of City Transportation Officials (NACTO) and the PeopleForBikes Foundation to build equitable and replicable bike share systems. Follow us on Facebook, Twitter and Instagram or sign up for our weekly newsletter. Story tip? Write stefani@peopleforbikes.org.
Save
Save