Bringing the MLK holiday together with bike share
January 19, 2017
Let us be dissatisfied until the tragic walls that separate the outer city of wealth and comfort from the inner city of poverty and despair shall be crushed by the battering rams of the forces of justice.
-from the 1967 speech "Where Do We Go From Here" by Dr. Martin Luther King Jr.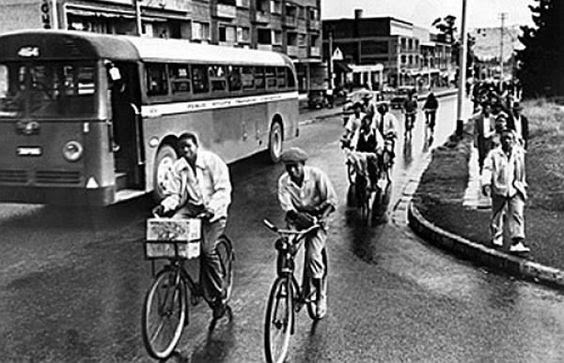 Cyclists during the Montgomery Bus Boycott.
Equity and inclusion work didn't spring up out of nowhere. While there are many leaders that came before and after Dr. Martin Luther King Jr., there is no question that his central role in the Civil Rights Movement inspired and forever changed advocates all over the globe.
For some current day cycling and equity advocates, the MLK Day holiday inspires a period of reflection. In a moving 2013 essay, Dr. Adonia Lugo reminds us that for too many, cycling is not a choice but a necessity. She recounts the story of a man cycling home to his family after work who was hit by a car and killed. The tragic tale reminded her that the ways in which our cities and neighborhoods are divided by race and class have serious consequences.
So it is only fitting that bike share efforts aiming to bridge some of that divide had a place in remembering Dr. King's legacy this year:
Philadelphia
In 1996, 1,000 Philadelphia volunteers started a small project called the national King Day of Service aimed at building understanding of and continuing Dr. King's legacy. By 2016, there were 140,000 volunteers and the event is going strong.
Carniesha Kwashie, Better Bike Share Partnership Grant Manager at the City of Philadelphia, committed in 2015 to having the Indego Bike Share program and Better Bike Share Partnership team members participate in the King Day of Service activities. This has been important to Kwashie in showing how serious her team is about meeting the public's needs and working with the community.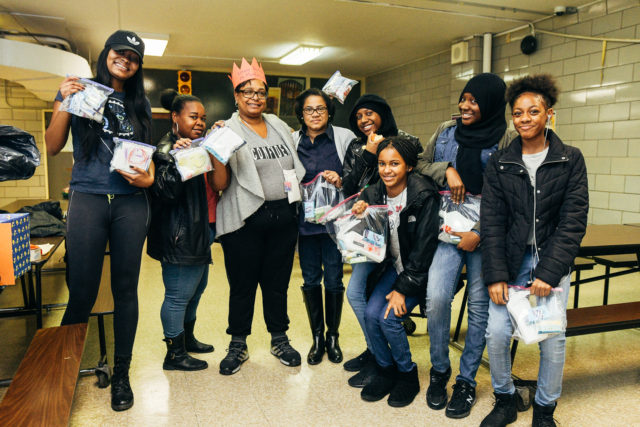 Image courtesy of the Bicycle Coalition of Greater Philadelphia.

"I also hope that ALL bike share systems across the nation volunteer on MLK Day of Service in years to come because it's one of the biggest service days in the United States of America!" says Kwashie. "I want to see more participation from the industry and other organizations next year."
This year, Kwashie's team volunteered with a Head Start program led by one of the Indego Community Ambassadors. They made care packages for families in need and helped organize Head Start classrooms and the school library.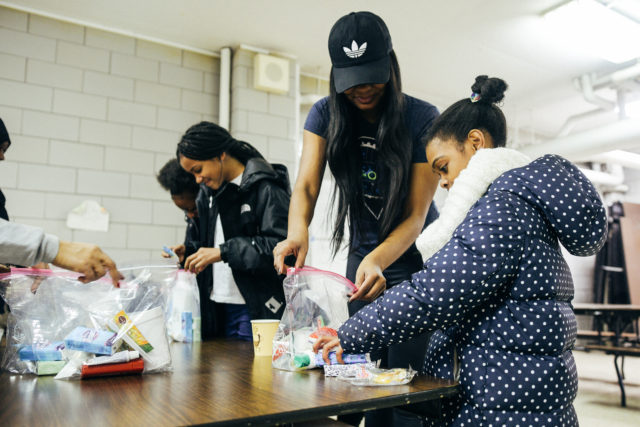 Image courtesy of the Bicycle Coalition of Greater Philadelphia.

Portland
In Portland, bike share partnered with the United Way and Hands On Portland by giving a complimentary ride on BIKETOWN to the variety of volunteer and service projects planned for the MLK Day Weekend of Service. BIKETOWN staff members were also encouraged to find an opportunity to volunteer in their community at one of the events.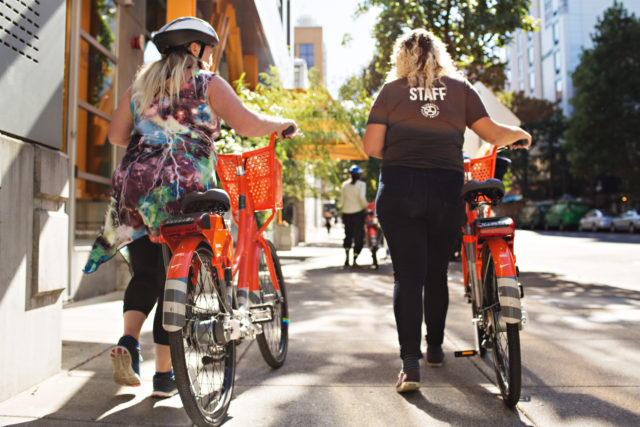 Image courtesy of BIKETOWN.

Bay Area
In Richmond of California's Bay Area, the organization Rich City Rides hosted an MLK Unity Ride. While the event didn't focus on bike share specifically, it is another example of how communities can use bicycling to engage residents during MLK weekend.
Atlanta
Atlanta was the birthplace of Dr. Martin Luther King Jr., and as such it deserves a mention in any article discussing the commemoration of his work.
On the blog we've talked about the powerful work of Better Bike Share Partnership grantees in Atlanta, as seen through the Champions program. Their work is a strong example of community-based partnership. Their collaboration includes the Atlanta Bicycle Coalition, Red Bike and Green Atlanta, WeCycle Atlanta, CycleHop, and Relay bike share, among others.
The Better Bike Share Partnership is a JPB Foundation-funded collaboration between the City of Philadelphia, the Bicycle Coalition of Greater Philadelphia, the National Association of City Transportation Officials (NACTO) and the PeopleForBikes Foundation to build equitable and replicable bike share systems. Follow us on Facebook, Twitter and Instagram or sign up for our weekly newsletter. Story tip? Write stefani@peopleforbikes.org.
Save
Save
Save
Save
Save
Save