How can bike share achieve both inclusion and sustainability goals?
December 12, 2016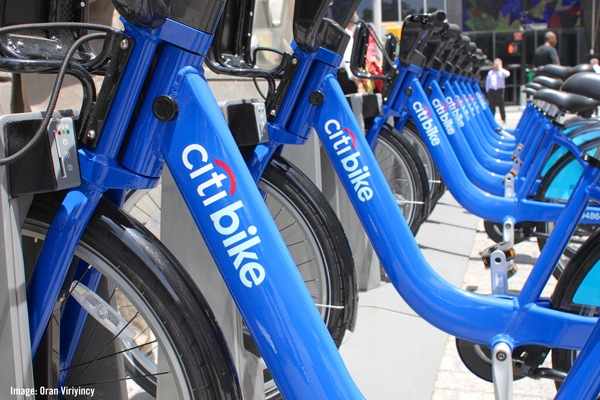 Recent conversations about New York's Citi Bike expansion have led some stakeholders to question whether the system can continue to grow without help from taxpayers.
There is a current plan for the system to double in size to 12,000 bikes and 750 stations by the end of 2017. But some feel that the planned expansion does not go far enough.
In a hearing at the end of November, city councilmember and chair of the NYC transportation committee, Ydanis Rodriguez, said that he wants to see bike share in every community board within a few short years. He argued that bike share should be a public good accessible to all low-income communities. Several other council members supported Rodriguez's statements.
On the other side of the equation is fiscal sustainability. Jay Walder, CEO of Motivate, the company that operates Citi Bike, has described how serving dense areas with interested riders was critical in bringing the system back from the brink of bankruptcy in past years. He says that additional expansions could require something new for Citi Bike: public support.
Citi Bike is unique among U.S. bike share systems for operating with no direct public subsidy. Rodriguez also called for the City to consider that option in recent remarks.
Tracey Capers, Executive Vice President of Programs at the community-based Bedford Stuyvesant Restoration Corporation, agreed, saying that some measure of public subsidy will be necessary in order for Citi Bike to expand to more underserved neighborhoods.
While "public subsidies" can be an intimidating phrase, it's good to keep in mind that they vary in size, and that subsidies sometimes amount to relatively small sums of money.
Some argue for a middle path, saying that it is possible to achieve equity goals and maintain a dense, self-sustaining system at the same time. Kate Fillin-Yeh, Bike Share Program Director at NACTO, proposed a map in 2009 that would expand bike share to communities with 30,000 people or more per square mile, capturing several low-income areas and neighborhoods of color in the process.
Fillin-Yeh said it would be important to pair such an expansion with strong cycling infrastructure investments and partnerships with community-based organizations to expand ridership.
The Better Bike Share Partnership is a JPB Foundation-funded collaboration between the City of Philadelphia, the Bicycle Coalition of Greater Philadelphia, the National Association of City Transportation Officials (NACTO) and the PeopleForBikes Foundation to build equitable and replicable bike share systems. Follow us on Facebook, Twitter and Instagram or sign up for our weekly newsletter. Story tip? Write stefani@peopleforbikes.org.
Save
Save